After decades and decades of endless lobbying by the highly motivated Armenian diaspora in the U.S., President Joe Biden made the momentous decision to recognise Ottoman-perpetrated massacres against Armenians as genocide.
In the very first sentence, and the last, Biden used the word "genocide" to describe the Ottoman-Turkish crimes against the Armenians in 1915.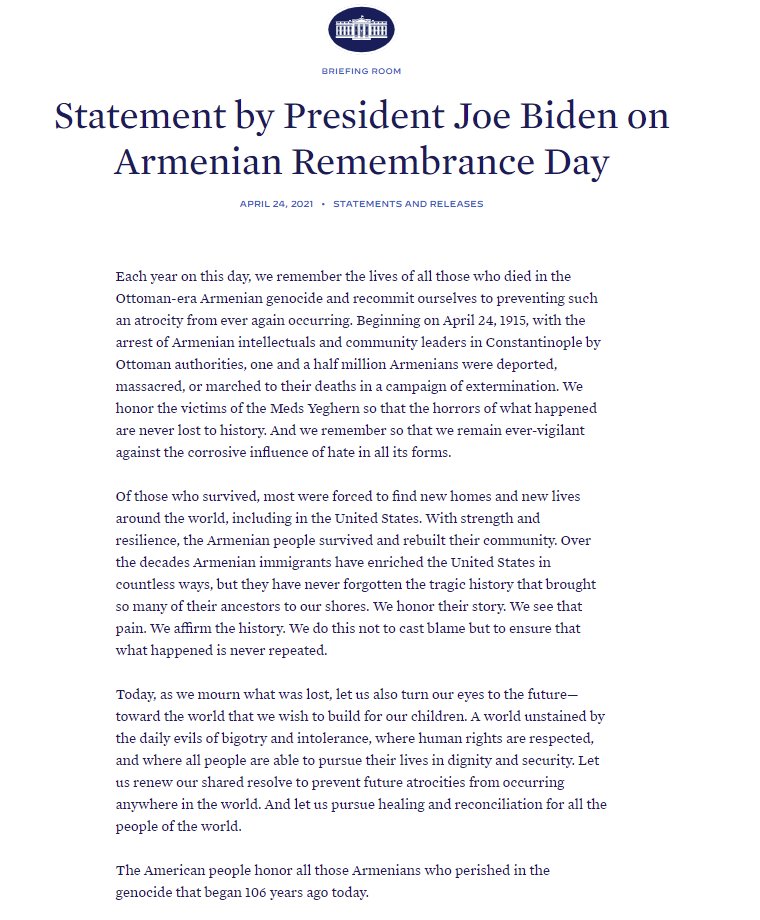 Speculation was running rife all week that Biden was preparing to recognise the Ottoman-perpetrated massacres against Greeks, Armenians and Assyrians in the early 20th century as genocide.
In fact, Biden contacted his Turkish counterpart Recep Tayyip Erdoğan about his intentions yesterday.
The conversation was described as a "tense."
This was Biden's first direct contact with Erdoğan since becoming president - something very uncharacteristic of U.S.-Turkish relations, especially when considering he spoke with Greek Prime Minister Kyriakos Mitsotakis on March 25 - Greek Independence Day.
According to CNN, the long period without communication between the two president's had been interpreted as a sign of Biden placing less importance on Washington's relationship with Ankara.
Turkish Foreign Minister Mevlüt Çavuşoğlu said on Tuesday that the U.S. would further strain ties between the NATO members if it recognised the Armenian Genocide.
"Statements that have no legal binding will have no benefit, but they will harm ties," Çavuşoğlu said.
"If the United States wants to worsen ties, the decision is theirs," he added.
On October 29, 2019, the House of Representatives passed a resolution to recognise the Armenian Genocide on a 405–11 vote.
The Senate passed the resolution through unanimous vote on December 12, 2019.
However, then-President Donald Trump opposed recognition and did not make the final step.
It was well known that Trump has a "bromance" with Erdoğan.
Despite the title of the resolution only mentioning the Armenian Genocide, the resolutions content specifically mentions the "genocide against Armenians, Greeks, Assyrians, Chaldeans, Syriacs, Arameans, Maronites, and other Christians."
Although the Armenian Genocide began in 1915, the Ottoman Empire started to systemically eliminate Christians, specifically Greeks, in Eastern Thrace and the Aegean region in 1913.
About a million Greeks were killed during the genocide.
Lethal Nationalism: Genocide of The Greeks 1913-1923, a powerful documentary directed by Chicago-born Greek Peter Lambrinatos, is now available on Amazon Prime, Apple TV Plus, Google Play and Vimeo for viewing.
READ MORE: Mitsotakis: Greeks and Armenians experienced martyrdom together.