Sarantis-Tellos Agapinos (1880 - June 7, 1907) from Gargalianoi, west of Kalamata in the Peloponnese, was Patriot and an Officer in the Hellenic Army, who became a hero of the Macedonian Struggle (1904-08).
He was descended from a long line of Greek Patriots, a family who played a major role in the Greek War of Independence of 1821.
After news broke of the death of Pavlos Melas in 1904 and the operation in which he was leading became known to the wider Greek population in the liberated parts of Greece, many Greeks signed up wanting to participate in the Greek Struggle for Macedonia.
Agapinos was one of those.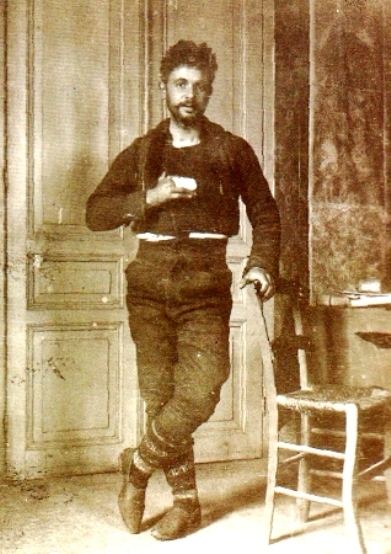 He had graduated from the Hellenic Military Academy in 1901 and was serving as a Guard in Athens when he decided to travel North to fight the Bulgarians, the Turks and to Liberate Macedonia.
Under the pseudonym of Tellos Agras, very soon he was made Leader of his very own group of Macedonian Fighters and was active in the areas of Giannitsa, Edessa, Naoussa.
Agapinos was successful in dealing a heavy blow to the Bulgarian cause and limiting the Bulgarian propaganda and presence in the region.
In June in 1907 after being betrayed, he and fellow officer Antonis Miggas were surrounded and captured by the Bulgarians and then hanged.
Tellos Agras is considered to be a martyr of the Greek Struggle for Macedonia and one of its most important and effective leaders.
He and his exploits are better known through the pages of the novel - Στα Μυστικά του Βάλτου, authored by Penelope Delta.
A village in Pella close to the site of his death was named Agras in his honour.
There is a memorial at the location of Agapinos hanging between Karydia and Agras.
There is a bust of him in Thessaloniki.
---
READ MORE: Greek President: "The selfless heroism of Pavlos Melas is a source of inspiration for all of us."