The COVID-19 situation in Greece is improving but "remains volatile," government spokesperson Aristotelia Peloni said.
"The epidemiological picture in the country is improving but remains volatile," she said during Monday's press briefing.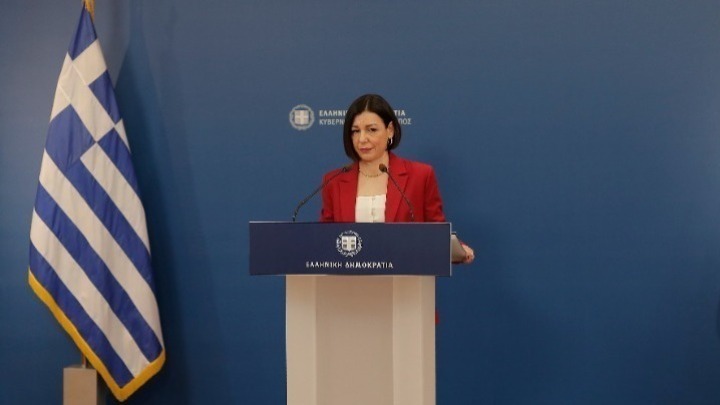 She noted that the epidemiological burden was slowly but continuously de-escalating while, in some cases, there were local outbreaks.
The incidence of new COVID-19 cases in adults over 60 had decreased significantly and the median age of new carriers has dropped to 36, she added, and hospital admissions were declining.
"The vast majority of those hospitalised are unvaccinated," the government spokeswoman said.
Peloni stressed that "these data confirm the effectiveness of self-diagnostic tests and especially vaccinations."
"At the same time, they indicate that we must observe the measures of individual and collective protection in order to protect ourselves and those around us, but also to prevent a new outbreak," she continued.
"We have a responsibility to get vaccinated in order to obtain a personal protection shield and to build the wall of immunity in our country," Peloni said, adding "vaccination is the only way to freedom."
Peloni underlined that more than six million vaccinations have already been done in Greece.
Referring to the reopening of tourism, the government spokesperson said that it is "a common goal in the time we are going through, to ensure a safer summer for everyone and a better one than last year's tourist season."
To this end, the government has already launched a new action of 420 million euros to support the resumption of tourism activities, she said.
Peloni also noted that "at the same time, the measures in force are being evaluated and adjusted."
This is so that movements are facilitated whilst public health is protected.
In this context - following a recommendation of the Committee of Experts - from this morning, four new regulations apply:
- First, minors aged six or over are required to take a test to enter the country, according to European Union circulars.
- Second, the obligation to isolate cases or close contacts is reduced from 14 to 10 days, according to the new ECDC guidelines.
- Thirdly, entrance to the country is allowed with a 72-hour PCR or vaccination certificate from Montenegro, without restriction in the number of persons.
- And fourthly, outdoor tours are now allowed for groups of 20, up from 15 until yesterday.
READ MORE: Travel entry requirements for Greece updated.