Lambros Konstantaras (13 March 1913 – 28 June 1985) was a popular Greek theatre and cinema actor.
He was the brother of Alexandra Konstantopoulou and actress Mitsis Konstantaras, the father of journalist, writer and former New Democracy MP Dimitris Konstantaras, and the grandfather of Paulina Konstantaras and journalist Lambros Konstantaras.
Konstantaras was born at 13 Plutarchou Street in Kolonaki on March 13, 1913, to a family originating from Constantinople and having roots in Sinope, Pontus.
From a young age, he was involved in sports, playing as a goalkeeper for the AEK B team from 1929-30.
In 1930, at the insistence of his family and without his own will, he enrolled in the School of Naval Officers in Corfu, from where he finally escaped by swimming away.
In 1934 he was sent - almost by force - to Paris to study goldsmithing and take over the family goldsmith in the centre of Athens.
He gradually dropped out of school and did various jobs until French director Louis Jouve discovered him as a playwright in a theatrical performance, taking him to his Drama School, which operated at the Théâtre de léAth in Paris.
In the summer of 1938, Konstantaras returned to Greece, starting an acting career.
Lambros Konstantaras played in Greek theatre for 40 years, participating in 191 recorded performances of various works, foreign and Greek.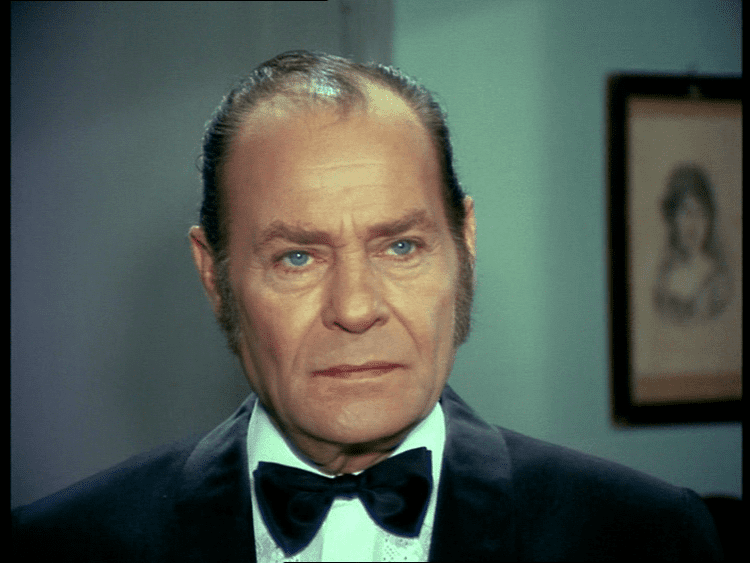 He appeared in many Greek cities, as well as in Cyprus, Constantinople and Alexandria.
His first performance in Greece was in the summer of 1938 with the troupe of Mrs Katerina in the play "The Signs of the Young Woman" by F. Barry.
After working in several theatre groups, he formed his own with Jenny Karezi, Maro Kontou and Nikos Rizos, often working with such actresses as Ellie Lambeti, and Aliki Vougiouklaki and others.
However, Konstantaras was better known as a film actor, playing leading roles in more than 80 movies.
Konstantaras has been facing serious health problems since 1970. He suffered from diabetes but never paid attention to his diet.
In 1978 he fell ill with a diabetic crisis, which shortly afterwards led to a mild stroke.
In November of that year, while preparing to go to the show, his right side was paralyzed, mainly affecting his arm and leg (hemiplegia).
He was rushed to the hospital and diagnosed with a stroke. His health gradually improved, but not completely, despite his enormous effort to recover.
Without fully recovering, he made his last film in 1981, written by his son Dimitris. However, his stroke had left problems in his speech as well.
During the shooting of the film he was, as always, impeccable and the other actors remained speechless (Maro Kontou , Nelli Gini, Tonis Giakovakis etc).
After this film, he was renewed. He even recorded an album with 12 songs with his son, as he had an amazing voice.
Unfortunately, in the summer of 1983, he suffered a second stroke, much more severe than the first, which left strong scars on him, with speech and mobility problems in his right hand.
Since then, he closed himself in and did not want to see anyone and no one to see him except his son.
His health gradually deteriorated, and he was rushed to the Asclepieion of Voula.
He returned home, where he spent his last days speechless and depressed.
On June 28, 1985, Konstantaras passed away at 72.
His death became the first topic in the newspapers and news and shocked the nation. He was buried in front of a large crowd the next day at the First Cemetery of Athens.
READ MORE: Archaeological Museum of Delphi now digitally accessible for the visually and hearing impaired.