Celtic FC manager Ange Postecoglou has former England international goalkeeper Joe Hart playing football the way that Pep Guardiola said that he could not - with his feet.
Despite winning the Premier League and Football League Cup with Manchester City, and being England's first choice goalkeeper, the arrival of Pepe Guardiola saw Hart full out of favour and go on loan stints with Torino in Italy and West Ham United.
He would ultimately ended up at Burnley for two seasons, making only 19 appearances. In the 2021-2021 season he was third choice at Tottenham.
However, after being told by Tottenham manager Nuno Espírito Santo that he was no longer a part of his plans, Hart signed a three-year contract with Celtic FC in August.
This was a certainly surprising move considering the Greek-Australian manager's favoured style of play is to build from the back with goalkeepers comfortable using their feet, something that Guardiola believed Hart was not capable of.
With Celtic sitting on sixth at the Scottish Premiership table, in the first minutes of Saturday's game against Motherwell, a cool and collected Hart dancing around an oncoming striker to smoothly lay it off to a teammate.
https://twitter.com/aboutceltic/status/1449423827629330435?ref_src=twsrc%5Etfw%7Ctwcamp%5Etweetembed%7Ctwterm%5E1449423827629330435%7Ctwgr%5E%7Ctwcon%5Es1_&ref_url=https%3A%2F%2Fs9e.github.io%2Fiframe%2Ftwitter.min.html1449423827629330435
One moment of brilliance does not tell the entire story though.
Up until at least September 24, Hart had the best pass success rate (93.9%) in the entire Scottish Premiership.
Today, his success rate is 90%.
Hart is someone who can certainly pass a ball and play with his feet, perhaps not as enigmatic or dramatic as other so-called modern goalkeepers, but he is a far cry from the mythology that Guardiola created.
Postecoglou's style of football is sometimes compared with other managers who prefer high-press and high-intensity football like Guardiola.
Many Celtic fans themselves questioned how Hart fits into Postecoglou's style of football.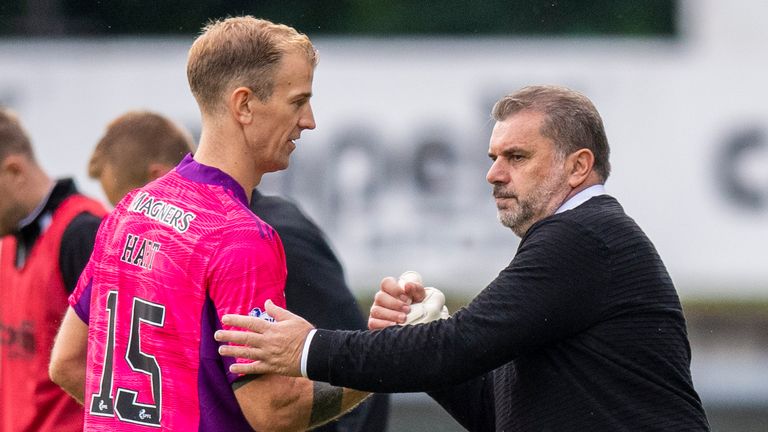 Since arriving, the Englishman has brought much needed stability to the backline and is certainly comfortable using both hands and feet to begin an attacking playing.
In fact, it was buildup play from Hart that led to the second goal in Celtic's 2-0 victory over Motherwell, putting them fourth on the table and four points behind top-placed Rangers who drew with Hearts at home.
https://www.youtube.com/watch?v=1p-pmQ0yzWg&t
READ MORE: Ange Postecoglou's Celtic star Liel Abada reveals Olympiacos were interested in him.