Only days after Azerbaijan adorned a Thessaloniki bus with propaganda, a new provocation has been made, this time with the propaganda at a Thessaloniki bus stop.
It is noted that the newest Azerbaijani propaganda was displayed in a Thessaloniki neighborhood in which most Armenians who migrated to the city after the collapse of the Soviet Union live.
At the Pavlos Melas Camp bus station, an advertisement saying "Lachin, the road that leads to Shusha, Azerbaijan" was displayed.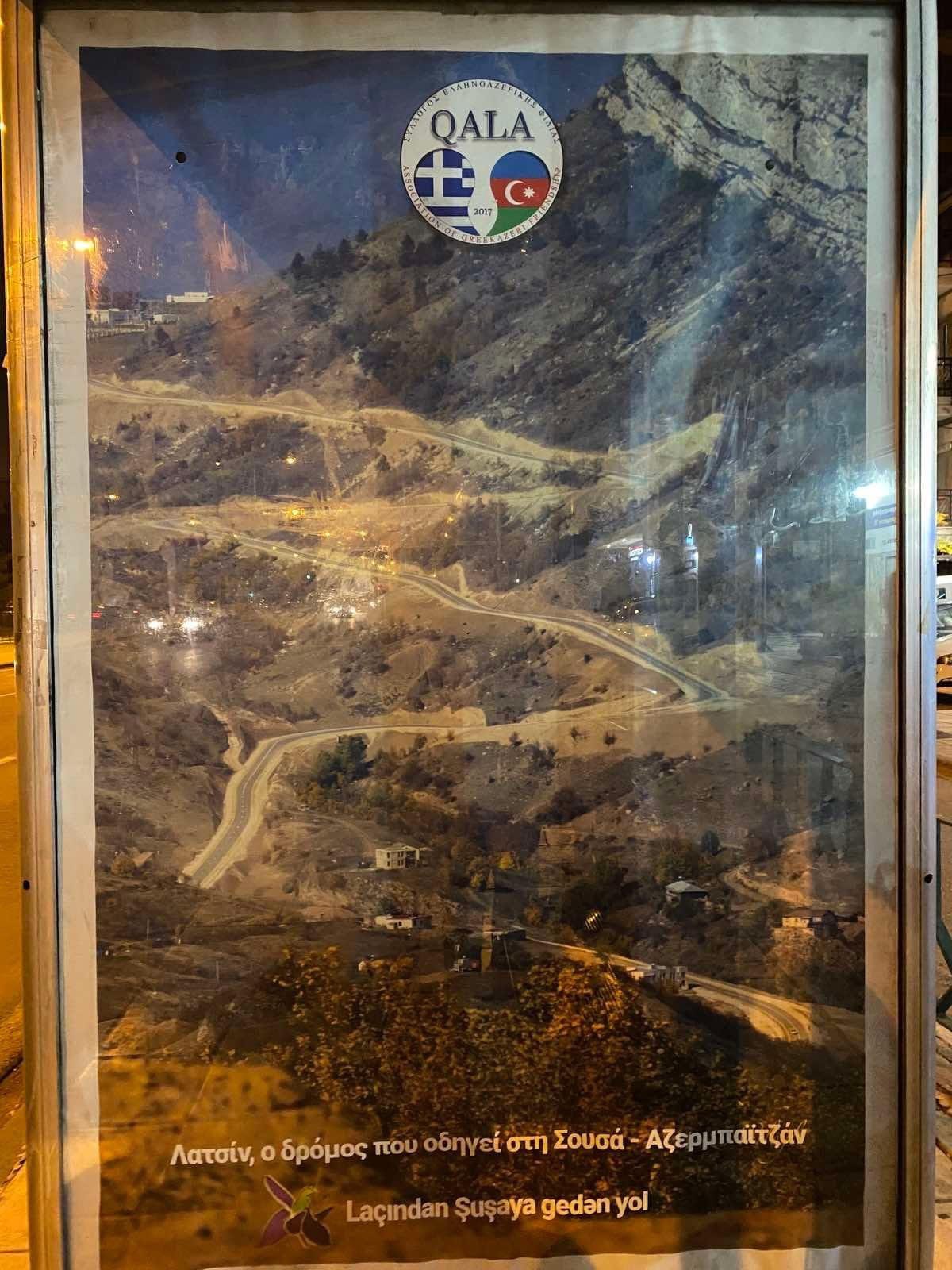 The Lachin corridor is the sole operable road that connects Armenia with the historically Armenian city of Shushi in Nagorno-Karabakh which came under Azerbaijani occupation following the conclusion of last year's war.
The Lachin road, which is under the control of Russian peacekeepers, is falsely alluded to being under Azeri control as they are irritated that the Russians actually control.
Azerbaijan is using every means at their disposal to normalise and promote their occupation of the Armenian city of Shushi, which they call Shusha (Şuşa).
A bus in Greece's second city promoted Azerbaijan's occupation of Shushi.
The Armenian Embassy in Athens responded to the provocations made by Azerbaijan to normalise its partial occupation of Nagorno-Karabakh in Greece.
"The Embassy has also been informed that today a similar propaganda provocation was provoked by the same forces at one of the bus stops in the same city, for the immediate removal of which all measures are being taken," the Armenian Embassy wrote.
"The Embassy of the Republic of Armenia condemns the cheap and without any prospect of propaganda provocations of the organisations of Azerbaijan in Greece," the statement added.
Although a historically Armenian city, Shushi had a mixed Armenian-Azeri population until the Shushi pogrom of 1920 when Azerbaijani forces destroyed the Armenian half of the city and killed or expulsed its Armenian population of around 20,000 people.
Due to the strategic advantage of the city, which directly overlooks the Nagorno-Karabakh capital of Stepanakert, the capture of Shushi became a decisive moment in the war, especially as Armenia surrendered and Azerbaijan declared victory a few days later.
READ MORE: The Bus Of Shame: Azerbaijan advertises on Thessaloniki bus its occupation of Shushi.