The trial of a Turkish-speaking Cypriot couple, facing charges in the occupied northn for flying the Republic of Cyprus flag, got underway on Thursday.
Turkish extremists belonging to the Far Right Grey Wolves organisation heckled Koray Basdogrultmaci and Cinel Senem Husseyin as they arrived at the Famagusta courthouse, Cyprus Mail reported.
Grey Wolves members chanted slogans like "Allahu akbar" (God is Great) and "Cyprus is and will remain Turkish."
Also gathered at the site were a group of around 30 Greek Cypriots and reportedly a smaller number of Turkish-speaking Cypriots, in a show of support to the couple.
A flare-up was threatened when Basdogrultmaci unfolded a flag of the Republic in full view of the extremists.
Provoked, the extremists tried to rush Basdogrultmaci and snatch the flag away.
Outnumbered, police officers eventually managed to hold them back, allowing the couple to make their way inside the courtroom.
No further disturbances took place.
But according to state broadcaster CyBC, while they were later interviewing Husseyin in the car park outside, a car came close to running her over.
Coming out of the courthouse, Basdogrultmaci insisted they had done nothing wrong.
"Famagusta is part of Cyprus. All Cyprus is part of the European Union," he told reporters.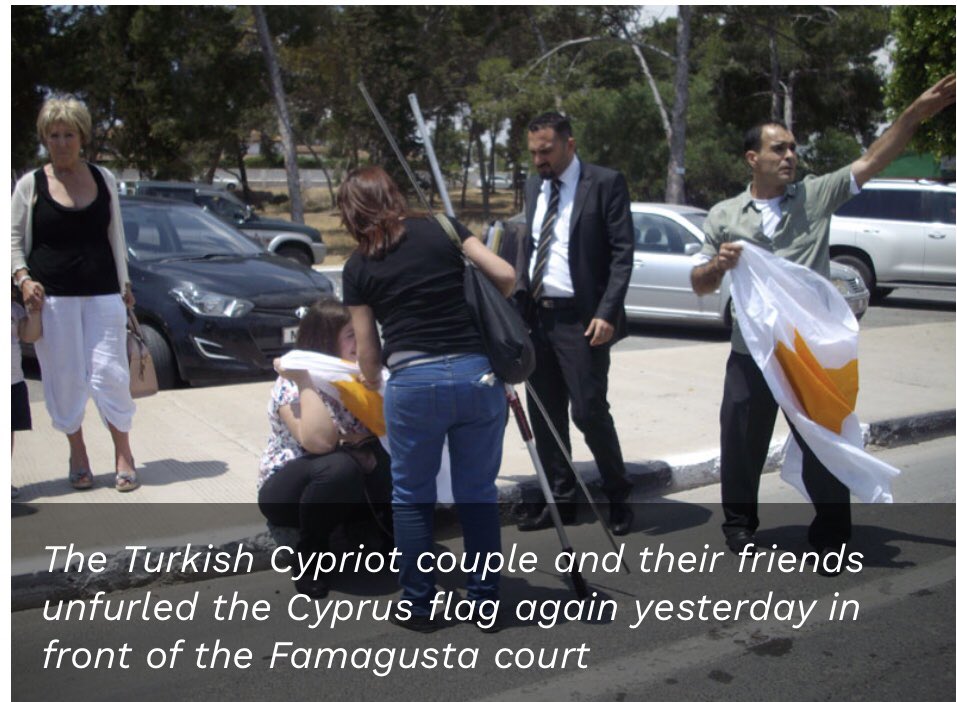 Political parties, meanwhile, organised an event at the Ledra Palace checkpoint later in the afternoon, which Basdogrultmaci and Husseyin also attended after leaving court.
Kyrenia mayor Glafcos Kariolou, who was among the Greek Cypriots making the trip to the north, told the media that the parties should have come to the courthouse instead and face down the extremists.
"What use are you at the Ledra Palace? These people [Basdogrultmaci and Husseyin] are fighting for us, but without us. As Koray cried out today, 'Where are you, Cypriots?'"
The couple were arrested in June 2013 for flying three flags of the Republic outside their home and shop in Famagusta.
They face charges of disturbing the peace, non recognition of the breakaway regime, and conspiracy to undermine and insult the breakaway regime. The latter charge was added only this month.
The couple say that if convicted, they plan to take Turkey to the European Court of Human Rights.
READ MORE: Anti-vaxxers in Cyprus bomb a school and burn another (PHOTOS)