"[In this very complex environment] the European Union has one choice: to assume more responsibility for its own security, the security of member states and of European citizens," Greek Foreign Affairs Minister Nikos Dendias told the 'Conference on the Future of Europe' that was held at the Juraj Dobrila University of Pula in Croatia on Friday.
Addressing the panel discussion 'Setting the Stage for Tomorrow: Global & Regional Engagement of the European Union - Security & Defense Aspects', in the presence of his Croatian counterpart Gordan Grlić-Radman, Dendias added that what is needed to make the European Union a stronger geopolitical power is "the ability to define our own priorities, shape our decisions under a common Foreign and Security Policy."
"This is what could make Europe's security and defense efforts relevant in today's world," the Greek foreign minister said.
"Our security environment is that of strategic competition among many powers, among big powers, but also regional powers with aggressive posture," he continued, adding: "And one has also to take into account climate change, terrorism, hybrid threats, and other problems such as the pandemic, which was totally incomprehensible just three years ago."
Referring to the EU's efforts to improve the effectiveness of its defense and security, Dendias noted that "the EU Global Strategy set a high level of ambition for the role we want to have in this increasingly complex world. And we have developed new analytical tools to assess threats and potential crises."
"Through the Permanent Structured Cooperation (PESCO), we are working on a vast array of projects to develop our capabilities, and foster close cooperation among member states," he added.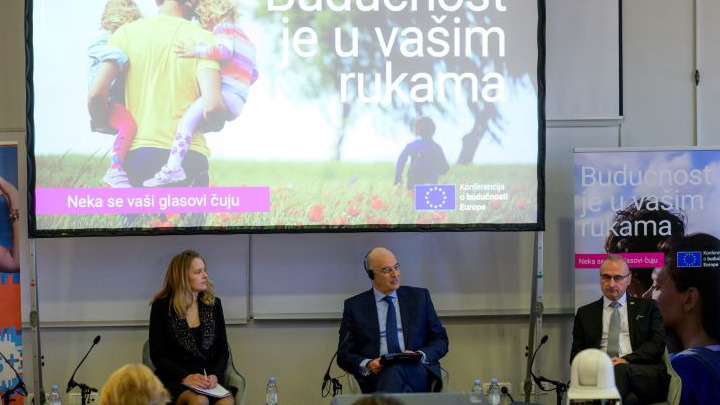 In relation to a shared vision for EU security and defense among member states, Dendias noted that the Strategic Compass is "a huge step (...) that could take this effort to the next level."
"We have through this Compass, the opportunity to set clear objectives and concrete deliverables in order to be able to act globally and to ensure our own security," he continued.
Streamlined European defense initiatives also benefit NATO and the Euro-Atlantic cooperation, said the Greek minister, who noted that "we are not speaking about two antagonistic worlds (...), [as] they make defense under the European aspect and security issues more comprehensible to the average European citizen (...) and also to the younger generation of Europeans."
"That is, in our eyes, in the eyes of the Greek government, a stronger European defense, [which] also makes NATO strong."
Finally, Dendias highlighted that "Europe is the biggest provider of humanitarian and development aid in the world by far," and that "all these assets, if put in use, could eventually make the European Union a flexible, adaptable and efficient security provider in the 21st century and beyond."
Meeting with Croatian counterpart
Dendias met Friday with his Croatian on the sidelines of the 'Conference on the Future of Europe'.
Dendias said Greece "fully supports Croatia's bid to join Schengen, the Eurozone, as well as the OECD," and he also expressed "our deep appreciation that you have joined the EU MED9."
Both minsters reaffirmed their "strong commitment, as EU partners and allies, to our common values and principles, as well as our common vision for security, stability and prosperity in Southeastern Europe," Dendias noted.
"Greece and Croatia, stand for International Law and good neighbourly relations," the foreign minister said.
Finally, he highlighted that as far as Greece is concerned "the integration of the Western Balkans in the European family constitutes a one-way street."
Moreover, he added that "we fully support the convening of the first intergovernmental conference with Albania and North Macedonia, sooner rather than later."
READ MORE: US once again abandons Greek interests with EastMed Pipeline to appease Turkey.