Social media accounts and pages circulated reports of money theft by Antiochian Greek Orthodox Archbishop Elias Tohme, Archbishop of the Diocese of Wadi al-Nasara (The Valley of the Christians) in the western countryside of Syria's Homs, Enab Baladi reported.
Accusations of embezzlement and stealing the funds of the Diocese of Wadi al-Nasara, and foreign aid funds, estimated at billions of Syrian pounds, arose when he left Syria for Greece.
Other accusations of a personal dispute between a nun and the bishop that developed into accusations of morality and other accusations related to integrity also arose.
For its part, the Orthodox Archdiocese of Akkar and its dependencies suspended all the powers of attorney entrusted to Archbishop Elias Tohme without disclosing the reasons for it.
The announcement, signed by the Metropolitan of Akkar and its dependencies, Basilios Mansour, was issued on January 22 and said that the powers of attorney issued by the Archdiocese to appoint Elias Tohme were cancelled.
Pursuit and spiritual seclusion?
The accusations against the Archbishop were not officially announced by the Orthodox Patriarchate, which did not comment on any of the reports that are circulating news,.
The Antiochian Orthodox Centre for Media made it clear that the concerned ecclesiastical authorities are following up on everything related to the issue.
The Centre stressed that the ecclesiastical authorities deal with this issue with honesty and responsibility, and called for not adopting any news that is not officially issued by the competent ecclesiastical departments.
READ MORE: Cypriot and Syrian FM's confirm close relations and condemn Turkish occupation.
The Metropolitan of Akkar said on Facebook that Archbishop Elias Tohme is on a visit to Greece to perform a spiritual retreat and visit holy sites.
The absence of clarification and non-disclosure of confirmation or denial by the responsible and concerned religious authorities about what is happening in the archbishop's case, sparked resentment and indignation from the Greek Orthodox community, according to what Enab Baladi monitored from people's comments on Facebook.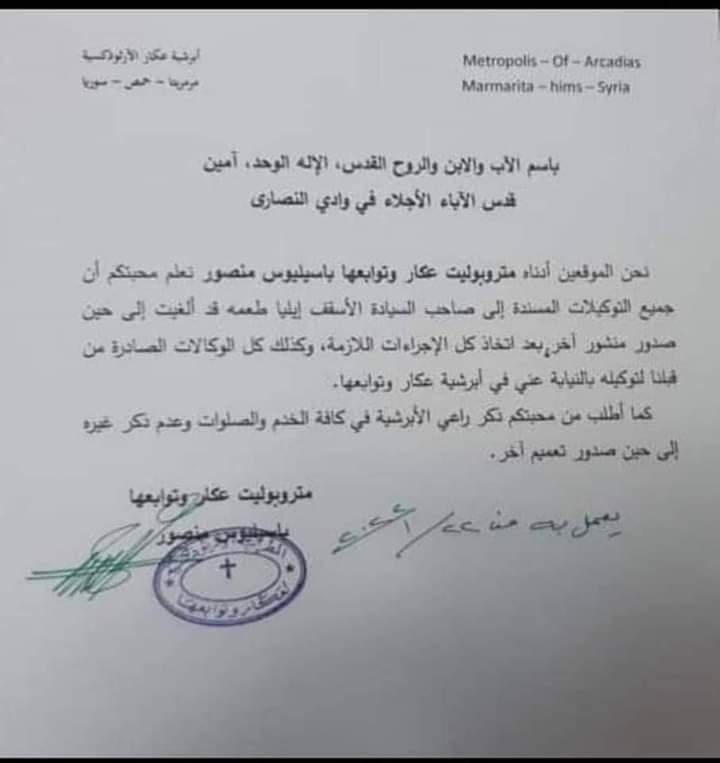 Archbishop Elias Tohme
Archbishop Elias Tohme obtained a civil engineering degree from Tishreen University in Latakia, and studied theology at St. John of Damascus Theological Seminary.
He obtained a master's degree in Islamic studies from the Pontifical Institute "PISAI" in Rome, a diploma in religious studies from the Jesuit "Gregoriana" University in Rome, and a doctorate in Religious and Islamic studies from the University of Thessaloniki in Greece.
He worked in the Diocese of Aleppo for two years, and the Metropolitan of Acre appointed him as his deputy in the Diocese in 2008.
He has authored several books and translations, and has participated in several conferences.
READ MORE: How the Greek Orthodox of Syria celebrated Christmas 2021 (PHOTOS) 
Tohme was appointed as an alternate advisor in the Appellate Clerical Disciplinary Council, which was formed in April 2014, and he is the Metropolitan in charge of the Diocese of Wadi Al-Nasara.
Wadi Al-Nasara is a collection of villages and towns with an Antiochian Greek Orthodox Christian majority, extending from Hawash and Nazareth in the western countryside of Homs.
The Valley has places of religious significance and tourism because its content of churches and monasteries, archaeological, such as St. George Monastery.
READ MORE: Greek language education, humanitarian aid to be provided to Levant's Arabic-speaking Greek Orthodox.