Prime Minister Kyriakos Mitsotakis had a meeting with Archbishop Makarios of Australia at the Maximos Palace.
The discussion focused on Hellenism in Australia and the Prime Minister reiterated his support for the excellent work done by the Archbishop of Australia.
See photos from the meeting:
Archbishop Makarios' visit to Athens comes after meeting His Holiness Ecumenical Patriarch Bartholomew on January 29, 2022, Vema reported.
Together with the newly ordained Bishops of the Holy Archdiocese of Australia, His Grace Bishop Kyriakos of Sozopolis, His Grace Bishop Christodoulos of Magnesia, and His Grace Bishop Evmenios of Kerasountos, assistant Bishops to His Eminence, the Archdeacon Rev Deacon Athenagoras Karakonstantakis, as well as Dr. Theodosios Penklis, with his wife Mrs. Marianna Penklis, were in attendance.
His Eminence, Archbishop Makarios of Australia offered to His All Holiness the dedicatory volume "Βαρθολομαίω τω Οικουμενικώ ευλαβικόν αφιέρωμα", which was edited by the Archdiocese of Australia on the occasion of the completion of thirty years of patriarchal ministry of His All Holiness Ecumenical Patriarch Bartholomew.
The three new Bishops of the Mother Church asked for and received the venerable Patriarchal wishes for the beginning of their hierarchical ministry.
The newly ordained Bishops Bartholomew of Charioupolis, Assistant to the Archbishop of Australia, in the capital city of Canberra, was unable to travel from Australia to Constantinople due to the continuing force of restrictive measures in his area.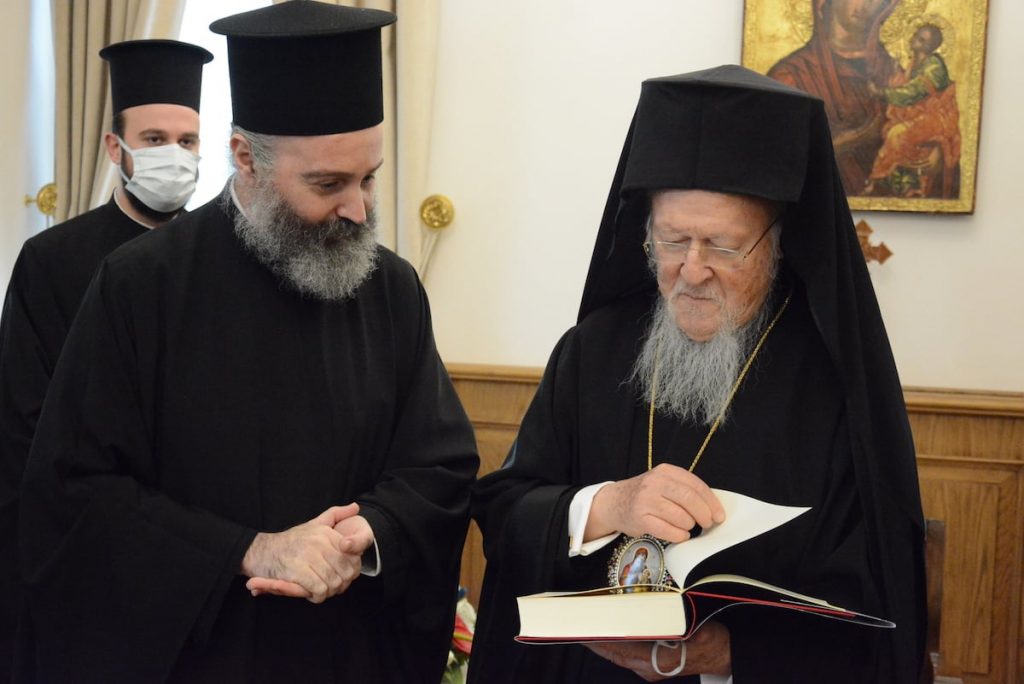 On 18 June 2019, Archbishop Makarios arrived in Australia to be enthroned and begin his duties as the archbishop. On 29 June he was enthroned.
His transfer to Australia followed the death of Archbishop Stylianos.
He became a monk and deacon in 1993, a presbyter in 1997 and an archimandrite in 1998 at the Holy Monastery of Saint George Epanosifi.
READ MORE: Archbishop Makarios of Australia: "I do not distinguish the faithful between vaccinated and non-vaccinated."
On Easter Sunday of 2008, Ecumenical Patriarch of Constantinople, Bartholomew I bestowed upon him the office of Archimandrite of the Ecumenical Throne.
Since 2003 he has been teaching at the Patriarchal Academy of Crete.
In May 2015, he was elected the first Dean of the Department of Orthodox Studies of the Autonomous Church of Estonia.
READ MORE: ARCHBISHOP MAKARIOS OF AUSTRALIA: Let our children know for what values our ancestors fought.