Direct flights from Canada to Athens will launch on April 2, said the Greek Tourism Ministry on Wednesday following a meeting between Minister Vassilis Kikilias and Canadian Ambassador Mark Allen.
For the first time, it said, these flights will extend past October, to the end of November.
The ministry noted that this tied in with the ministry's aim of extending the official duration of the tourism season in Greece.
Kikilias said that more tourists from Canada are expected this year, in conjunction with the recent lifting of mandatory coronavirus tests for fully vaccinated Canadians (a measure also lifted for Australians and American citizens as of February 12).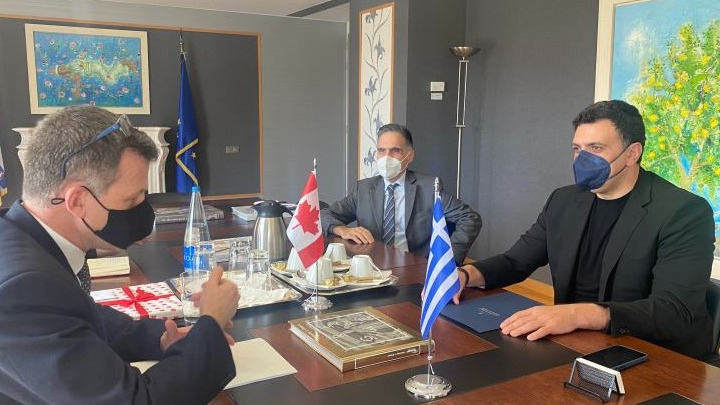 Ambassador Allen also informed the Greek minister that Canada had lifted the travel advisory against non-essential travel.
READ MORE: LAVRIO: A giant heart-shaped crater near Athens is the ultimate monument to lovers (VIDEO) 
American airlines will operate 14 direct flights every week between the and Athens.
Greek tourism minister Vassilis Kikilias said after a meeting with US Ambassador to Greece Geoffrey Pyatt that direct flights between Greece and the US will start serving passengers on March 7, earlier in the tourist season than in any other year.
This "amounts to a vote of confidence in our country by a key market that adds high value to Greek tourism," Kikilias said on Monday.
Flights will operate from New York City's John F. Kennedy International Airport (JFK), Toronto's Pearson International Airport (YYZ), Montréal's Pierre Elliott Trudeau International Airport (YUL), Chicago's O'Hare International Airport (ORD), Philadelphia International Airport (PHL), Atlanta's Hartsfield–Jackson International Airport (ATL), Washington D.C.'s Dulles International Airport (IAD) and Boston's Logan International Airport (BOS).
In early February 2022, Greece eased some travel restrictions, including removing COVID testing requirements for all vaccinated travelers from Australia, Canada, and the US.
https://twitter.com/GreeceinNewYork/status/1492604134746374144
READ MORE: "Greek tourism, the return": Hopes for a dynamic "comeback" after COVID – The first estimates.