A charred body inside a truck was found this morning by rescuers operating on the Euroferry Olympia.
The operation continues and the goal of the rescue teams is to be able to access all areas of the ship.
According to Proto Thema, most trucks are in garage 2.
There are now eight trapped-missing people.
Last night, another charred corpse was found again in garage 2.
The body was located by rescuers of the 6th EMAK Patras and the 5th EMAK Ioannina units.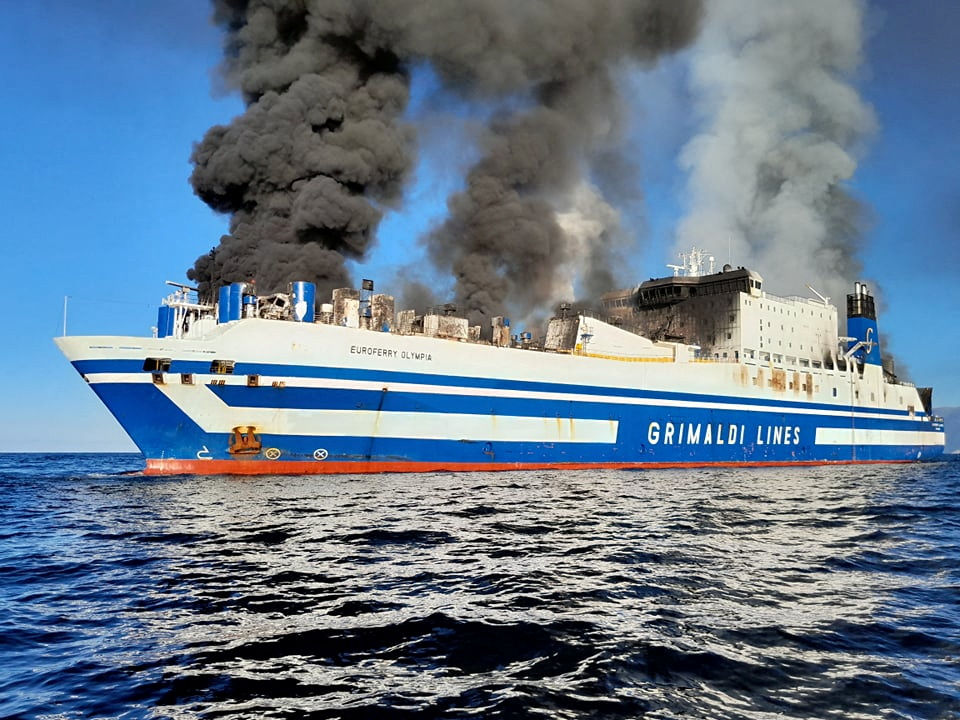 It is noted that all the relatives of the missing have been notified to go to the hospital of Messolonghi in order to identify the body.
The hulk of the Euroferry Olympia arrived at the mainland port of Astakos in western Greece on Wednesday to facilitate operations onboard.
However, conditions on the vessel reportedly remain very difficult.
The Italian-flagged Euroferry Olympia was carrying at least 292 passengers and crew when it caught fire Friday three hours after it left the northwestern Greek port of Igoumenitsa for Brindisi in Italy.
A total of 281 people were safely evacuated, while the body of a Greek man was discovered inside the ship Sunday.
Rescue specialists boarded a burning ferry in Greece to free two truck drivers who had been stranded inside the vessel for more than 15 hours last Friday.
The rescuers descended from a helicopter onto the ship through thick clouds of smoke to eventually locate the two men inside the Euroferry Olympia ferry who had spent hours on a parking deck waiting for help.
The cause of the blaze was unclear.
The Italy-based ferry company said it started in a hold where vehicles were parked, while officials confirmed that nationals from Albania, Turkey, Bulgaria, Romania, Greece, Italy, and Lithuania were among the rescued.
"I thought death had come from me," Albanian truck driver Zef Lufi told the Associated Press after his rescue. "there was so much smoke."
"I thought we wouldn't make it," he continued, adding: "it took us about an hour and a half before we got into the lifeboats and about three more hours before we were picked up."
"The worst thing is the cars in the garage are glued next to each other, there is no escape route," one Greek truck driver, who did not give his name, said after arriving on Corfu.
It was the worst maritime incident in Greece since the 2014 fire in the Adriatic sea on the Greek-chartered passenger ferry Norman Atlantic killed at least 10 people.
READ MORE: UNBELIEVABLE: Passenger rescued on the Euroferry Olympia was also on the Norman Atlantic ferry fire.