Ukrainians in the capital Kyiv huddled in air raid shelters on Friday, as a battle for the city raged overhead and Ukrainian forces sought to hold back rapidly advancing Russian troops by blowing up a key bridge.
Before dawn, explosions lit up the sky as Russia targeted the city with missile strikes, according to a Ukrainian government adviser.
An armed #Russia's vehicle ran over a civilian car just on the streets of Obolon district in Kyiv.#Ukraine pic.twitter.com/JgbshmBEhN

— Alexander Khrebet/Олександр Хребет (@AlexKhrebet) February 25, 2022
A CNN team reported hearing two large blasts in central Kyiv and a third loud explosion in the distance, followed by at least three more explosions to the south-west of the city a few hours later.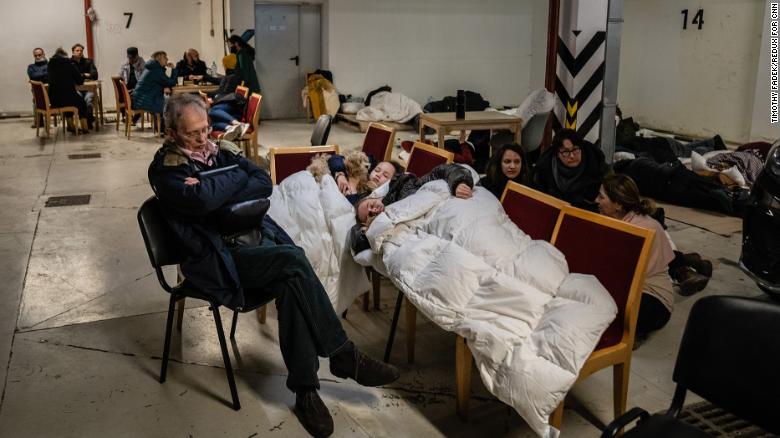 "Strikes on Kyiv with cruise or ballistic missiles continued," Anton Gerashchenko, adviser to the Head of the Ministry of Internal Affairs of Ukraine told reporters via text message Friday.
Meanwhile, the Ukrainian Defence Ministry said Russian reconnaissance troops had entered the Obolon district of northern Kyiv, just a few miles from the city center.
A tweet from the ministry asked citizens of the district to report any suspicious movements, adding: "Make Molotov cocktails and take down the occupier."
CNN witnessed a group of Ukrainian security forces leave the city police headquarters with weapons and ammunition -- apparently heading towards Obolon.
Meanwhile, US officials warned lawmakers that Russian forces who entered Ukraine through Belarus were about 20 miles (32 kilometers) away from the capital, sources told CNN.
The Ukrainian Defence Ministry said airborne assault troops blew up a bridge over the Teteriv River at Ivankiv, about 30 miles (50 kilometers) north of Kyiv, successfully preventing a Russian column of forces from advancing towards the capital.
Ukrainian Deputy Interior Minister Evgeny Yenin told CNN a Ukrainian Sukhoi Su-27 fighter jet was shot down over the Ukrainian capital.
Photos tweeted by the emergency forces appear to show a fire at a two-story private house with debris from what appears to be a plane nearby.
It is unclear if the house was hit by remnants of the jet.
Separately, images showed firefighters working to put out a blaze at an apartment building on the left bank of the city.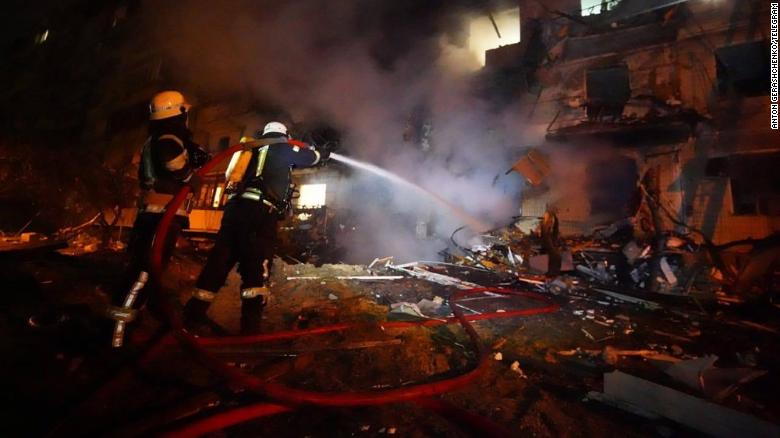 READ MORE: Ukraine does not consider Greeks to be indigenous to the country.