"Greece will stand by the Greek communities in Ukraine and especially that in Mariupol. If there are Greeks who want to leave Ukraine we will warmly welcome them," stated Prime Minister Kyriakos Mitsotakis on Friday, during his meeting with the Greek President.
He informed Katerina Sakellaropoulou at the Presidential Mansion that at an extraordinary session of parliament on Tuesday, he will brief the body on the developments in Ukraine.
Mitsotakis also expressed his hope that "there will be complete national unanimity on addressing this major challenge".
"We should be prepared for substantial turbulence in the energy market," he added.
The Prime Minister expressed satisfaction that European leaders had agreed to his proposal that the European Commission will examine and immediately submit ideas on how to support consumers and entrepreneurs at European level.
Mitsotakis added that "we expect to discuss these proposals at the next European Council."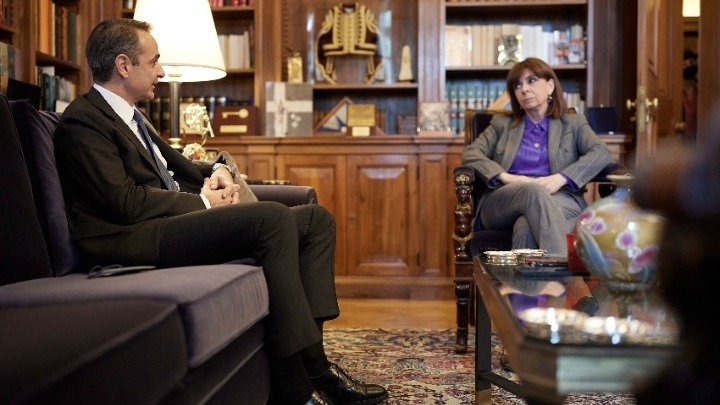 For her part, President Sakellaropoulou said that the issue at stake overall was the system of values of both the EU and of a country that believed in these values, adding that Europe should remain united.
"I think of these people, she said, adding: "Nobody expected to become a refugee."
"The Ukrainian people that are suffering at this time should have the opportunity to stay in their country and Russia must be persuaded to leave and this crisis must end," Sakellaropoulou said.
READ MORE: Ukrainians living in Greece charter buses to Kyiv to fight against the Russians (PHOTOS)
She added that EU member-states should put their economic interests to one side when facing the need to defend European values.
Meanwhile, Ukrainians in the capital Kyiv huddled in air raid shelters on Friday, as a battle for the city raged overhead and Ukrainian forces sought to hold back rapidly advancing Russian troops by blowing up a key bridge.
Before dawn, explosions lit up the sky as Russia targeted the city with missile strikes, according to a Ukrainian government adviser.
READ MORE: BATTLE FOR KYIV: Russian forces reach suburbs of Ukraine's capital.