The Russian Defence Ministry announced that their armed forces have captured the southern Greek-named Ukrainian city of Kherson.
The capture of Kherson makes it the biggest city to fall into Russian hands since Moscow launched its offensive last week.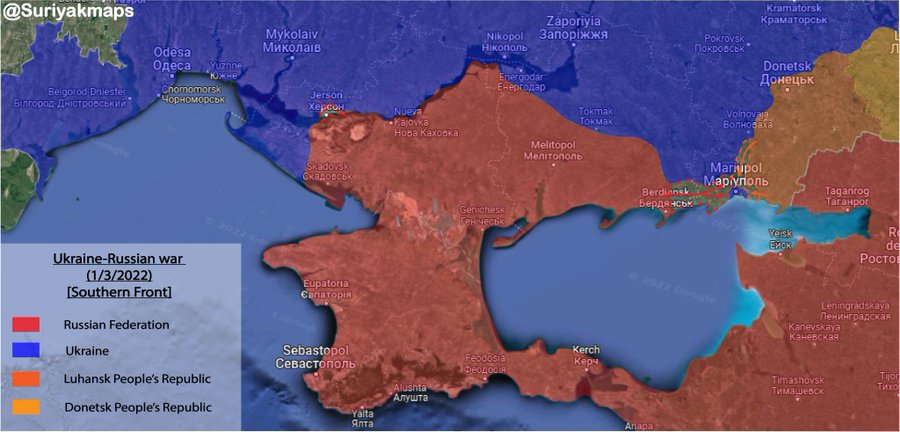 Kherson was founded by a decree from Catherine the Great on 18 June 1778 on the high bank of the Dnieper as a central fortress of the Black Sea Fleet and was named after the most famous city-colony of Chersonesos, located in Crimea.
The ancient name "Chersonese" was from the ancient Greek dialect word chersonesos which meant peninsula, shore. This was the first city from the Greek project of Grigory Potemkin and Catherine II.
Despite the claim from the Russian Defence Ministry, local authorities have denied the fall of the city, but say Russian troops have encircled it.
Al Jazeera's Andrew Simmons, reporting from Lviv, said there are reports of "Russian soldiers being seen on the streets of Kherson".
"This is a strategic city because it links the annexed-Crimean Peninsula to the mainland of Ukraine," Simmons said.
He added Russian forces were now trying to take control of Mariupol.
"There is a colossal fight going on there," Simmons said.
Al Jazeera's Jonah Hull, reporting from the city of Lviv, in western Ukraine, says there appears to be a "pattern of Russian attacks aimed at depriving Ukraine of access to its Black Sea coast".
"The Russians are said to be in control of Kherson and are also encircling Mariupol, a much bigger port city down on the Black Sea coast between Crimea and the breakaway regions," he said, citing the self-proclaimed Donetsk People's Republic (DPR) and Luhansk People's Republic (LPR) in eastern Ukraine.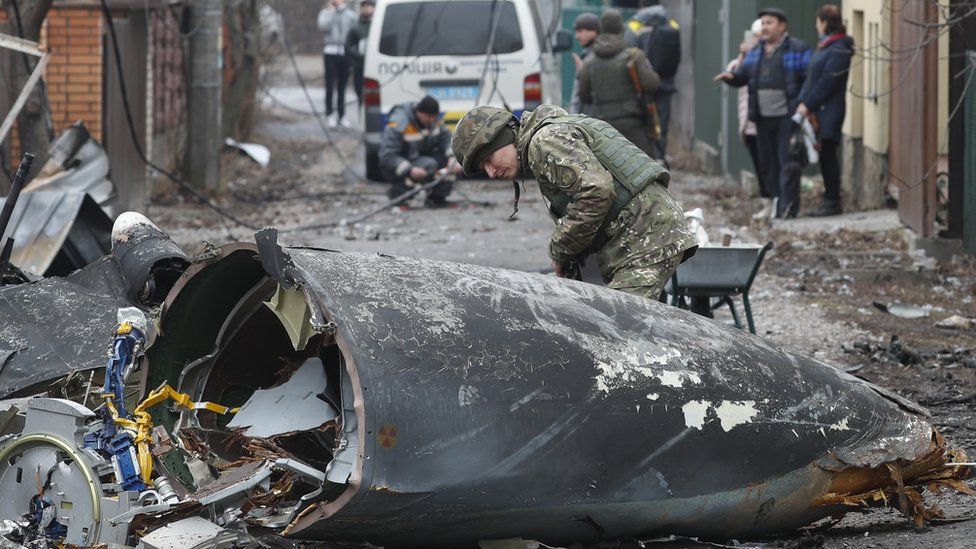 Meanwhile, Kateryna Shynkaruk, a Ukrainian political scientist and lecturer at the Kyiv-based National University of Kyiv-Mohyla Academy, says "nothing is any longer normal in Ukraine" following Russia's invasion.
"It has been such a dramatic change," Shynkaruk said from the western city of Kamianets-Podilskyi, where she fled to on Tuesday from the capital.
"And all these circumstances have brought to light things that were debated for decades – about whether Ukraine belongs in Europe or not … and what kind of state Russia is," she added. "It is a terrorist state."
Meanwhile, in the Greek-populated city of Mariupol, Russian forces are constantly bombing it.
"We are fighting, we are not ceasing to defend our motherland," Mariupol Mayor Vadym Boichenko said live on Ukrainian TV.
The intensity of the attacks meant it was proving impossible to evacuate those who had been wounded, he added.
Ukrainian President Zelensky has claimed that nearly 6,000 Russians have been killed during the first six days of Moscow's invasion and warned the Kremlin it will not be able to take control of Ukraine with bombs and air raids.
In a video address, the Ukrainian president said a Russian missile strike in the capital on Tuesday which hit a Holocaust memorial complex "proves that for many people in Russia our Kyiv is absolutely foreign".
"They don't know a thing about Kyiv, about our history. But they all have orders to erase our history, erase our country, erase us all," he added.
Russia has not publicly declared how many of its troops have been killed and Greek City Times was unable to independently verify the figures provided by Zelensky.
Meanwhile, Russian residents are no longer allowed to leave the country with more than the equivalent of $10,000 as the Kremlin tries to keep capital inside the country.
The rule affects foreign currency movement too and seems designed to make sure that people attempting to leave Russia – as sanctions are slapped on the country – don't take all of their hard currency with them.
The regional police department building in Kharkiv was hit by a strike pic.twitter.com/Zeebiqhm9B

— OSINTtechnical (@Osinttechnical) March 2, 2022
READ MORE: The US closes airspace to all Russian aircraft. "He [Putin] has no idea what's coming," says Biden at the State of the Union.