The Fosun Tourism Group has expanded its investments in Greece by announcing this year's opening of four new Casa Cook and Cook's Club hotels on the Greek islands of Samos, Mykonos, Rhodes and Corfu.
Vice President of the Chinese-owned Fosun Tourism Group, Alessandro Dassi, said that Casa Cook hotels on Samos (128 rooms) and Mykonos (26 rooms) will open on May 1.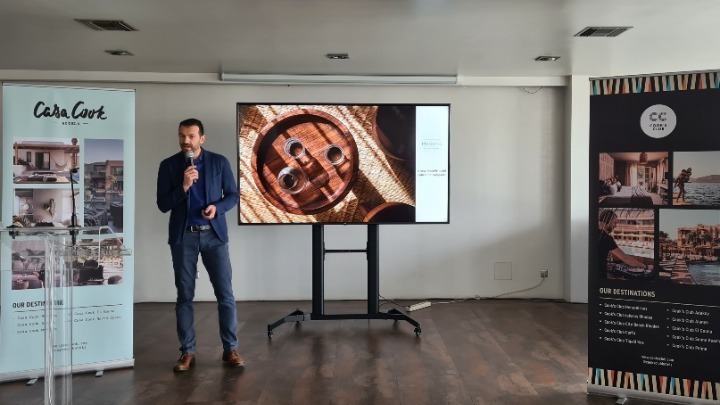 Two more Cook's Club hotels will open on June 1, one on Corfu (195 rooms) and one in Ialyssos on Rhodes (83 rooms).
The new hotels will join the four Fosun Tourism already operated in 2021 on Crete, Rhodes and Kos.
Dassi said that an agreement has been signed for one more hotel on Rhodes in 2023, while the group is planning new hotels in Athens and the islands of Zakynthos, Thassos, and Chalkidiki, with new projects to run on Kos and Crete.
"Athens is a significant destination because it combines well both business and leisure," Dassi said, who added that the group is also interested in the so-called Athenian Riviera, the coast running south of Athens as far as Sounio.
The opening of Ialysos Rhodes comes following the 2019 launch of the Cook Club's first hotel on the island, Cook Club's City Beach Rhodes.
Hristos Mihalakis, owner of Cook's Club Ialysos Rhodes, noted to Travel that, in the Cook's Club team, he has found the right partner for the type of hotel he wants to create, as its philosophy incorporates experience sharing and celebration of the moment.
Explaining why FTC is focusing so much on the Greek market, Dassi said that besides the fact that Greece is the birthplace of the Casa Cook brand and its "little sister" Cook's Club.
Last year the group's hotels had a very good performance despite the challenges due to the Covid-19 pandemic, travel restrictions and the tourism season opening late.
"Across all our hotels we had occupancy of 80 percent," he said, adding that Casa Cook Rhodes in particular achieved almost 100 percent by last October with rates higher than 2019 pre-Covid levels.
"For us it was a good season despite all the challenges and this is also due to the way Greece handled the pandemic and really built a reputation as a safe destination…" he said.
"The reputation that has been gained by Greece in the last two years will benefit inbound tourism for many years to come," Dassi added.
"Greece is setting the trend in hospitality… and that gives us an opportunity because we have brands that are different and disruptive. Our brands look at a new type of travel and not the traditional package travel such as all inclusive holidays," he said.
The top two markets for the group's hotels in Greece are Germany and the UK, followed by Israel and Switzerland.
According to Dassi, FTC is also trying to build a Greek domestic market.
"Because one of the things we want to do with our hotels is increase the season. There is a big opportunity to lengthen the season in Greece to even nine months," he said.
"We have ambitious growth targets and want to become a leading player in the lifestyle hospitality sector… We have two great brands that we will continue to invest in and develop," Dassi said, adding that FTC is also looking to launch new concepts focused on families and urban style hotels.
The group is aiming to grow its portfolio and its target is set at operating 30 hotels globally by the end of 2023 with new destinations including Mauritius and Sichuan.
"But Greece will always be the core. We will always see that the majority of our hotels are in Greece," he said.
The group runs a further five hotels in Turkey, Bulgaria, Spain and Egypt.
READ MORE: CRETE IN SPRING: Skiing in the morning, lunch by the sea.