Polytimi Boznou is a Greek motorcyclist who will travel to the border of Ukraine in order to raise money for the affected people and volunteer with organisations in the area.
Her trip will be with her favourite motorcycle and starts on April 2 with the aim of riding 3,500km in order to raise a respectable amount that will be offered to the Ukrainians.
Her helper in this effort is the Embassy of Ukraine in Greece. If you want to donate the items are:
IBAN: GR3401720530005053105774421, Piraeus Bank,
Beneficiary: Embassy of Ukraine
Identification Code (BIC): PIRBGRAA.
Polytimi plans to travel with her motorcycle over three days. This does not scare her, however, as it is not the only long journey she has made alone with her motorcycle, Polytimi is anxious about any obstacles she may encounter, such as the weather.
However, her willingness to offer and her longing to fulfill her goal and show that we can all help - push her to continue.
She explained to Marie Claire how the idea behind "3500km Ride For Peace" started, what she thinks she will gain from this trip, but also what it is like to be a female motorcyclist in 2022.
Where did the initiative start and how will it help the Ukrainian refugees?
The initiative is a purely personal idea and started from within me, from my heart. The assistance is mainly financial. An effort is being made to learn more about this in order to raise money.
This is done through the Embassy of Ukraine in Athens, ie there is an account of theirs where the money goes directly and they send it accordingly. This was also the hardest part of preparing my trip.
The second part is the personal help I will offer once getting there (in Siret, Romania). From what I have learned so far, I can immediately join any volunteer group and help where needed. And there is a great need for "hands" of help.
How does the Greek embassy help you and how does the Ukrainian embassy help you in your initiative? How can we deposit money?
The Greek Embassy is not participating because at the moment there is no reason, unless I entered the warzone. Of course I will ask for her help if needed. Siret is 2 km from the Ukrainian border on the Romanian side. The details for depositing money are:
IBAN: GR3401720530005053105774421, Piraeus Bank,
Beneficiary: Embassy of Ukraine
Identification Code (BIC): PIRBGRAA.
What worries you or what scares you on this particular trip? What is your program?
It is a very different and special journey from what I have done so far and a completely unprecedented experience for me. The first thing I will have to deal with will be the weather in combination with the kilometers I have to do in a short period of time.
Optimistic, as much as I am by nature, I want to believe that the situation will have "calmed down" a bit compared to the previous weeks. I'm scared of war, of course.
The program on the first day of the trip is to cover about 800 kilometers, to arrive in Sofia and spend the night there. The second night overnight in Foxani, which is located about 200 km north of Bucharest, a total of 570 km. On the third day until noon, I have to be in Siret which is my main destination and where I will stay two nights. From there I will move locally to 1-2 villages to visit refugee structures. My return will be with a small variation of the route.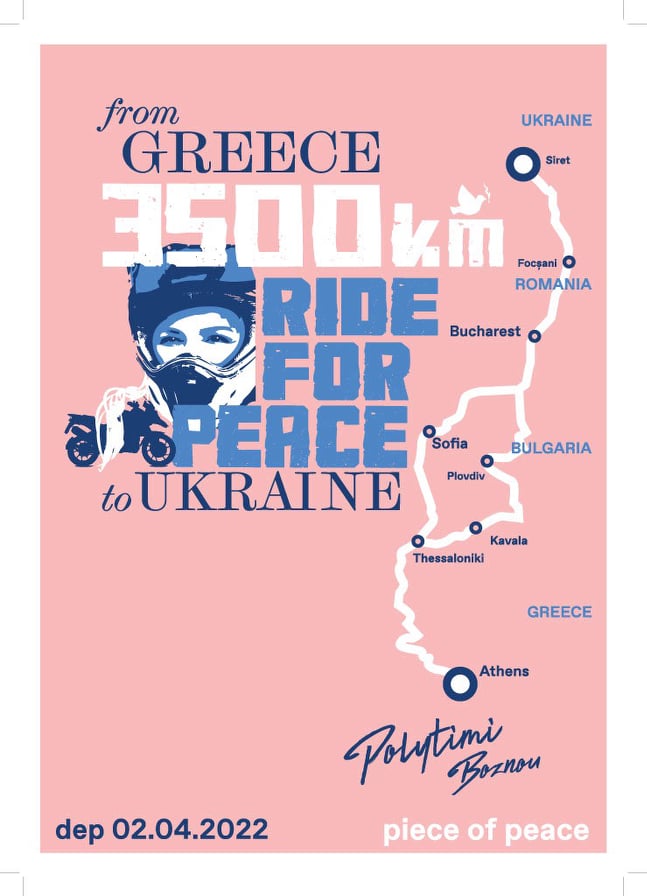 What is the message you want to convey with this action?
By offering my practical solidarity, I would like to convey messages of support from institutions and citizens of my country. I want to show that we all have a voice, we all have the right and obligation to contribute to the solution and to raise our stature by demanding freedom, democracy and the peaceful settlement of all differences of nations. And this is exactly what I will do, as - a minimum.
What do you think will have changed in you by the end of this journey? What will you gain?
Every trip I make on my own, I can say that it changes me. It strengthens me, matures me, helps me to see life from another angle, outside the microcosm we live every day. Especially this particular trip. At the moment it has completely captivated me. I do not sleep at night! I think I should tell you what I gained after I came back…
Since when do you deal with motorcycles and how did this love start?
I have always been a "girl" of adventure and action. I rode a Vespa for several years without a diploma. Taking lessons on a regular bike and not on a Vespa (which I love), I realised that I really like high-capacity motorcycles. It was a "thunderous" love that lasts to this day (unlike other thunderous loves).
That was 12 years ago.
The motorcycle became my life. I started very timidly, and slowly spread my wings to places farther and farther away. I was inspired and helped by people I met in the area.
At one point on I felt like I had the whole world in my hands. I rode my bike and went where I wanted. This of course is still true today.
What is it like for a woman to travel alone on such long journeys? Have you experienced any problems?
I would not say that it is different from a man traveling alone. To this day (I emphasise this), and having traveled several thousand kilometres alone, I have never felt anywhere in danger because of my gender, or have received derogatory comments and the like. On the contrary, I can say that I have received great and selfless help where it is needed.
View this post on Instagram
Which trip do you remember the most? Is there a time that never leaves your mind?
This is the most difficult question! I have loved all the trips I have made and each of them has given me very special moments, memories, emotions! And as contradictory as this sounds, what I remember even better are the very difficult times, such as very bad weather, where you have to continue the journey. I also vividly remember moments with mechanical or other injuries in the middle of nowhere, such as a fall with or without injury (this has happened too).
READ MORE: Athens Acropolis Museum switches to summer schedule after April 1.