Former Manchester City footballer Micah Lincoln Richards, in speaking on the BBC Radio Five Live Football Daily Podcast, shared details of a conversation he had with Joe Hart about Celtic FC manager Ange Postecoglou.
Richards spoke to former England #1 Joe Hart after his team edged out Glasgow rivals Rangers FC 1-2 on Sunday.
In fact, according to Richards, Hart told him that the Australian-Greek manager is one of the best he has played under.
"I rang him after the game to congratulate him," Richards said. "I watched the game, and he just said that the manager is inspirational, he's one of the best managers he's played under."
"People will say 'of course he'll say that because he's playing him', but they had a conversation when they first signed and Hart said to him that all he needs is a little bit of love, and you can see that in his performances. He says his training has been excellent and they're always wanting to play out from the back," the former player but now pundit said.
This is massive praise from Hart when remembering he has played under some of the greatest managers of all-time during his career, from Jose Mourinho, to Pep Guardiola, to Roberto Mancini.
The Celtic FC keeper is enjoying a sensational campaign as the rock on which Ange Postecoglou has built his title charge.
Hart admitted to the Aussie gaffer before he needed love to be a success at the club and his relationship with the fans has blossomed after a string of top-class shows.
The 34-year-old has returned to flying form less than a year after being written-off at the top level and booted out of the Spurs door by Portuguese boss Nuno Espirito Santo.
The keeper was left demoralised after being torn-apart and told that he wasn't capable of performing at the highest levels anymore and he would never play for him.
The ex-England No.1 felt ready to give-up after being shown the door by Manchester City, Burnley and Tottenham and only play charity games before Celtic swooped in to give him the chance to prove doubters wrong.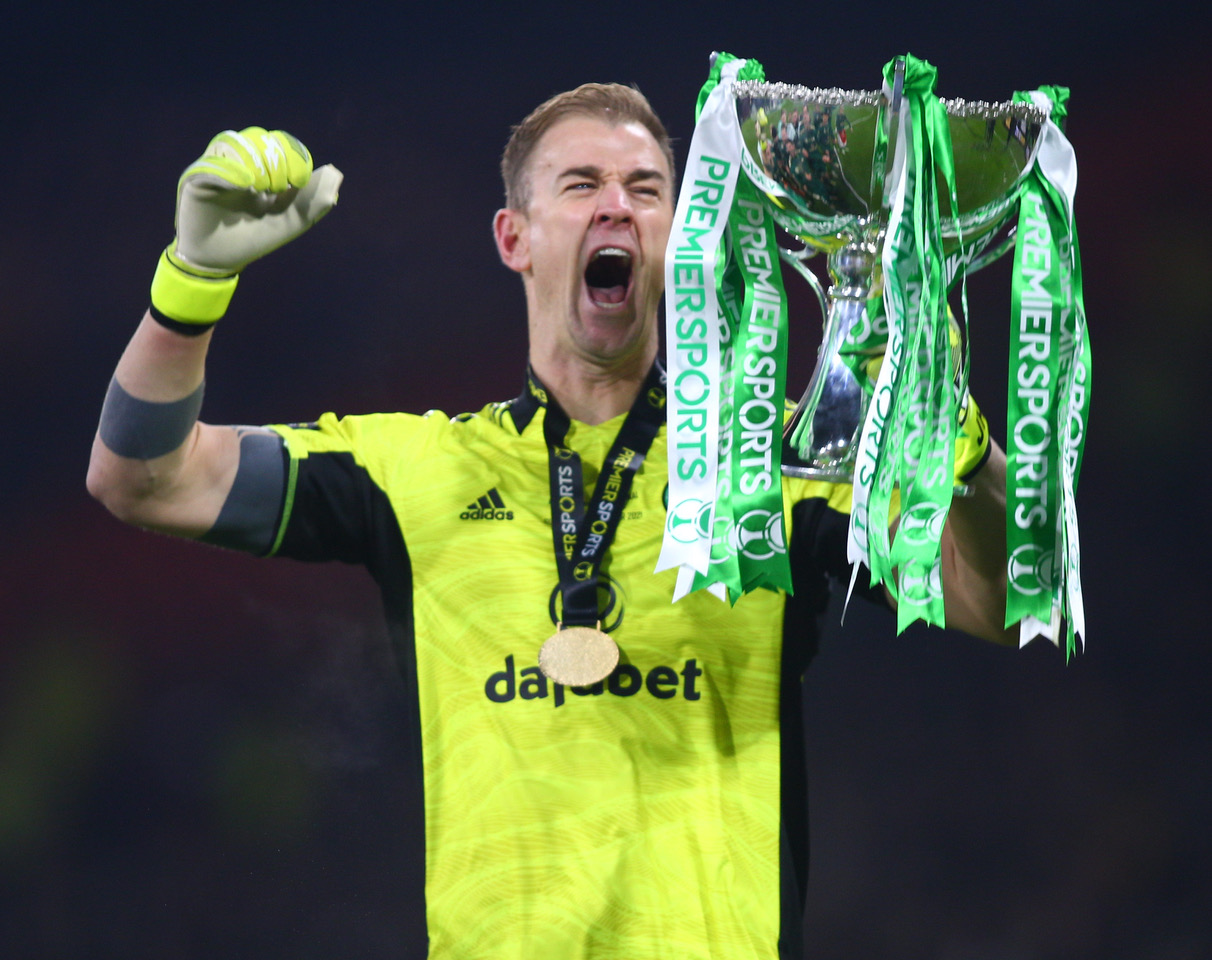 Speaking on the In The Stiffs Podcast, he explained: "I was going to be completely honest with how I see football, how I see life and how I see things.
"I'd love to talk to him (Postecoglou) because I think it is amazing that a club like Celtic even want to have a conversation with me.
"There was no falseness to anything I was saying. No agenda.
"I was very clear, this is awesome. Celtic is massive.
"I want to be clear that I am not giving a list of reasons for how you get me.
"You had me at hello. I would love to be here.
"But for me to be successful and the guy that you need, I was almost saying you need to know what you want because if it's not me, don't bring me.
"It won't work and I'll let this club down if those things that are important to me didn't work out.
"But he's a pretty straight up dude. He's hard. But I got an impression there was good integrity with how he spoke and what we wanted from a human being and how he wanted to behave as a human being.
"We got on the phone, he said: 'Hi Joe, how are you?'
"I was like: 'Look, this is going to seem a bit full-on with what I am about to say, but I need to say it for you to get a clear understanding of where I am at and who I am.'
"You need to be really clear if you want to pursue this with me saying what I am going to say.
"If you don't, I won't take offence. But I feel this is what I require to bring something to the table for you.
"I explained the situation and said I am the kind of guy who gives everything that I have got and I feel that's not got me anywhere so far.
"But I am not willing to give up on my principles. I am the kind of guy who needs love, I like to feel appreciation for what I am doing and feel part of a dressing room.
"I like to help, work with managers, work with people and I like to be backed.
"If you don't feel that is something you can give to me, then it is absolutely not an issue. Trust me, I've had worse things said to me.
"He was like: 'I haven't asked anyone about you as a goalkeeper. I know what you are like as a goalkeeper.
"'I have done some research on you as a person, I've had some good references and now I've had this conversation with, I am going to pursue it.'
"I said to keep me updated. There was never a conversation to be had about money. I was either going to do something properly or I wasn't.
"Turned out I was and I have and this is how I wanted to do it."
Hart has been a revelation for the manager and his club and is delighted about the straight-up relationship which has allowed him to flourish.
He said: "I have loved being here, loved being part of here.
"Everyone who knows me said, obviously, you can't be chucking two in every week or people will turn on you, but when they see who you are, what you are and how you represent things, they will buy into it. People have.
"If I came here and had a stinker and after five games I got dropped, I got dropped for footballing reasons.
"Whether I do well or not, I feel people get who I am. That's more important than anything. I am really happy."
Hart has proved the doubters wrong after a three-year spell in the wilderness prior to move to Celtic.
And the Englishman's outstanding comeback to the big time has received the ultimate seal of approval from Italian goalkeeping legend Buffon.
Buffon said: "The way Joe is playing this season is no surprise to me he has always been a great goalkeeper. He just needed a place to call home again.
"He is a player I watched develop and I saw he had everything that was needed to be one of the best goalkeepers in the world.
"It was not that long ago that I called him one of the top three or four goalkeepers in the world.
"Along with (Manuel) Neuer, (David) De Gea and (Jan) Oblak, these guys were the next generation who could take over from myself and (Iker) Casillas.
"That player who was No.1 for Manchester City and England didn't go away. He just needed to find his confidence again.
"I have always said you have to be a little bit crazy to be a goalkeeper because you are so isolated.
"As a defender, you are part of a defence. As a midfielder, part of a midfield. But the goalkeeper is the isolated player on the field.
"You make a mistake and all eyes are on you. That is what happened with Joe.
"He made a couple of mistakes and people just decided he was not top level anymore.
"He needed a bit of love to find his level again and he has obviously got that love at Celtic. The top player is back and it is good to see."
READ MORE: Ange Postecoglou Has Joe Hart Playing Football Pep Guardiola Said He Could Not (VIDEO)