The $100 million yacht Titan owned by Russian oligarch Alexander Abramov's is likely heading for Turkey, where other Russian billionaires have moored their floating assets to escape sanctions imposed by Western governments.
Steel billionaire Abramov's 80-metre-long mega yacht is sailing near top speed to reach the Suez Canal after long stays in Dubai and the Maldives, Bloomberg said in a report on Friday.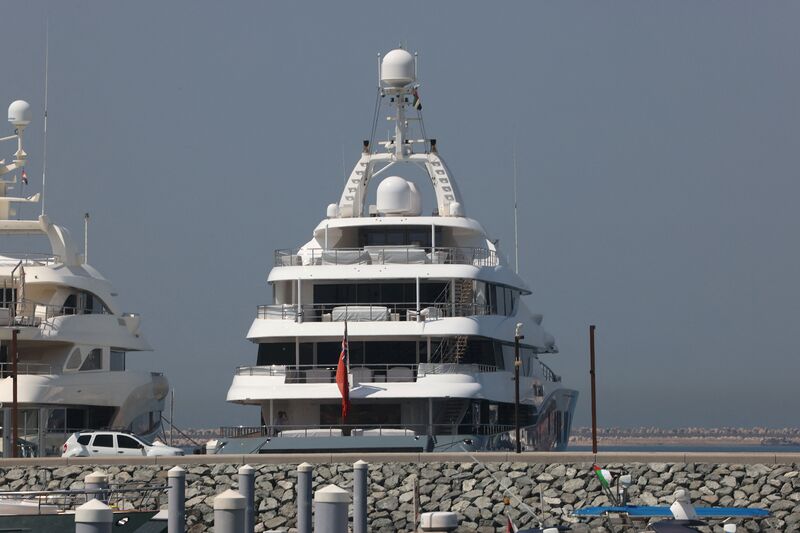 Turkey declared support for Ukraine during the Russian invasion by calling on Moscow to respect its territorial integrity, but it has not followed the West in imposing any sanctions on Russia or businessmen close to President Vladimir Putin.
Turkey allowed Russian oligarch Roman Abramovich to moor his luxury yachts at its ports last month. It said other Russian oligarchs would be welcome in the country as both tourists and investors.
"Looking at historical data, the possible destination for the Titan once past the Suez Canal and into the Mediterranean could be the Aegean Sea, the entry point to Turkey," said Jerome Weiss, maritime data scientist at Spire Global Inc, according to Bloomberg.
"Travel to Turkey, a country that has yet to enforce sanctions against Russia, may be the reason we're seeing increased yacht movement in the region," Weiss said.
Abramov is worth about $7.3 billion and co-founded Russia's second-biggest steelmaker Evraz Plc, Bloomberg said.
Roman Abramovich's $700 million yacht, the Eclipse, which at 160 metres was the world's longest private yacht when first delivered in 2010, moored in the Mediterranean resort of Marmaris last month.
A second yacht belonging to billionaire, the $600 million My Solaris, later arrived in the holiday town of Bodrum from Montenegro. It was formerly in Spain.
Oleg Deripaska's 73-metre yacht Clio arrived in Turkish waters and anchored off the coast of Göcek in the Aegean coastal province of Muğla on April 17. It then left Turkey and sailed across the Mediterranean towards Egypt.
READ MORE: Greek anti-aircraft systems mobilised in islands after the salvo of Turkish violations.