Ukrainian refugees now residing in Attica region can board buses, trolleys, metro and trams free of charge for 90 days as of Wednesday, said Athens Urban Transport Organization (OASA).
Beneficiaries can be issued personalised electronic ATH.ENA Card travel cards from OASA's ticket offices.
While accused by human rights groups of pushing back other refugees, Greece took in 7,759 from Ukraine who fled Russia's invasion, 20 percent of them under the age of 18.
The Migration and Asylum Ministry said that just under 54 percent were aged over 35 years old and 26 percent were in the 18-34 age group after denying it was pushing those from other countries back to keep them out.
From the start of the Russian invasion on Feb. 24 up to April 30, the ministry also received 13,147 applications from Ukrainian nationals requesting temporary protection and aid.
Some 56 percent were filed with the asylum office in the Greek capital and 29 percent were in Thessaloniki in the north, Greece's second-largest city and major port.
Not one was staying at the short-term accommodation facility in Serres on April 30, the ministry added, saying that 164 refugees were at its long-term housing facilities in the same part of northern Greece then.
An additional 133 Ukrainians had been put up in apartments in Elefsina, in Attica, through the European Union-funded Hestia program which helps Greece deal with refugees and migrants.
The backlog of pending asylum applications was down 52 percent compared to April of 2021 during the COVID-19 pandemic and the ministry approved 45 percent but rejected 19 percent, the paper said.
An estimated 6 million Ukrainian refugees have fled across the border to neighbouring European countries since the beginning of Russia's war.
In this episode of Real Economy, we visit Romania to see how the country is dealing with the huge influx of Ukrainian refugees and speak to Romania's Education Minister about how they are helping refugee children continue their education.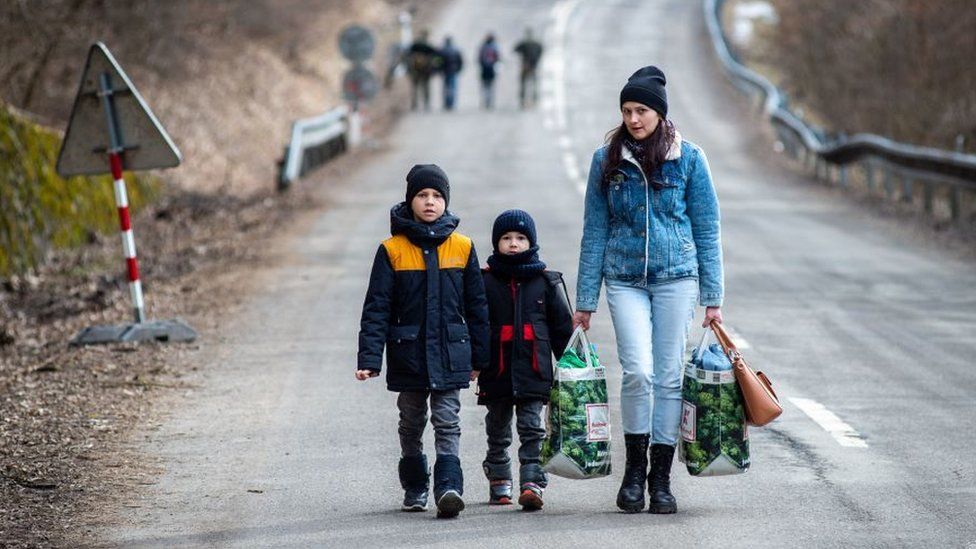 We also take a look at which EU funds are helping member states deal with the cost of this humanitarian emergency and ask are they enough?
In an historic move, the EU has given people fleeing the war in Ukraine the right to live and work across the European Union for up to three years.
To help EU governments, the EU has freed up several billions in unused money for Europe's regions. Known as the Cohesion Fund, it includes finance from the European Social Fund and FEAD, the European Fund set up to help the most deprived.
These billions can now be spent on emergency help for Ukrainian refugees.
The money can be spent on items such as temporary accommodation, food, blankets and clothing as well as services including psychological counselling, medical care and education. National governments can claim back money already spent since the beginning of the war.
In addition, €10 billion of pandemic recovery funds known as REACT-EU is available. €3.5 billion has already been paid out to member states, with countries hosting the most refugees receiving the largest share of this.
Real Economy's Naomi Lloyd asked the European Commission's Director General of Employment, Social Affairs and Inclusion, Joost Korte why the funding was money reallocated from other budgets, rather than fresh EU money to help cope with this crisis.
"The seven-year budget that started in 2021 was made for peace" Korte explained. "Nobody envisaged, as we were negotiating that budget, that there would be a war in Europe. I think it is fair to say that the budget that we have now wasn't really made for the situation in which we find ourselves."
The Director General underlined how they had quickly freed up money, saying "what the European Commission is doing is to use all the flexibilities, all the margins that are there in the budget. Where the European Union has much more funding available is in what we call the Cohesion funds."
"We've strongly motivated and encouraged the member states to use the money still there and made it very easy to spend it," he concluded.
Korte explained why is there is still unallocated money in the budget.
"In fact it is possible for Member States until the end of 2023 to to spend money under the 2014-2020 programmes. So the seven year period is in fact almost ten years. That's why, as we speak today in 2022, there is still money there."
He clarified how Governments, NGOs and charities can access the money.
"We pay into the bank account of the member state and it is then for the member state to make sure that the beneficiary does indeed get the money that it's entitled to. And this we check. There is also a requirement for the Member States to make it very clear who is in charge and where they should go to and what the formalities for reimbursement are."
READ MORE: Russia dispatches new era of laser weapons to Ukraine to "burn" drones (video)