The Cycladic Islands are particularly famous for Santorini and Mykonos, but often overlooked is the chic island of Sifnos.
The island is stylish, uncontrived and relaxed, making it an ideal destination for all types of visitors, whether it be couples enjoying quieter swimming at Saoures beach, groups of friends finding pleasure at Platys Gyalos and Apokofto, or families feeling comfortable at Kamares and Vathy.
In the evenings, Apollonia, the capital, has surprises in store for visitors of all ages.
Tavernas and restaurants serve all sorts of meze dishes as well as gastronomic dishes, small sweet shops serve ice cream and waffles, gift shops sell handmade jewellery and clothes, while exceptional little bars offer cocktails to the sounds of fine music.
The overall setting remains down to earth, moderate, and free of late-night excess. Make the most of your time between early-day swimming and nights out to discover the beauty and secrets of Sifnos.
Visit Artemonas, the island's most picturesque village with delightful mansions, whitewashed alleys, and well-kept yards. Wander about freely at the uphill alleys of Apollonia, offering a limitless view of the Aegean Sea.
Kastro is an ideal spot to visit in the late-afternoon hours. After having strolled around its alleys, head down to the small, whitewashed chapel, Epta Martyron, to enjoy a wonderful sunset experience at what is an almost mystical atmosphere.
Try the island's renowned revythada (chickpea soup); its mastelo, lamb with fennel baked in a clay cooking pot; the cheese varieties; as well as the sweet figs.
Become acquainted with the island's ceramic tradition by visiting any of the numerous studios and make sure you leave with a ceramic piece as a souvenir.
If interested in the island's history, begin with the ancient mines.
Rich deposits of gold, silver and other metals made Sifnos one of the wealthiest places of the ancient world. Sifnos was also the first place to cut a gold coin and engrave both sides of coins.
How to get there:
By ferryboat from Rafina or Piraeus.
Where to stay:
Nival Boutique Hotel: A newly constructed hotel with abstract décor, pastel earthy tones, and impressive furniture, this hotel has placed attention to the use of natural materials. Its rooms are elegant, comfortable and offer a view of Apollonia. The hotel also features a pool area with a stone-built bar and woven beach umbrellas. It is situated very close to the centre of town. (Apollonia, +30 2152154835, www.nivalsifnos.gr).
Elies Resort: A lovely resort of modern Cycladic architecture, it features comfortable, modern-design rooms, and a superb pool. (Vathy, +30 2284034000, www.eliesresorts.com).
Verina Terra: Featuring autonomous apartments with lovely décor, Verina Terra offers a beautiful balance between traditional and modern style. It is situated very close to the beach and, even so, also offers a swimming pool. The place possesses a youthful vibe. (Platys Gialos, +30 2284071525, www.verinahotelsifnos.com).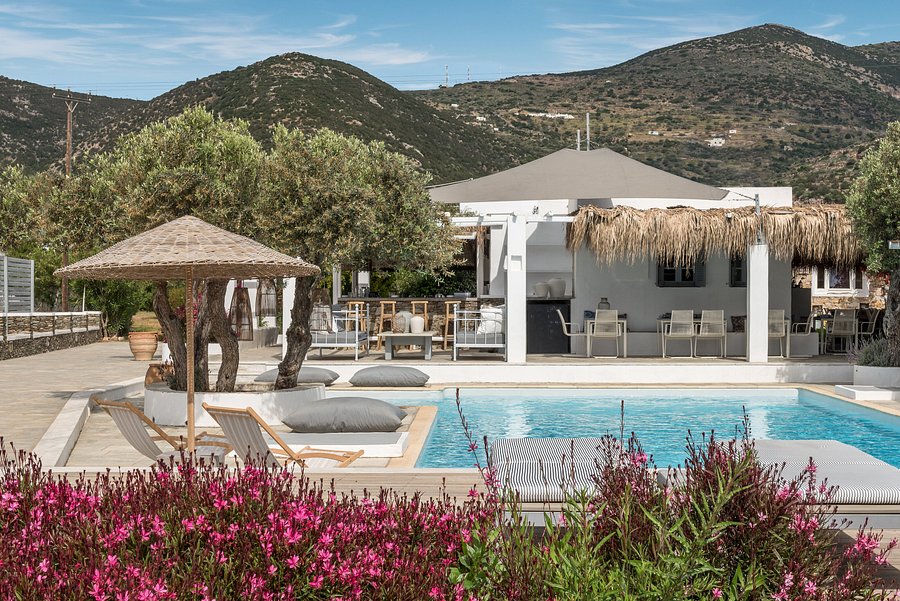 Gerofinikas Boutique Hotel: This facility features large stone-paved yards and a pool with an incredible view. The rooms, minimal in design, are particularly well-kept. The hotel can organise diving, yoga and cooking lessons for guests. (Apollonia – Chrysostomos, +30 2284033450, www.gerofinikasboutiquehotel.com).
Ammos Sifnos Village: This very well maintained facility offers apartments directly above the sea. The facility's older apartments are simple but very well kept, while the newer ones offer minimal design and are fully equipped with everything guests may need to prepare breakfast. (Platys Gialos, +30 2284071331, www.ammossifnosvillage.com).
To Koralli: Comprised of eight small homes at a lovely location amid an olive grove, the facility is just 120 metres from the beach. The rooms, very comfortable, are equipped with small kitchens, and their décor is simple.
Overall, the experience here is very hospitable. (Platys Gialos, +30 6997148592, www.korallisifnos.gr).
Where to eat:
Cayenne: The spot serves at tables set at a wonderful yard, under the shade of a fig tree and an impressive bougainvillea. The dishes are balanced, with modern cuisine leanings (Apollonia, +30 2284031080).
To Steki: The eatery serves traditional Greek cuisine dishes that are well prepared. Emphasis is placed on the use of local ingredients. Casserole dishes, delicious roasts and fresh fish. (Platys Gialos, +30 2284071215).
Maiolica: Restaurant with Mediterranean gourmet flavours. Tempting dishes featuring fresh ingredients. (Platys Gialos, +30 2284071428).
Yalos: Fresh fish and lobster pasta by the sea in a beautiful spot in Platys Gialos. Original flavors paired with excellent wine or cocktails. (Platys Gialos, +30 2284071507).
Drakakis: Must-visit gourmet meze tavern, nicely located in the center of Apollonia. Stick to the daily specials and be patient during peak hours. (Apollonia, +30 2284031233).
Local products: Figs, caper, thyme honey, manoura cheese. Traditional culinary delights: revithada (chickpea soup), mastelo (lamb or goat baked in a clay cooking pot), revithokeftedes (chickpea fritters), caper salad, amygdalota (chewy almond cookies), loli (sweet pumpkin pie).
What to see:
Sifnos has over 230 churches and monasteries, a fortified settlement, towers, mines, museums, as well as a deep ceramic art tradition dating back to antiquity.
Kastro: This fortified settlement, whose remnants of a 6th century acropolis are visible, has been inhabited without interruption since prehistoric times.
It is built at a strategic location overlooking the Aegean Sea. Narrow alleys, arches, Roman sarcophagi on the edge of alleys, tiny old churches and delightfully maintained whitewashed houses make up the extremely atmospheric setting of this settlement.
Agios Andreas Acropolis: This expanse, measuring approximately 10,000 square metres, is the island's first organised archaeological site.
Excavations have brought to the light of day the acropolis' impressive Mycenaean wall (13th century BC), a large sanctuary, a sewer system and numerous buildings. A museum is maintained at the archaeological site.
Ancient Tymvos (Soroudi): A large impressive construction, it is speculated to be a vaulted Mycenaean tomb, dated between the 17th and 11th centuries BC.
Sifnos Archaeological Museum of Kastro: The museum's collections include discoveries ranging from the ancient to Roman period, ceramics from Kastro, from the Geometric to Hellenistic periods, as well as coins. (Kastro, +30 2284031022).
Panagia Chrysopiyi: The island's best-known church and protector, is located close to Apokofto beach, on a small peninsula.
Folklore Museum: It includes items reflecting the island's traditional life, such as farming tools, domestic equipment and local costumes. The museum's collection of swords and rifles is interesting. (Apollonia, +30 2284033730).
Panagias Tou Vounou monastery: The view offered by this monastery, alone, is good enough reason to visit. Its architecture of high walls and small windows is unique.
The monastery, dating back to the early 19th century and situated on the road from Apollonia to Platys Gialos, is dedicated to The Entry of the Most Holy Theotokos into The Temple (Presentation of Mary) and the saints Konstantinos, Eleni and Nikolaos.
Where to swim:
Sifnos' beaches are relatively small and relaxed. If unable to find a vacant beach umbrella, you should be able to secure shade under a tamarisk.
Platys Gialos: This is the island's best-known and most cosmopolitan beach. It is fully serviced and offers water sports as well as tavernas by the water.
Kamares: This sandy beach, fully serviced, is situated by the island's port. Its shallow waters make it ideal for families.
Fasolou: A small lovely beach with scattered tamarisks for shade, it offers a view of the rock at Panagia I Chrysopiyi, the island's most emblematic church.
Glyfo: Filled with tamarisks, this beach is covered with golden sand and offers lovely waters. It also looks to Panagia I Chrysopiyi church.
Vathy: One of the island's renowned beaches, featuring golden sand, it is fully serviced, offers water sports, as well as a range of tavernas and cafes directly behind the beach area.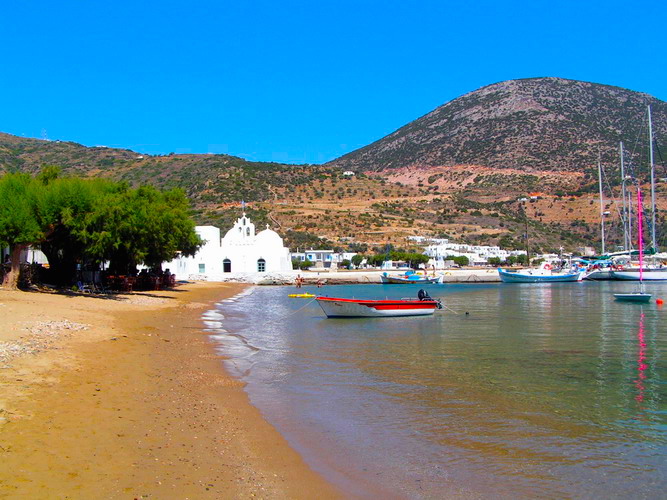 Faros: A charming serviced beach with superb waters, its tamarisks at the back are a bonus. A range of tavernas and cafés are available here.
Apokofto: A large beach with lovely waters, this beach also hosts small tavernas. It is situated next to the Chrysopiyi monastery.
Saoures: A small bay blessed with superb crystal-clear waters, this beach does not attract large numbers of visitors.
What to do:
Sifnos can be explored in a variety of ways. It can be done by horse riding along the island's trails, by walking the village alleys and talking to locals, or rock climbing. This island has so much to offer.
If you enjoy horse riding or cycling, arrange a tour of Sifnos' Cycladic landscape. Rent scuba diving gear and explore the island's underwater world, detached from any life concerns.
Visitors not afraid of heights have seventy rock climbing platforms to choose from and see the island from an elevated position. Visitors content with milder adventures can enjoy wonderful trekking routes.
Discover the ancient towers scattered around the island, numbering 77 in total. Locals used these towers as observatories circa 6th century BC, the island's peak during antiquity.
The towers provided a means of communication through the use of smoke signals.
The best-preserved towers are Aspros Pyrgos at Pantokratoras (6th century BC), Mavros Pyrgos at Exabella (5th century BC), and Kade Pyrgos (4th century BC), on the road to Vathy.
The area hosting the ancient mines is very interesting. Make sure to have a bottle of cold water and a snack before taking off to explore the mine area.
Discoveries here suggest mining activity had begun from as far back as early in the 3rd millennium BC. The island has two mining zones, one covering the areas of Agios Sostis, Agios Sylivestros, Vorini, Kapsalos and Xeroxylo, and the other between the Ai Gianni Faros and Aspros Pyrgos areas.
For more relaxed strolling, visit the settlement Artemonas, possibly the island's most beautiful, and marvel at the superb stately homes and gorgeous chapels.
Ceramic art on Sifnos
Sifnos has a deep tradition in ceramic art. It features many workshops open to visitors for close-up looks at how the island's renowned ceramic art is created.
Must: Definitely experience the view from Kastro and buy a ceramic piece as a souvenir before leaving the island.
Info/Useful telephone numbers:
Sifnos health centre: +30 2284031315
Sifnos port authority: +30 2284033617
Sifnos police: +30 2284031210
Sifnos town hall: + 30 2284360300
READ MORE: The Skopelos beaches you MUST swim at.