Are you thinking of visiting Corfu this summer but a little overwhelmed on what activities and things to do while visiting the Ionian Island?
Don't worry, Greek City Times has you covered with 10 things you MUST do in Corfu.
1. SWIM IN THE WORLD'S MOST ROMANTIC CANAL
Crafted by aeons of erosion into the gold-coloured sandstone of this idyllic northwest corner of Corfu, the canal d'amour at Sidari is really, well, lovely.
Local legend has it that if you swim along it with your true love, you'll both stay together and infatuated, like, forever. Maybe it's magic.
Or maybe it's the old-fashioned, never-fail romantic sorcery of warm seas and oil-painting sunsets. Either way, there's enough to get your pulse racing here.
2. MEET A LOCAL HERO AT THE CHURCH OF SAINT SPYRIDON
Any local will tell you that Corfu's patron Saint Spyridon was kind of a dude. During an especially rough famine in 1553, for instance, he prompted a lucky shipment of wheat to mysteriously drop anchor here.
He also saw off two bouts of plague – in 1630 and 1673 – then in 1716 defeated the marauding Ottomans.
These days, St. Spyridon's remains are interred in the lush Venetian-style church that bears his name.
Each year his slippers are ceremoniously replaced, because apparently they get worn out from all the do-gooding he still gets up to. What a legend.
3. HIKE THE CORFU TRAIL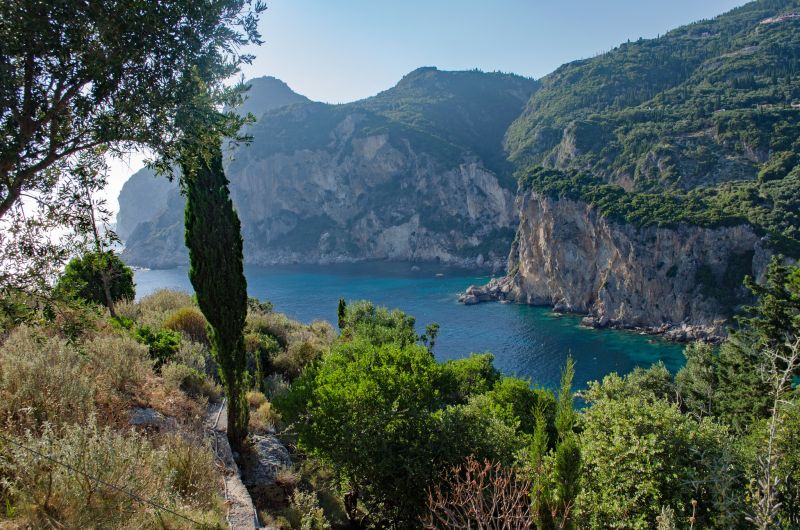 Corfu is an outrageously pretty island. And the best way to properly immerse yourself in its peculiar beauty is on foot.
Established in 2001, the Corfu Trail is a meandering 220km course that takes in every kind of terrain on this blessed rock, from the sweeping southern beaches and aromatic juniper dunes, past ruined monasteries, ancient olive groves and all the way to the rugged karst splendour of the north.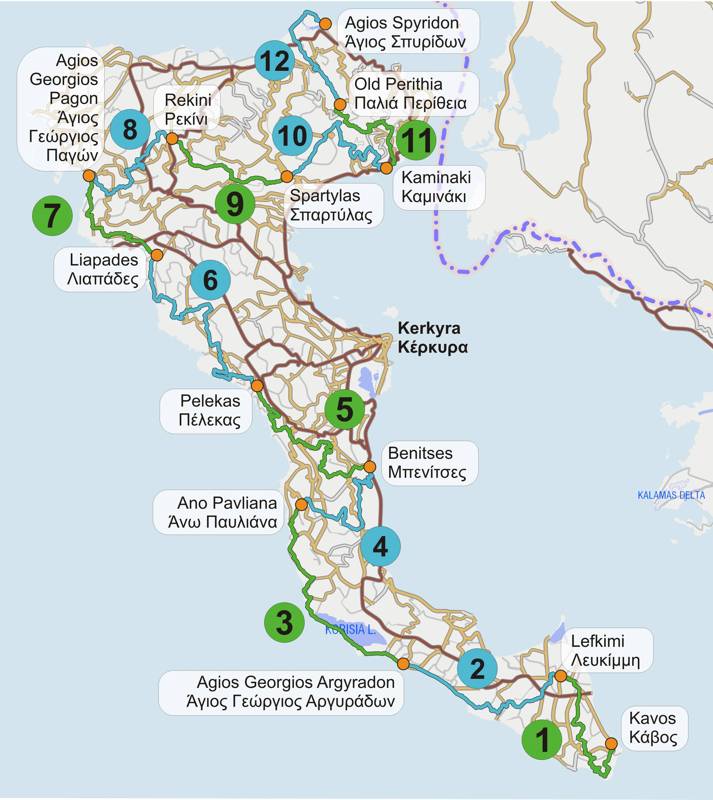 If you're a real hiking keen-bean, set aside eight days. Or just pick a leg along its well-signposted route. It's a fine step up from your regular stroll.
4. SCURRY ONTO MOUSE ISLAND AT PONTIKONISI
Some say this dinky islet, fetchingly situated a little out to sea around the entrance of Chalikiopoulos lagoon, was once a ship belonging to the mighty Odysseus, until vengeful sea god Poseidon transformed it into a rocky outcrop during an especially rough storm.
Today all is calm and peaceful on so-called Mouse Island – there's a small chapel and a modest little café and lots of dense shady vegetation.
Local lore is unclear on whether it's named Mouse Island for its shape or its size – but either way it's no tourist trap.
5. PARTY AFTER SUNDOWN AT LA GROTTA
The pebbly, sheltered cove of La Grotta, situated just by Paleokastritsa, is beloved by thrill seekers.
That's partly for the insanely steep, 142-step staircase down the cliff-face; partly for the craggy boulders that are ideal for hurling yourself fearlessly into the sea from.
If that all sounds a bit strenuous, there's a very good cocktail bar here that's been serving potent sundowners since the 1960s.
Banging tunes, killer location and always-up-for-it fellow revelers? This craggy inlet really rocks.
La Grotta Bar, Hotel Apollon, Paleokastritsa
lagrottabar.com
6. GET ORIENTED AT THE ASIAN ART MUSEUM
All right, it's not necessarily what you'd expect to be doing on a sunkissed Greek island.
But this remarkable collection of treasures from all over Asia – comprising two donations once belonging to local diplomat Gregorios Manos, plus the former Greek ambassador to India and Japan (that's the connection) – is full of startlingly pretty artefacts, from ancient jade dragons to dainty paper fans and contemporary porcelain.
The façade alone, in the hulking Palace of St Michael and St George, is worth marvelling over.
Palea Anaktora, Kerkyra
matk.gr
General entry €6
7. FALL IN LOVE WITH THE OLD TOWN
Corfu literally means 'peaks' and you can totally see why in Kerkyra (that's the Greek name for the island) Old Town, which nestles snugly in a valley 'twixt twin fort-crowned hills.
In its lively warren of enticing alleys (or katounia) you'll stumble on fun little restaurants and cute shops, presented in a joyous jumble of architectural styles.
There's everything from classic Venetian enclaves to a bizarrely incongruous English cricket green, via the uncannily Parisian Liston arcade with its cafés and boutiques.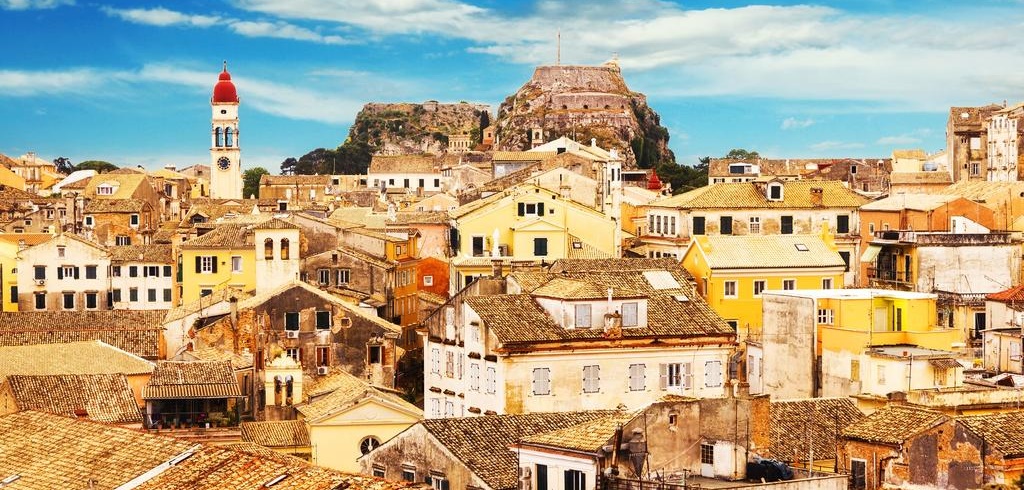 The place comes alive in a different way at night, too, with every manner of bar you can think of.
Just don't peak too early.
8. TAKE THE LONG VIEW AT MOUNT PANTOKRATOR
The loftiest mountain peak on Corfu soars a spectacular 906m into the azure skies, and is accessible by minibus tours from almost any resort on the island.
For best – read, most fun – results, take on the white-knuckle, hairpin-bendy road yourself in a hire car.
When you do find a safe place to stop, drink in the finest views in this part of the Med – the local Ionian Islands, mainland Greece itself, nearby Albania, and even Puglia in Italy some 130km over the sea. It's enough to make you dizzy.
9. HAVE A WHALE OF A TIME AT PALEOKASTRITSA MONASTERY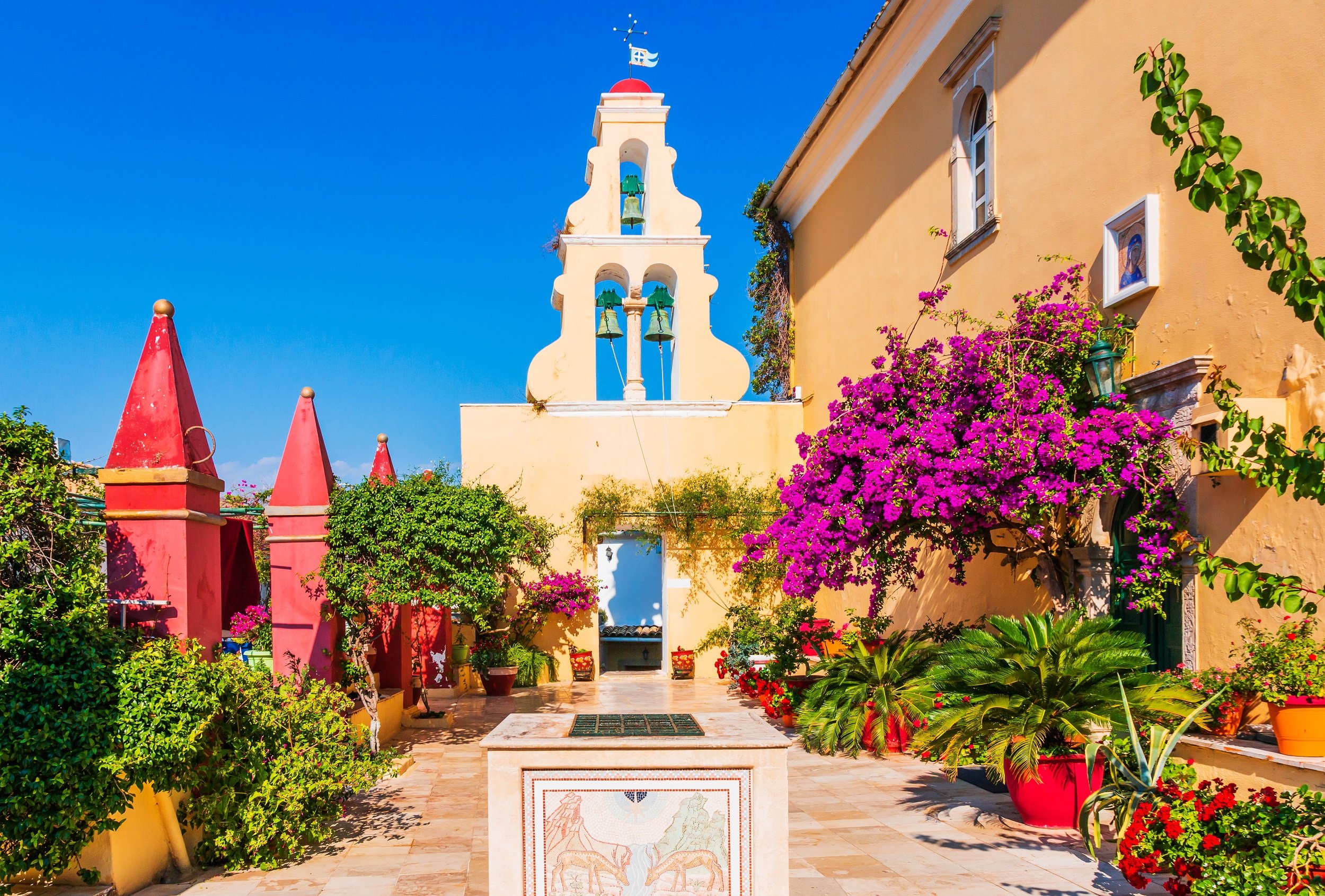 A modest 15-minute amble uphill from the bay at Paleokastritsa brings you to a serene pastel-hued monastery, which has been quietly getting on with the business of praising the Lord Almighty since the 13th century.
The views alone are worth the schlep – and if you want to enter, the tight brotherhood of monks is happy to show you around the gardens, as long as you dress respectfully.
In the bijou museum you'll find fancy vestments, ancient icons and, for reasons nobody seems quite clear on, a complete whale skeleton.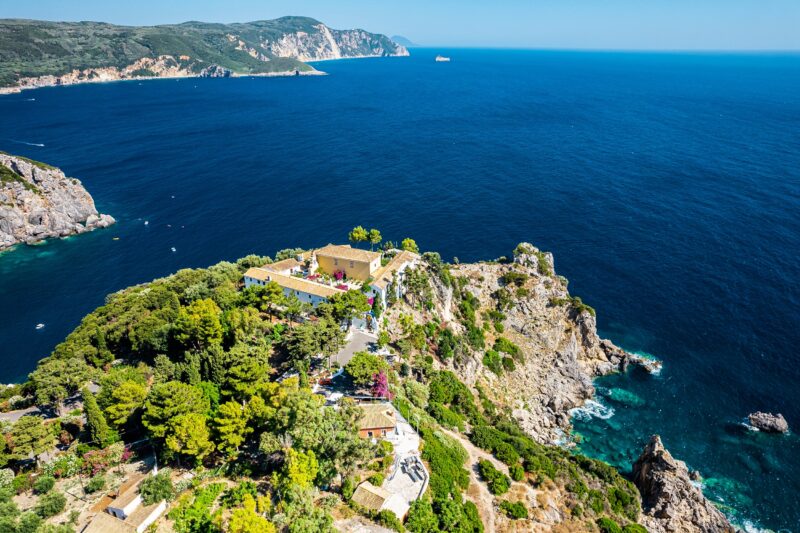 Paleokastritsa
Free entry
10. LIVE THE HIGH LIFE AT CAVALIERI HOTEL ROOF GARDEN
If you're out to impress that special somebody, make a reservation at the sixth-floor rooftop bar of this grand neoclassical pile overlooking Kerkyra's Spianada Square.
Once a 17th-century mansion, it's all about the old-school service here, with a lah-di-dah Italian-leaning menu that's big on luxury and finery, and a wine and cocktail list to match. Faintly old-fashioned Cavalieri is just a wee bit over the top, in all the right ways.
READ MORE: CYPRUS: 5 beaches you MUST visit.