We often associate Athens with the Parthenon, Syntagma and Monastiraki, overlooking the fact that you are just a stones throw away from some amazing and pristine beaches.
Here are five beaches compiled by Travel that will make you consider traveling to the islands or Halkida and make you just want to stay in Athens.
Kape, Sounion
One of the nicest beaches in Greece is located near the much larger Legrena beach. Here, you'll truly forget you're in Attica.
KAPE stands for Centre for Renewable Energy Sources in Greek, and you'll find the beach after the village Harakas. You make a right turn on a wide dirt road and park.
Before going down the 100 steps it's best to get some water or anything else you need from the little café there, or make sure you've brought your own supplies.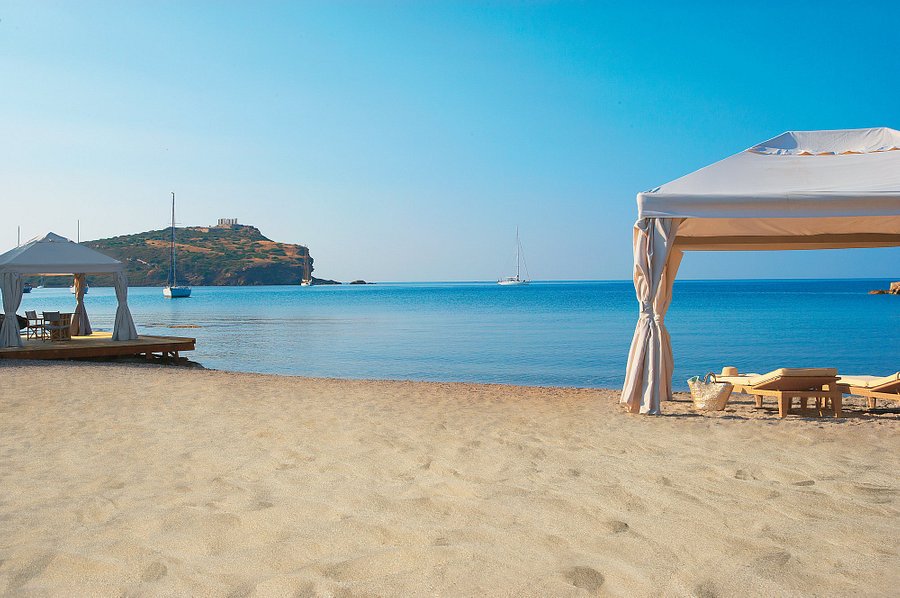 It's also recommended to bring an umbrella with you, since there's not much shade on the beach.
It's worth coming prepared so you can spend as much time as possible on this lovely beach. The waters are crystal clear and the landscape resembles an island of the Cyclades.
Due to the internet, the beach is no longer as big a secret as it used to be, so it's best to come on weekdays or in the afternoon so as to avoid it being too crowded.
Limanakia, Vouliagmeni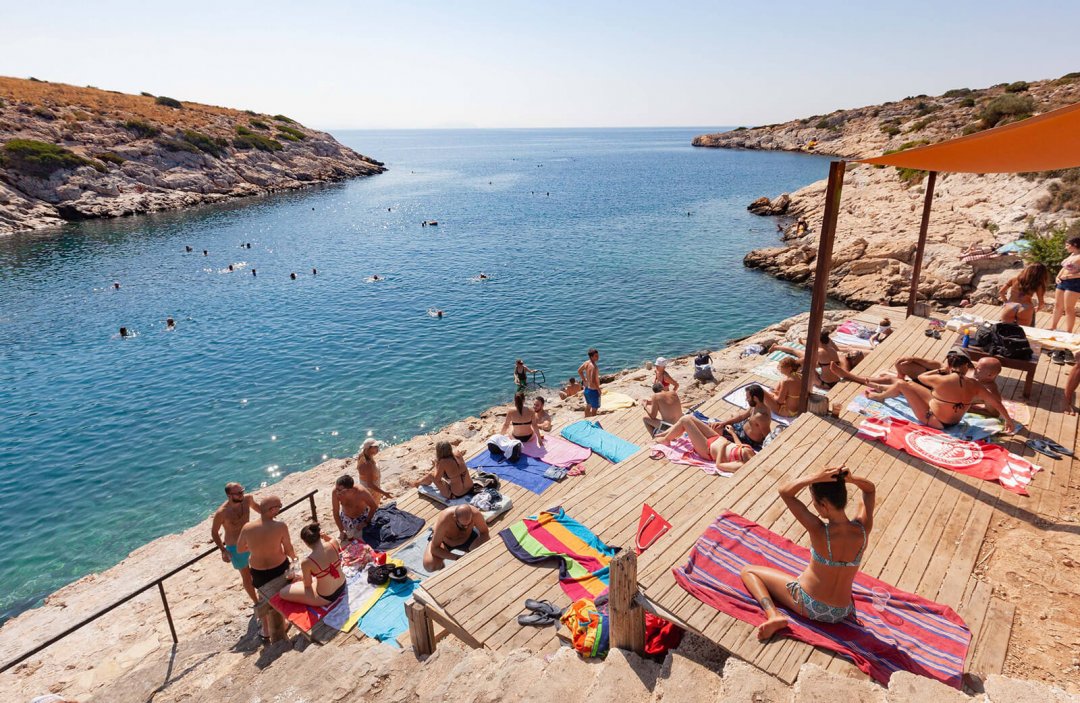 Limanakia is not exactly a beach and perhaps this is its greatest advantage for a first swim. Here, you get in the sea by diving in the deep, and this helps you get over any hesitation due to the cold.
A series of small bays between Vouliagmeni and Varkiza is known collectively as Limanakia.
The most popular one is the second, that also has a beach bar that stays open in the evening, and wooden platforms that are perfect for sunbathing.
The water is, again, crystal clear and one of the best seas in Attica, making you forget you're just 40 minutes away from the centre of Athens, and just a 2-3-minute walk downhill from the busy seaside avenue.
Right across you'll see the unique Vouliagmneni Lake.
Prosili, Porto Germeno
Porto Germeno is actually 3 plus 1 beaches.
To get there, you'll need to cross the fir forest of Elikonas, that unfortunately has been affected by the wildfires in recent years, but still offers a first contact with nature.
The road to Porto Germeno has many turns, but it's worth it.
Families with children usually choose one of the first 3 beaches, Mesea, Agios Nikolaos or Kentriki, because they have more space. But we think it's worth going all the way to Prosili.
The beach is not particularly large so you may not get a great spot. But as soon as you're in the water, you'll see why it was worth going the distance.
The water is clean and clear, if a bit cold. The beach and the sea bottom is covered in small pebbles which means strong winds won't affect you, though, strong winds are rare here.
It's probably the most unique beach in Attica, truly one of a kind.
You will spend many hours here, and you could end your excursion with dinner at one of the local taverns.
Daskalio, Keratea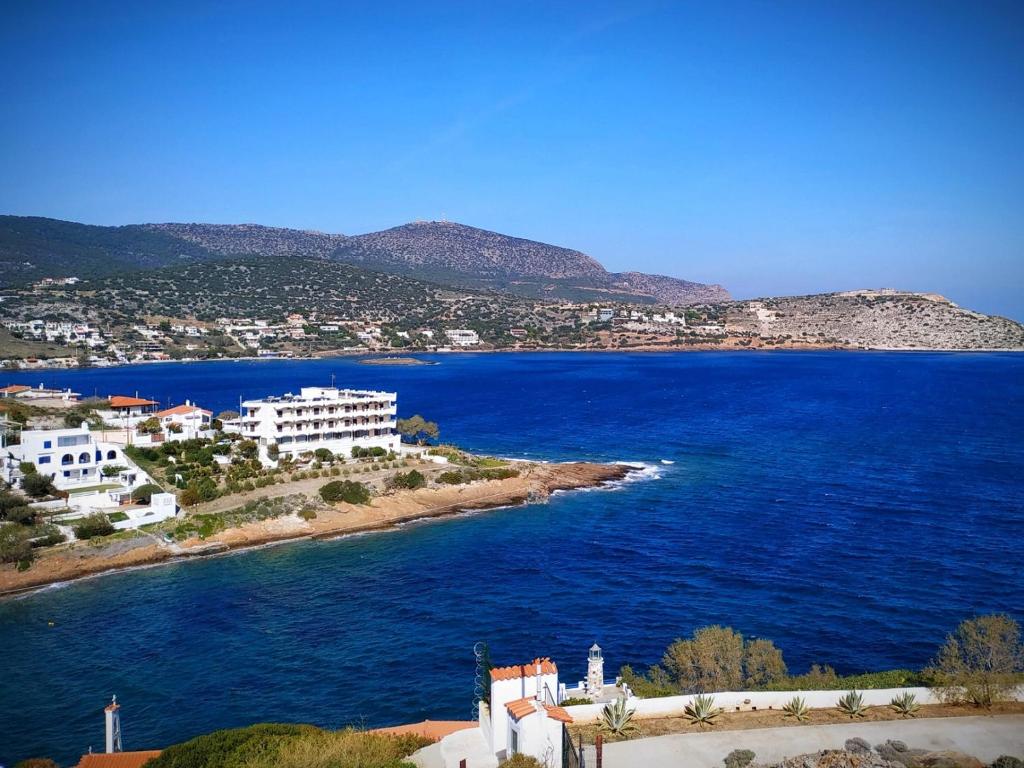 Just 50 km from the centre of Athens, you'll find Daskalio, one of the seaside villages in Keratea.
It consists of three small bays, the first two have sun beds and beach bars, but even so, many people choose to spread their towels on the sand.
The waters are clear, but not too deep, something that makes Daskalio popular with families.
During the summer weekends it gets crowded, which may make it difficult to find a spot to park.
However, Daskalio is a great choice if you're looking for clear waters, green surroundings and also want a place to grab a bite and/or drink.
Going swimming here can also be combined with a trip to Lavrio with the lovely neoclassical buildings and the great food options.
Akti Vouliagmenis
If you want to have the comforts of a serviced beach and not go too far from Athens for your first swim of the season, then this popular beach of the Athenian Riviera is probably the best choice.
This blue flag beach combines crystal clear waters with great facilities. You'll come here to spend a carefree day with your family, since there's a large sandy beach, a lawn, a playground, and a tennis and volley court.
Akti has a ramp to facilitate people with mobility issues, as well as accessible toilets. They have dedicated parking space, a doctor's office, lifeguards, changing rooms and showers.
At the canteen, you'll find anything you need. Akti Vouliagmenis is probably the best choice for the first swim of a family with small children.
READ MORE: Visiting Corfu this summer? Don't miss out on these 10 things!