If you have not been to Manouka, then you have missed out on an ideal place for a cocktail with a view of the Acropolis.
On the rooftop of the Utopia Hotel, with a panoramic view of the city of Athens, it is a pleasant outing to have a nice time, with your drink or food or combining it all together!
The bar has new cocktails, which are dominated by Greek element, seen from the point of view of sommelier Vassilis Papadopoulos and bartender Giannis Pissa, while food pairing is undertaken by chef Stathis Christidis.
As Vassilis Papadopoulos confessed to Olive Magazine, the goal of the whole team, led by Manos Stratakis, is to be able to distract the eyes of the people from the beautiful view and to make food and drink their strongest elements.
Normally the drink Athena is made with vodka , ginger, lime and aromatic bitters. Here they do not have aromatic bitters but basil, which pleasantly marries with lime. Ideal for those who love cocktails that are not so sweet, but also a cool and pleasant way to start a cocktail pairing.
Another is the Nemea shower, a variation of the New York Shower, with a strong Greek element from the red agiorgitiko from the Palyvos Estate. It is made with bourbon, sugar, egg white, bitter plum, which has gone through the process of milk wash (it has been passed through milk to be clarified).
There is also the Agiorgitiko. The aim of this cocktail is to combine in the mouth the tannin from wine and the sweetness from the drink.
The delicious marriage with a finger food of tuna on the grill marinated with mavrokouki, matched the aromas of the drink.
You cannot miss out on the Negroni-based cocktail. This particular cocktail is based on a Negroni made there in Manouka, which they marry with a dessert wine Liatiko from the Daskalakis estate. Quite intense for many people's tastes, but it stood out a lot with the rib eye, with which they had combined it.
To close, they chose Frozio. It is the best closing a night could have. At the time of serving, they rub fresh nutmeg on top of the drink that fills the table with aromas!
For lovers of the sweetest flavours, this drink combines a tincture from Patras, 2 rums, sweet vermouth, vanilla syrup and aromatic bitters. The freshly ground nutmeg stole the show, while at the same time it matched very tastefully with the galaktoboureko bites with a strong orange aroma.
Manouka is open from morning till night, so you can even go for coffee, but also for brunch. Whatever time you visit, it is worth leaving yourself in the hands of the team, to be offered a pairing according to your tastes and expectations.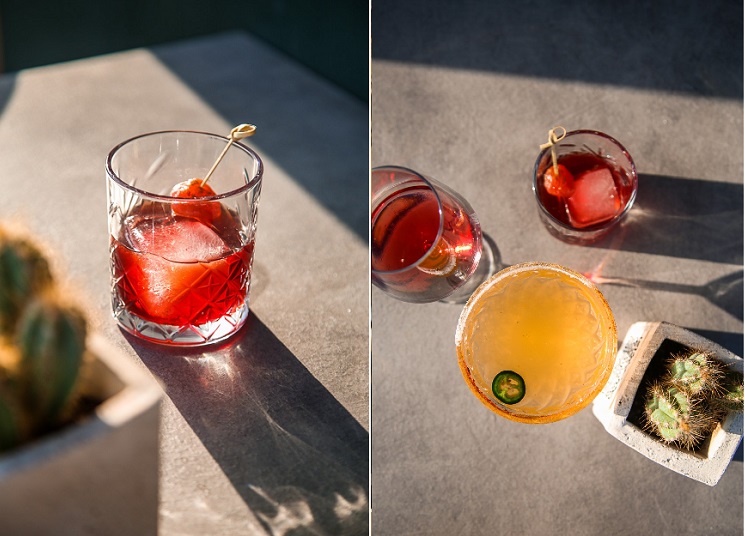 info: Manouka Utopia Hotel, 46 Ermou, Athens, tel. 2103241814.
READ MORE: Mykonos bar taken to court by American tourists for charging €600 for two drinks and a meze.