Although many know of the beaches in Halkida and the Cyclades islands, Central Greece has the Aegean Sea, the Evoikos and the Corinthian Gulf, all dotted with the most amazing beaches.
Whatever waters and no matter what type of beach you want, you'll find it in Central Greece, as Travel reported. Serviced, family beaches with shallow waters, secluded, wild ones with deep waters, with youthful vibes and loud music, or with only the sound of the waves on the sand and pebbles.
From Evia, Viotia, and Fthiotida, to Fokida and Skyros, the beaches are so many, we could write many more words.
Vithouri, Evia
Vithouri in Evia is one of those little hidden gems that you'll need to travel some distance to reach, as it is about 50km from the city of Halkida. The route, although full of turns, as it passes through mountains and fir forests, is truly beautiful. When you arrive at this small beach, you'll be filled with awe as it is surrounded not only by a lot of greenery but also by huge rocks that give it a special wild beauty. Its waters are stunning and crystal clear, typical of the Aegean Sea. It's not an organised beach, so you should make sure to bring everything you'll need.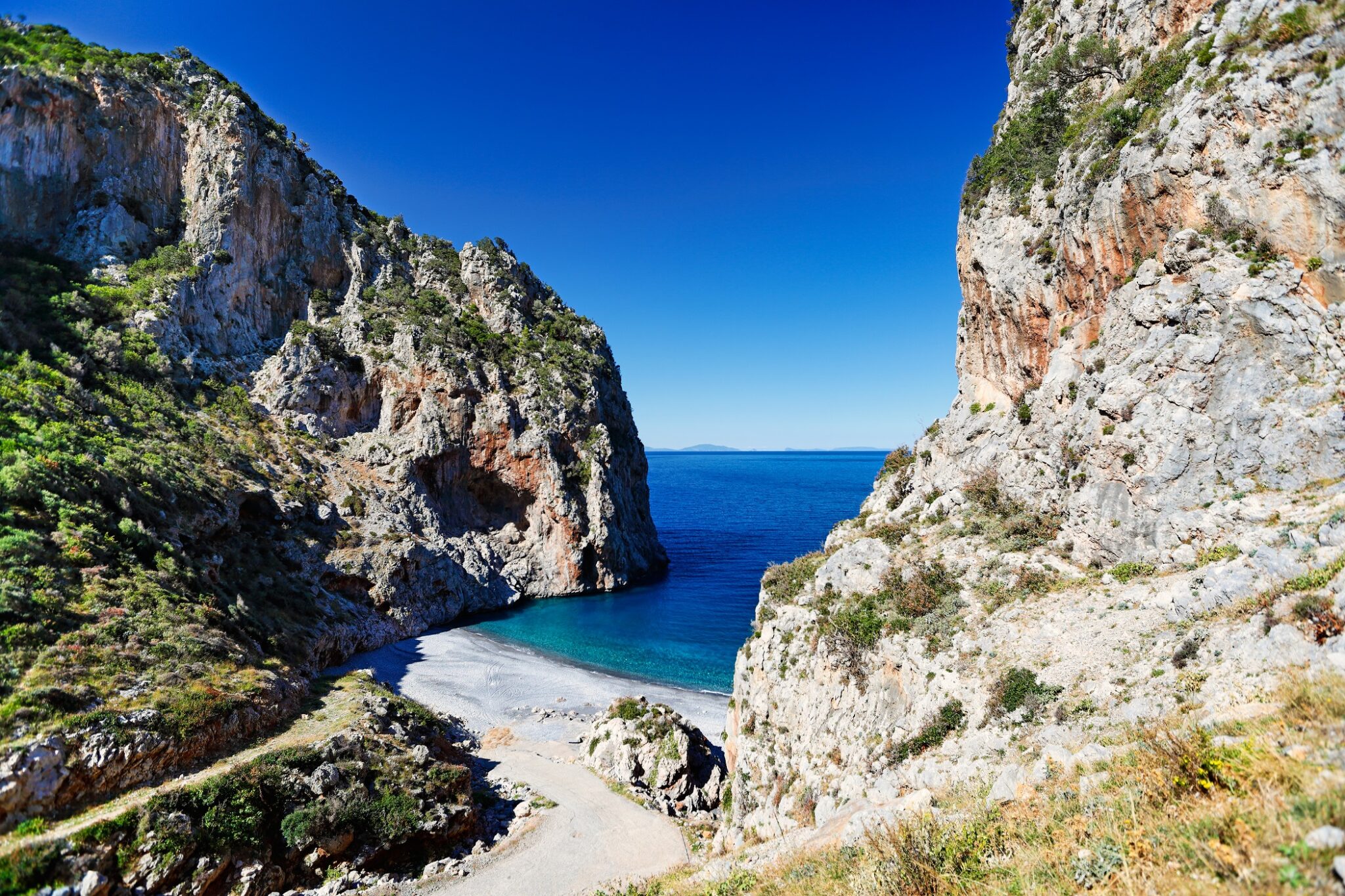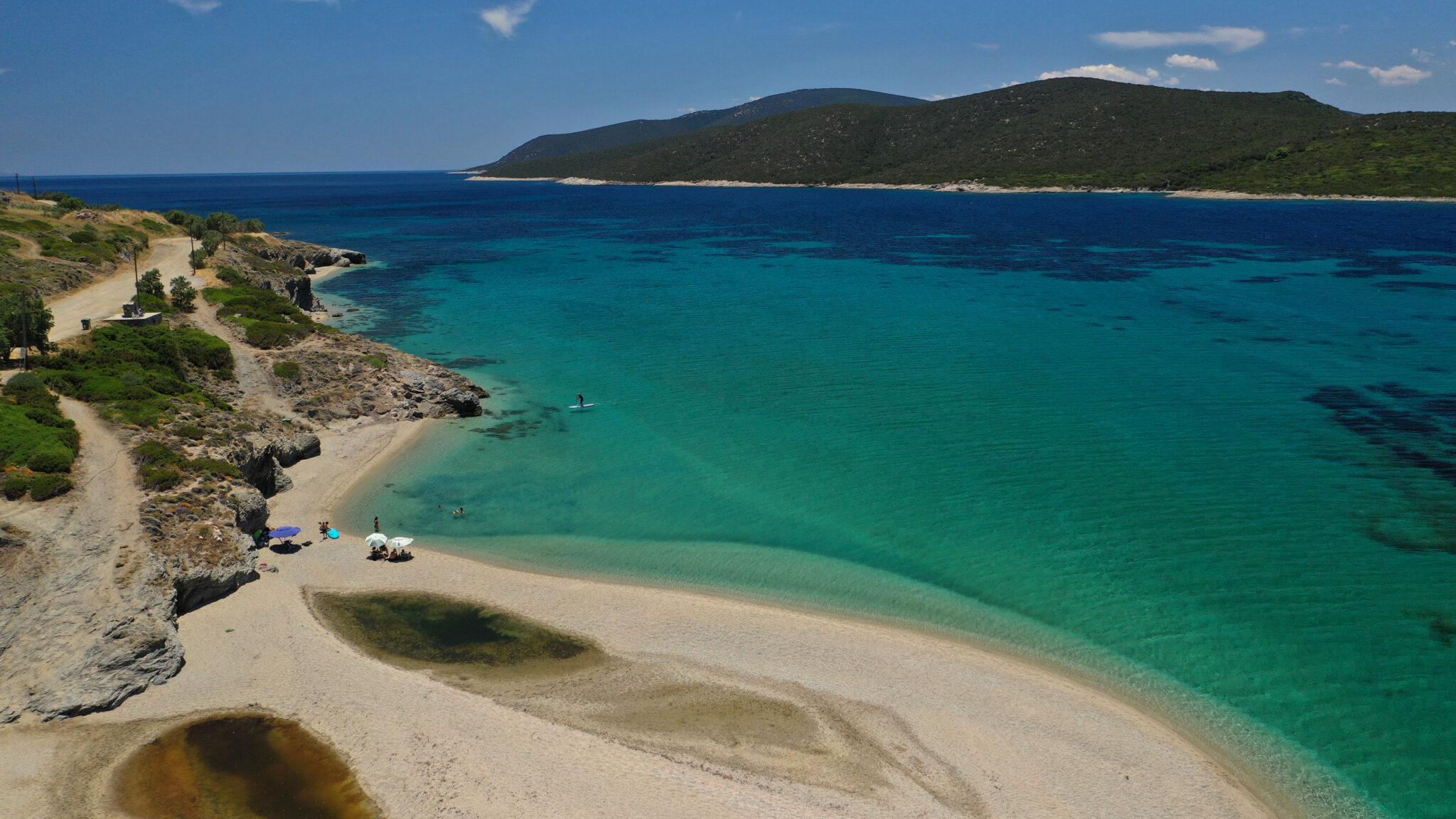 Megali Ammos, Evia
Megali Ammos in Marmari is no longer a secret, as it is one of the most famous beaches on the island of Evia. Its exceptionally blue waters and lovely fine golden sand make it not only famous but also beautiful. Moreover, it is also a favourite spot for kite surfers who arrive to the beach from almost all over the world to enjoy their beloved sport. It is of course serviced and has facilities for water sports.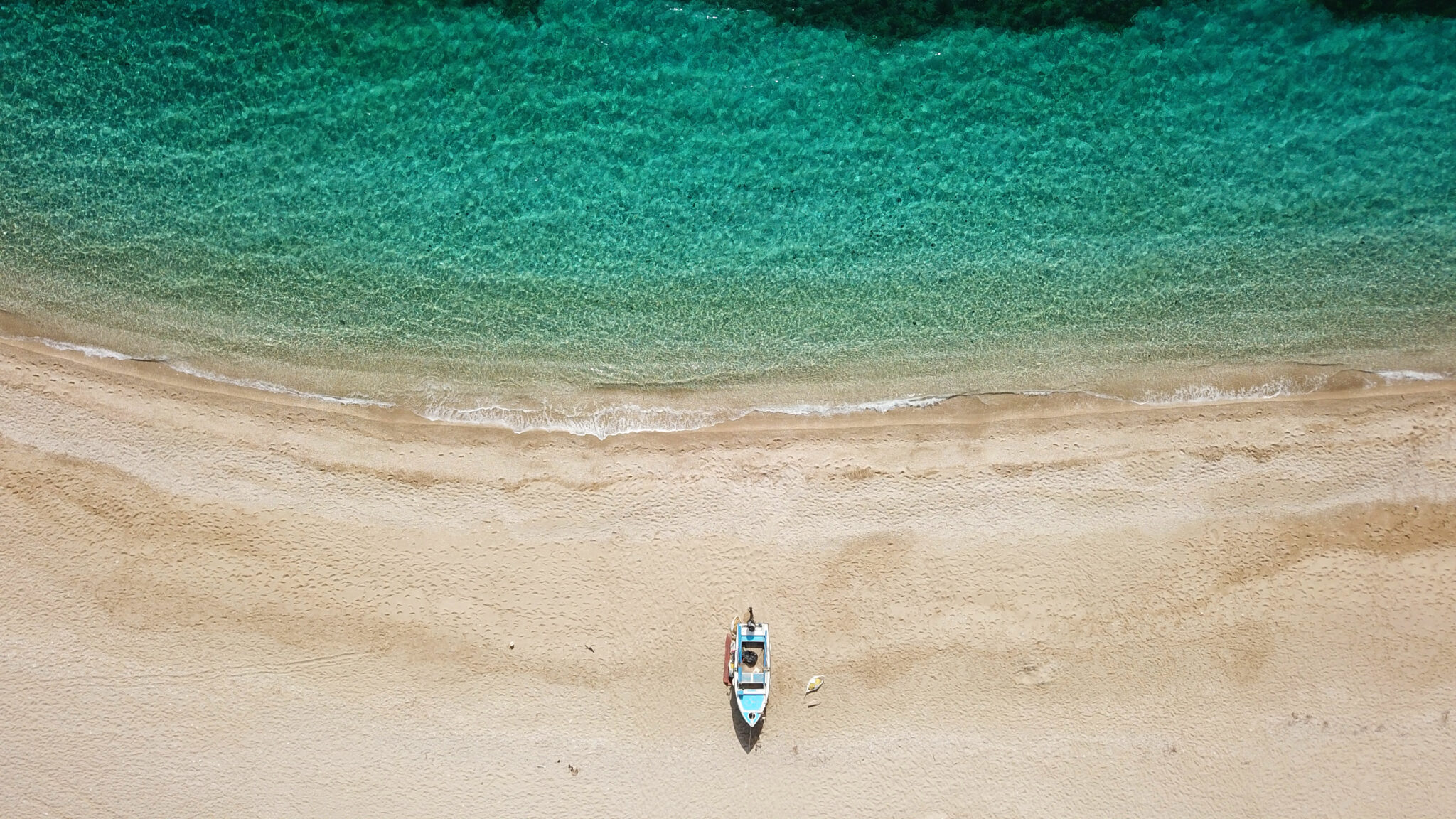 Potami, Evia
Potami is 22 km away from Karystos, and the winding road there will give you a bit of a hard time, but when you reach this wide, golden sand, beach with the clear blue waters, you'll forget everything. The small river of Platanistos flows out on one end of the beach making it even more beautiful. Two taverns on the beach will satisfy your hunger after the dives.
View this post on Instagram
Valopoula, Evia
Just outside the village of Drosia, near the small port of Agios Minas, there is a small sandy beach that is the best for relaxed swims. The waters are clear and quite shallow which makes it an ideal beach for families with young children while the sand is perfect for playing.
A canteen at the back provides umbrellas and sunbeds while a few tamarisks provide natural shade. If you want a little more water, go in the afternoon, in the morning the water is quite shallow due to the tidal effect.
Alikes, Evia
The most famous beach in the Drosia area is Alikes, a long, wide strip of golden sand and lovely sea which is full of beach bars for every taste. If you want loud vibes and a wide range of facilities, then head straight to Alikes. Apart from the serviced part of the beach, you'll find places to set up your own umbrella and if you're hungry, note that all the beach bars offer food. You can also do water sports, like rent a canoe, tubes, sofa bikes, wake boards etc., or play beach volley in the designated court area, taking part in the tournament organized, or have fun with the inflatable games in the sea. Live music nights are also organized.
Agios Nikolaos, Viotia
A beach overlooking the bay of Domvraina that is a diving meeting point mainly for the residents of Thiva. Going down the winding road to the beach, you'll enjoy a wonderful view of the Corinthian Gulf and the Alkionides Islands. Here you don't need to bring provisions, as two very well-kept beach bars will provide you with anything you need. The beach is covered in fine pebbles and the water is nice and clear although extra salty. There isn't much natural shade, so if you don't want to use the sunbeds, make sure you bring your own umbrella.
View this post on Instagram
Agios Isidoros, Viotia
Just a few kilometres outside the village of Antikira, you'll find the seaside settlement of Agios Isidoros, with a small harbour in front of it, as well as one of its two beaches. We really liked the second one, after the harbour, a beautiful pebbled beach with lovely clear waters. There are umbrellas with sunbeds and canopy beds on the beach for you to enjoy the carefree atmosphere.
View this post on Instagram
Vougiouklaki beach, Fthiotida
This beach was actress Aliki Vougiouklaki's favourite when she stayed in her holiday home in Theologos. Don't expect anything fancy, it's wonderfully simple, with pine trees that almost dive into the sea and somewhat rocky, but beautiful with stunning turquoise waters. This tiny pebbled beach captures the true meaning of summer, carefree with amazing waters. It is just a few kilometres from the small harbour of Theologos where you can go after the beach to have some tsipouro and food.
Agios Vasilios, Fokida, Greece
Right outside Galaxidi, before you reach Agii Pantes, you'll find the small, beautiful beach of Agios Vasileios. Fine pebbles and clear waters guarantee great swimming while the beach bar offers umbrellas, sunbeds, coffee, cold beer, and comfort food for the after-swimming cravings. In the afternoon, when the sun goes down, grab a cocktail, and enjoy the tranquillity of the evening.
Agios Nikolaos, Fokida
The beach of Agios Nikolaos has exotic vibes. The palm trees at the back, the green waters and the wooden beach bar will make you feel like you're not on a beach in Fokida but somewhere far away. It mostly attracts younger crowds, although there are also lots of families. You don't need to bring your own umbrellas and chairs; you'll find umbrellas and sunbeds to relax with an iced coffee or beer. During the summer there are a lot parties with guest DJs.
Monastiraki, Fokida
Just 11 kilometres from Nafpaktos, you'll find a beautiful little beach, that belongs to the administrative jurisdiction of Fokida. Specifically, in the village Monastiraki, in front of the Iliopoulos fish tavern, there is a small beach with thick pebbles and amazing deep blue waters. Behind it, eucalyptus, tamarisk, and other trees provide shade and add to the coolness and beauty of the spot. If you want a serviced beach, you can go to the village's central beach, which is also very good. There is even a small lagoon at the back that is connected to the sea.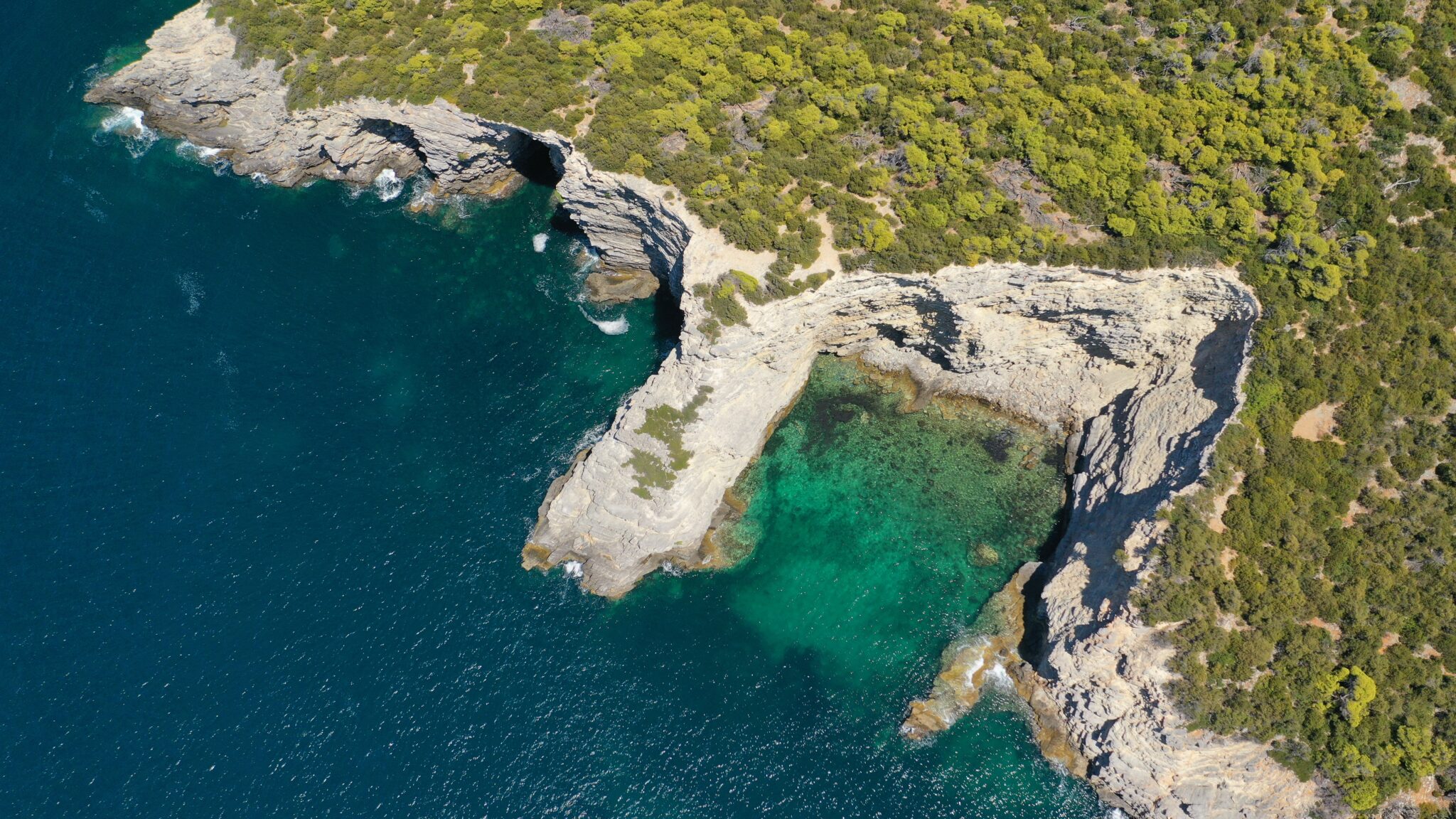 READ MORE: Reasons to visit Greece in September.