Russian President Vladimir Putin proclaimed on Friday that Donetsk, Luhansk, Kherson and Zaporizhzhia, internationally recognised as Ukrainian territory, are now a part of the Russian Federation, marking the biggest annexation of territory in post-World War II Europe.
"This is the will of millions of people," Putin said in a speech at a grand Kremlin ceremony to welcome the four areas to Russia and in defiance of international law, NBC news reported.
It marked a new political escalation of the seven-month war following the Kremlin's call-up of military reservists and renewed threats that Moscow could resort to using weapons of mass destruction.
The United States, Ukraine and others have condemned this as an illegal land-grab, promising to retaliate with sanctions while Kyiv has vowed to keep fighting to retake its occupied land. The annexation was also overshadowed by a deadly attack on a civilian convoy in the country's south.
Russia says it's merely answering a democratic decision by people living in eastern and southern Ukraine — a claim few in the West take seriously. Instead, the move is seen as a wider escalation by Putin after a series of punishing battlefield defeats at the hands of a lightning counteroffensive by Kyiv.
As well as announcing the annexation, Putin has partially mobilised his military.
As more territory slips from the Russian leader's grasp, attempting to annex these four regions is seen by many as a desperate attempt to regain control, the Russian leader even suggesting he would use his nuclear arsenal to defend the territory.
Putin delivered a speech to hundreds of officials and other dignitaries, some in suits some in military uniform, at a lavish ceremony under the giant, gold chandeliers of Georgievsky Hall, in the Great Kremlin Palace.
The ascension ceremony started a little after 3 p.m. local time (8 a.m. ET), with the packed audience standing for a minute's silence as Putin hailed the Russian "heroes" who have died in the war, which he calls a "special military operation."
A stage has been set up with giant video screens and billboards proclaiming the four areas part of Russia. Moscow will celebrate its claim over what amounts to as much as 15% of Ukraine, the continent's largest country, with a pop concert on the city's iconic Red Square.
But underscoring the disconnect between Friday's ceremonials and the ongoing chaos and bloodshed of the war, hours beforehand a missile attack on a convoy of cars traveling from Ukrainian-held land in Zaporizhzhia to Russian-occupied areas killed at least 23 people, local officials said.
It was also clear that annexation does not mean control.
Thousands of Russian troops in the strategic city of Lyman in the eastern Donetsk region were on the verge of being encircled by Ukraine, according to the Institute for the Study of War, a U.S.-based military think tank, and other observers.
Rob Lee, a respected military analyst chronicling the conflict, tweeted Thursday that the Lyman "pocket" could collapse at any time, which would "overshadow the annexation announcement."
It was unclear whether Putin was laying claim to all of the four regions, or just those parts firmly controlled by his military.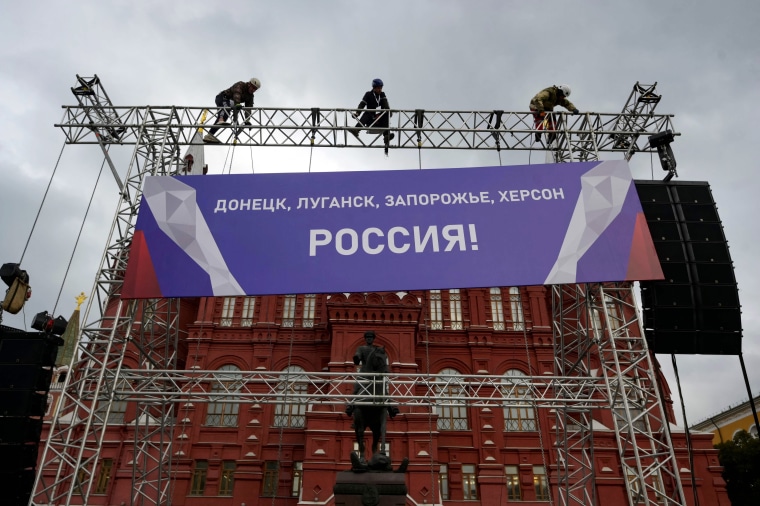 In an address on the eve of the ceremony, Ukrainian President Volodymyr Zelensky appealed to Russians directly.
The annexation "can still be stopped," Zelensky said. "But to stop it we have to stop that person in Russia who wants war more than life — your lives, citizens of Russia."
President Joe Biden says he will never recognise the results, which he said Thursday were "a sham, an absolute sham." Antonio Guterres, director-general of the United Nations, called it a "dangerous escalation" and a violation of the U.N. charter.
"All options remain on the table when it comes to imposing costs on Russia," deputy State Department spokesperson Vedant Patel told a briefing Thursday.
Western governments, officials and experts have openly regretted not responding with tougher measures when Russia annexed the Ukrainian peninsula of Crimea in 2014.
READ MORE: Turkish media's obsession with the Greek islands: Proposals to bomb the Greek Navy and block tourism.