Although it might be a good few hours away, a trip to Athens is not complete without a pilgrimage to the monumental rocks of Meteora to see the monastaries nested on top of these lofty towers, which makes for a perfect road trip from the Greek capital.
Of course, as Travel writes, the best way to travel here is with an Avis rental. Renting a car meant that we could also take the opportunity to explore the wider area around Meteora, Trikala and its surrounding mountains.
So once again we plumped for a spacious SUV for our travels north. We booked on line, effortless! Choosing one from a large range of vehicles that was not only comfortable but economic to run, great for our 800km round trip.
So we picked up our new motor (at a place and time of our choosing) filled her up and set off to explore more of mainland Greece, this time Thessaly.
Arriving in Trikala
We whizzed up the motorway and arrived in Trikala after about 4 hours, we had a little coffee break on the way up.
Trikala has a loooong history (don't most of the places we've been visiting on our trip) and the area where the city is now was first inhabited 4,000 years ago! As we found out it got it's name from the nymph Trikke, daughter of Pineus and was the birth place of the god of healing Aesculapius.
The best way to see Trikala is on foot or by bike. The whole town centre is pedestrianised and there's a good network of bike lanes, the city even with its past, seems really modern in many ways.
We wondered past the multi-coloured mansions in the Varoussi district, and up to the Justinian fortress which features a 17th Century clock tower.
Off to Meteora
We could stay easily have stayed several days in Trikala but our main destination Meteora was only 20 minutes drive and we were excited to get there.
Kalambaka is the main town of the Meteora and the views from there, of the dramatic rock towers, were a sight to behold. So we stopped to have a coffee in the buzzy Dimoula Square and then a nice dinner at one of the local restaurant that had been recommended to us.
The next day we awoke early to go and visit some of the amazing Byzantine monasteries of Meteora. Each commanded as sense of awe and the atmosphere of devotion was almost tangible.
The Grandest of all the monasteries was The Holy Monastery of Great Meteoron, founded by Saint Athanasiosin the 14th Century. Legend has it tat he flew on the back of an eagle to the spot where it was erected.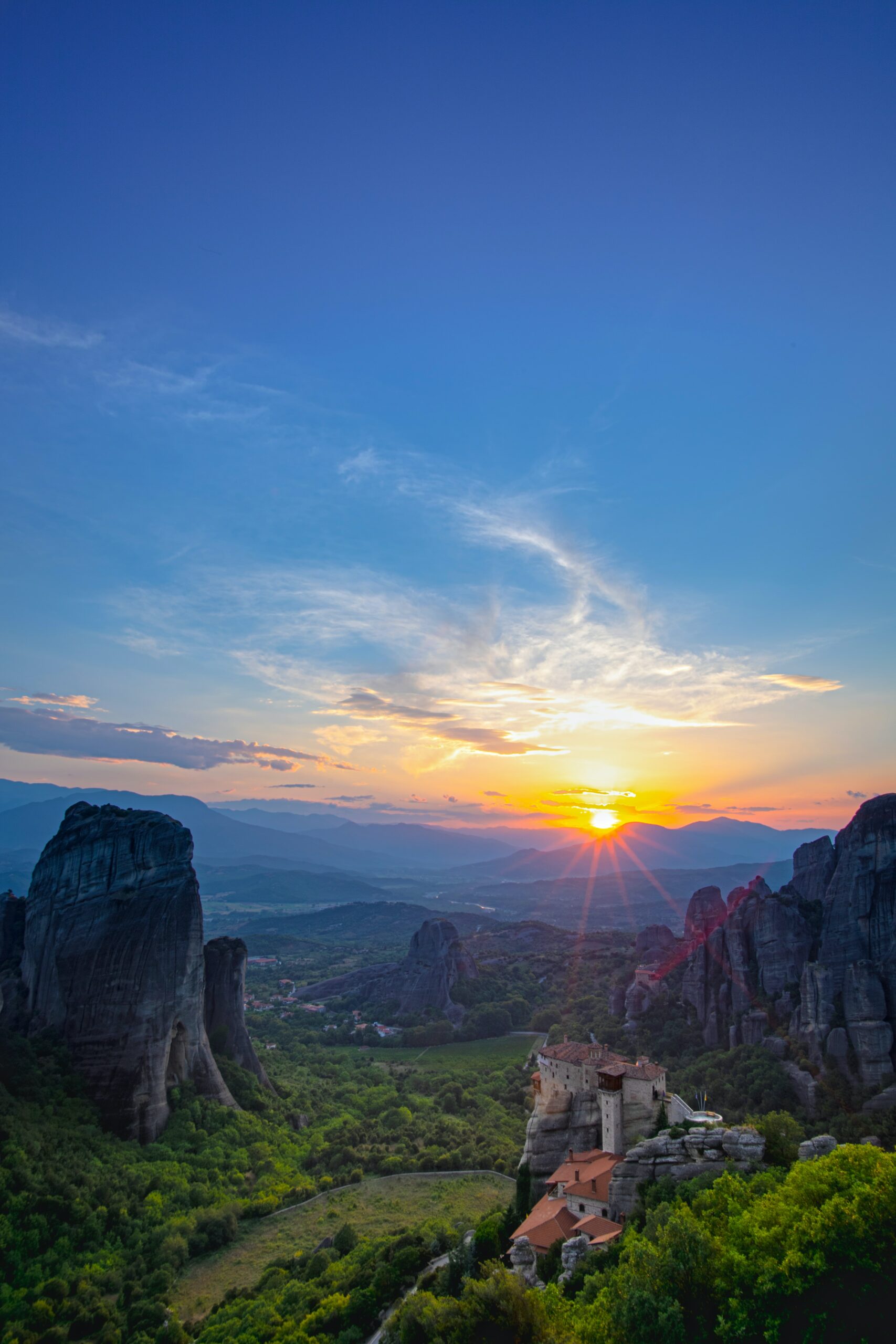 We also had a quick tour of the Museum of Geological Formations where we learned how this striking geological formation came into being. The rock formations were created around 30 million years ago when the Thessalian plain was a sea.
Strong currents created the large rock formations and after millions of years of erosion and weathering we are left with this amazing phenomenon. I do also like the alternative explanation that the resulting landscape arose after the mighty clash between the titans and the Olympian gods.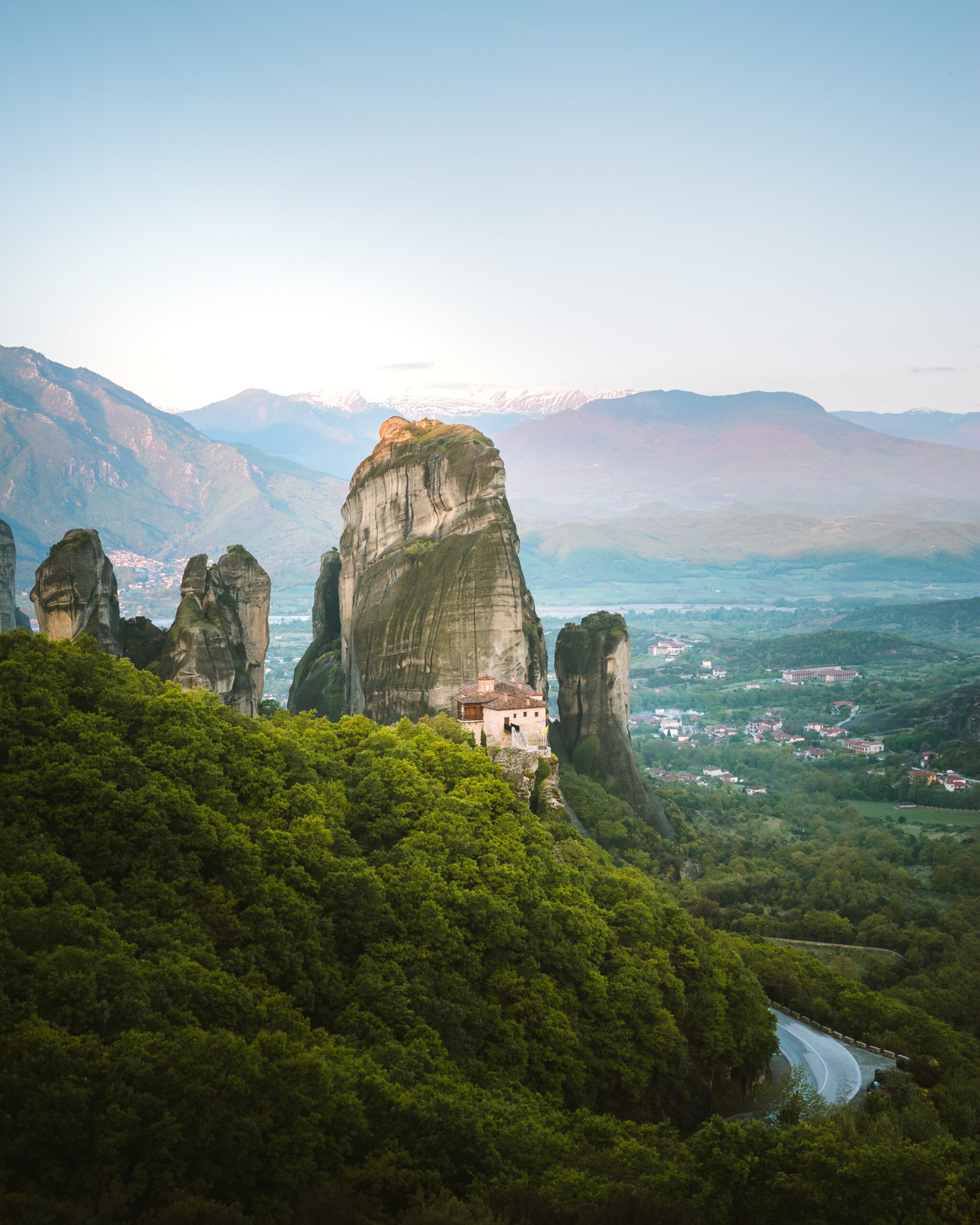 Our sense of adventure unabated we decided to take the long route back, a trickier drive on narrow lanes through the mountains. Our rental car handled these mountain roads really well and this leg of the trip was really enjoyable.
It only took us an hour to reach Elati, a beautiful stone amphitheatre shaped village in mountains thick with fir forests. Locally it's known as the "Switzerland of Greece".
Tradition in Elati is omnipresent
It is worth noting that every Saturday, Elati has a market, with crowds of people gathering from the surrounding villages to mingle and buy and sell their products, many of which are hard to come by elsewhere.
We were told that in winter, it's popular with visitors who come for skiing and snowboarding at the ski center, at which time chains for the car are essential (it's almost 1000 metres above sea level).
Also, for climbing fans, Elati is only 15 minutes away from Kokkinos Vrachos, an organised climbing cliff with 7 routes with varying levels of difficulty.
I have to say, our autumn jaunt in the area was wonderful and it seems to be an ideal for locale for a drive, along lanes surrounded by forests split by gurgling streams.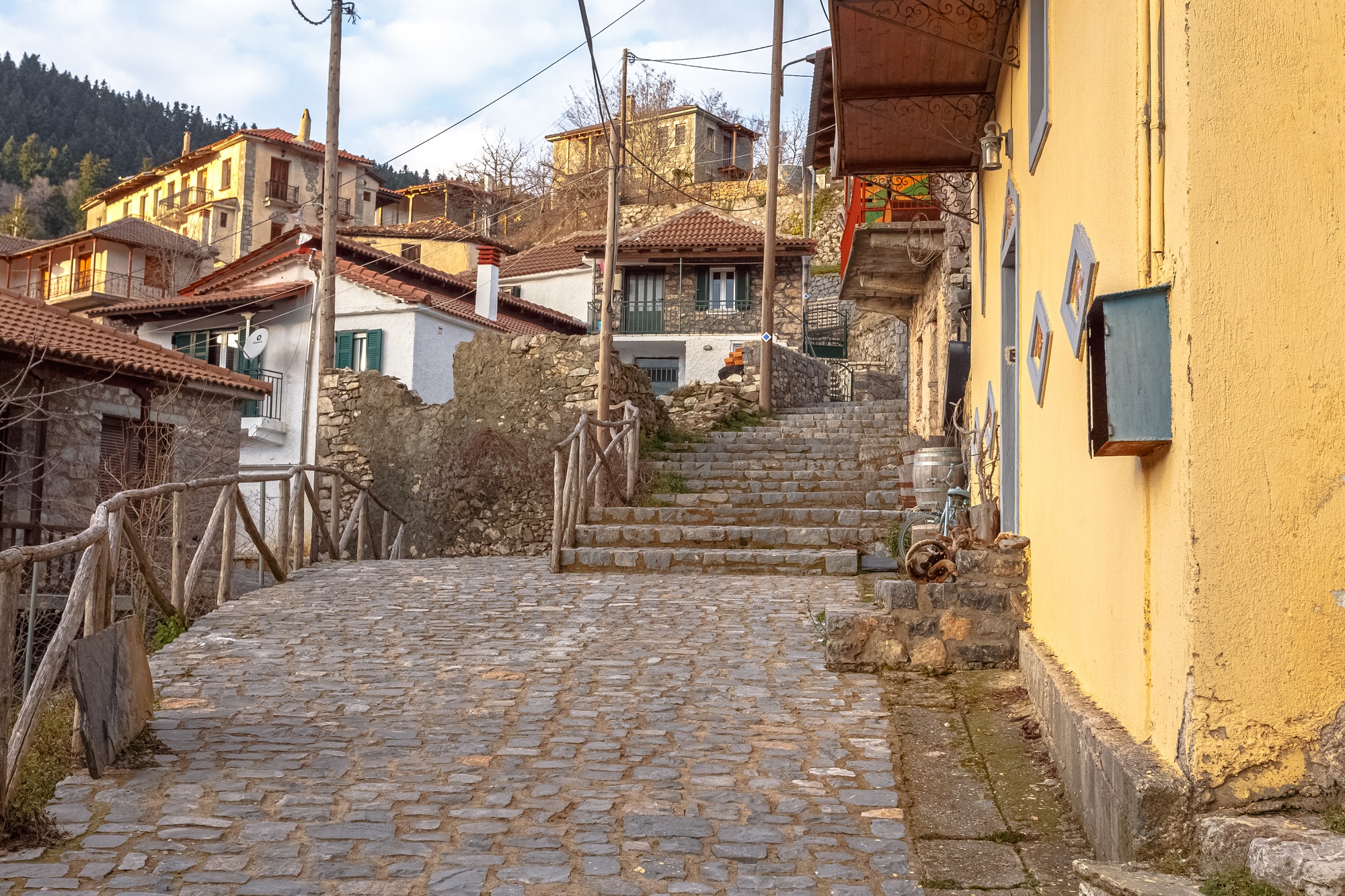 Back to the capital
The return to Athens was comfortable, no thanks to the smart choice of car we rented. One thing's for sure, we'd recommend this trip to everyone, and there's no better way than to come under your own steam.
Renting at Avis gave us independence, we got to see far more than the average visitor and all at our own pace.
READ MORE: Lonely Planet: Halkidiki tops the travel destinations "to unwind" in 2023.