The cultural and social aspects of traditional Japanese cuisine (washoku), along with the fact that it has spread almost all over the planet, with sushi undoubtedly being the most famous export, resulted in UNESCO declaring it intangible cultural heritage in 2013.
With an extremely wide variety of flavours and dishes prepared using clean ingredients, Japanese cuisine is one of the tastiest and healthiest in the world.
Travel has compiled five of the top restaurants serving Japanese food in Athens – with modern and cosmopolitan choices, as well as street food options – that are worthy representatives of this rich and diverse cuisine.
Matsuhisa 
At Matsuhisa, you can also try new style sashimi, one more of Nobu-san's innovations, born after a customer in Los Angeles said that it was impossible for her to eat raw fish. Trying to satisfy her preferences without completely doing away with the philosophy of sashimi that requires fish to be raw, Nobu-san poured some hot oil on the sashimi. The contrast of the hot oil and the cold fish adds a rich flavour to the dish, while the soy sauce and yuzu (Japanese citrus fruit) adds a sharp note.
With the passage of time, the dish has evolved significantly, with the addition of sesame oil to the olive oil, that gives the dish a more Asian flair, as well as with the addition of other ingredients. The roasted cauliflower jalapeño is another exquisite dish that balances earthy elements with sharp and spicy touches – cauliflower lightly grilled on the robata with jalapeño dressing, ito togarashi (a type of dry chili), jalapeño slices and coriander on a thin layer of fresh green salad.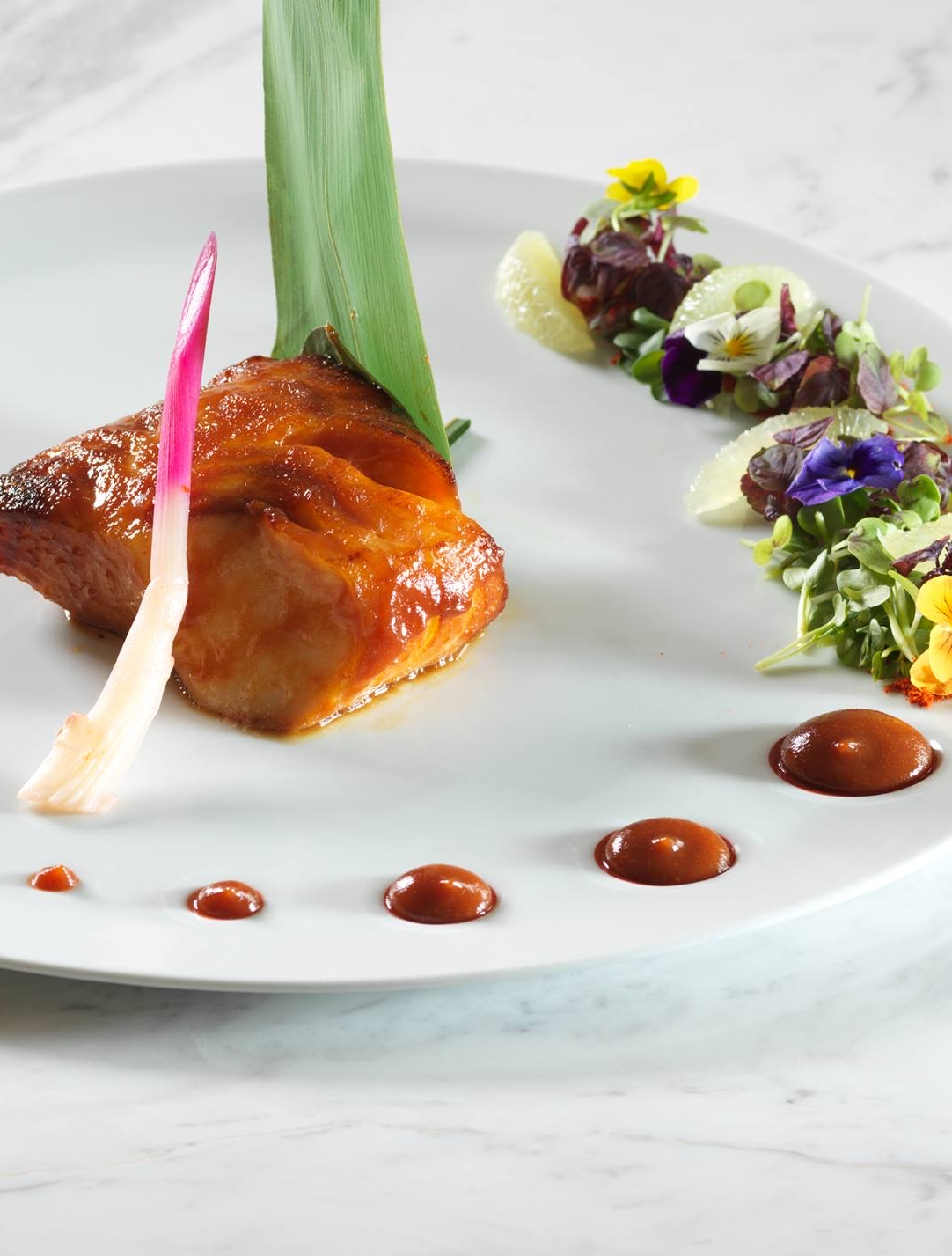 The Matsuhisa sashimi salad – green salad with various kinds of sashimi (royal crab, tuna, salmon) served with a Japanese mustard dressing and chopped onion, is also amazing. The rock shrimps is one of the must dishes, totally addictive – a light, golden shrimp tempura with creamy spicy sauce, jalapeño and butter ponzu sprinkled with finely chopped chives and mushrooms, served over a thin layer of fresh vegetables with a yuzu dressing.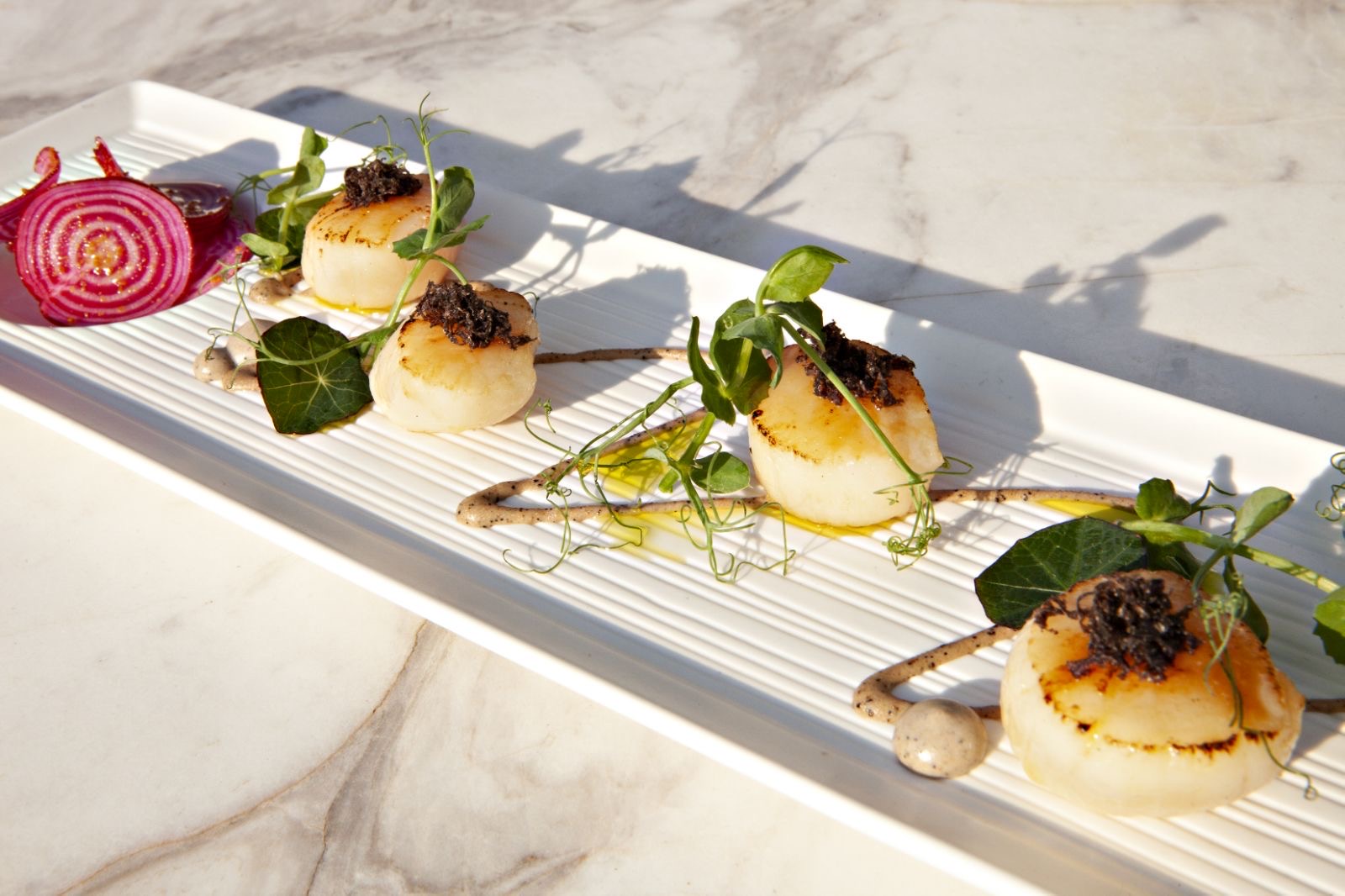 The Chilean seabass with a deep umami flavour – sea bass marinated in a vegetable mixture and caramelised with sweet and spicy miso sauce, served with coriander, lime and finely chopped onion – is also amazing.
For those who want a complete first experience, there's the option of first time omakase – a tasting menu designed by the chef with restaurant's signature dishes. The amazing space, the great service, and the exquisitely tasty food make Matsuhisa a truly unique experience. The fans of Nobu-san will be able to meet him this summer, since the great chef is expected to visit Athens in June.
40 Apollonos str, Vouliagmeni, tel.: 0030 210 8960 510
Senta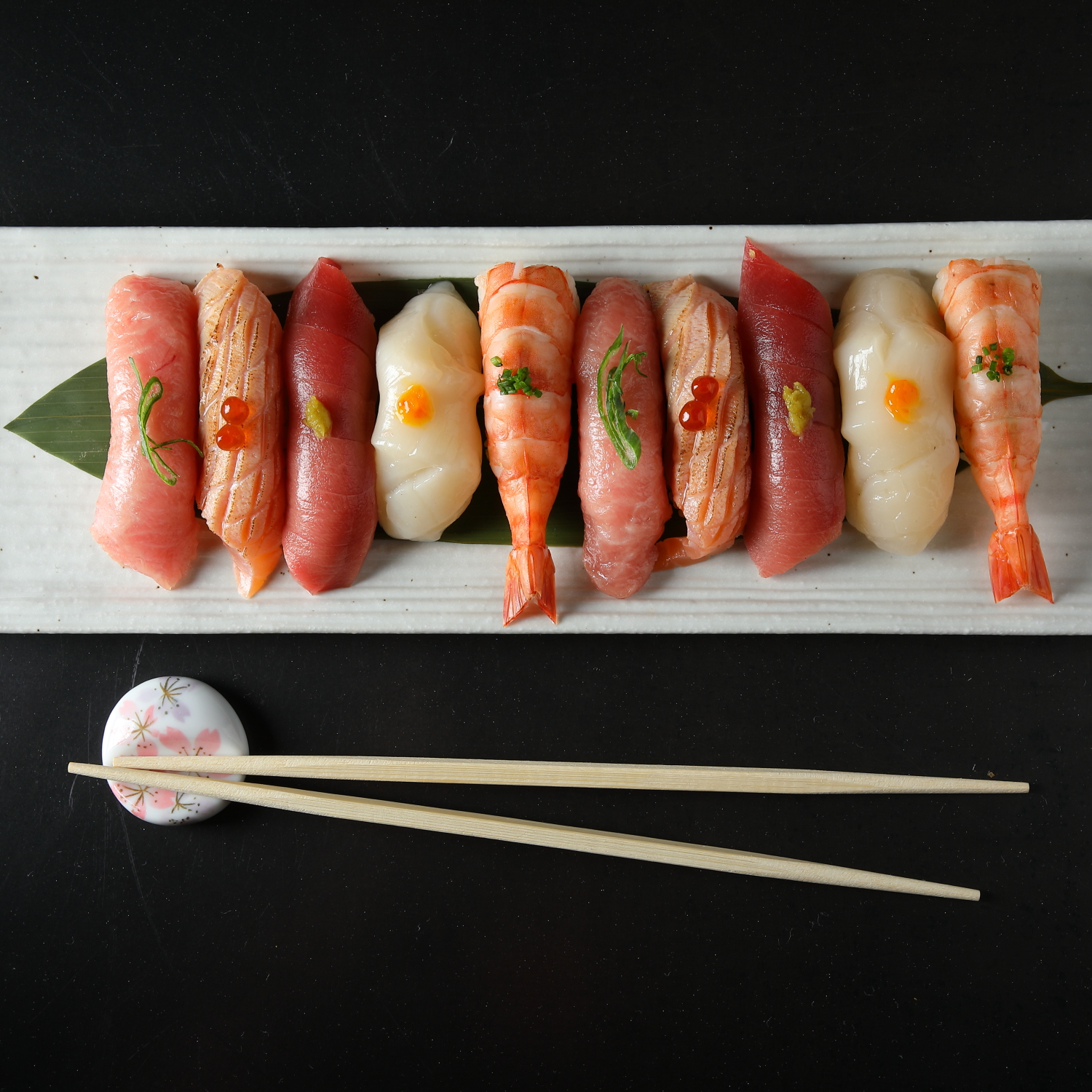 The shiny Spiromilios gallery in the centre of Athens houses a new destination for Japanese cuisine since November 2021, Senta – it means centre in Japanese.
Created by the team behind Dipnosofistirion catering, it's a stylish and atmospheric restaurant with great service and delicious food that's worth your attention. The interior is minimal, with black and white furniture and honey-shade lumber on the walls adding warmth.
Outside, the tables are spread on both sides of the gallery and are surrounded by artificial pink Japanese cherries offering privacy while allowing customers to see the passers-by.
Chef Nikos Politakos is in charge of the kitchen and uses fresh Greek ingredients, as well as imported Japanese products like katsuobushi – simmered, smoked and fermented skipjack tuna.
Each piece is kept in a vessel that looks like a large wooden sharpener, whose blade is used to slice the skipjack tuna into flakes (bonito flakes) that are the main ingredient of all dashi (broths), adding intensity to the dishes with their smoked, umami flavour.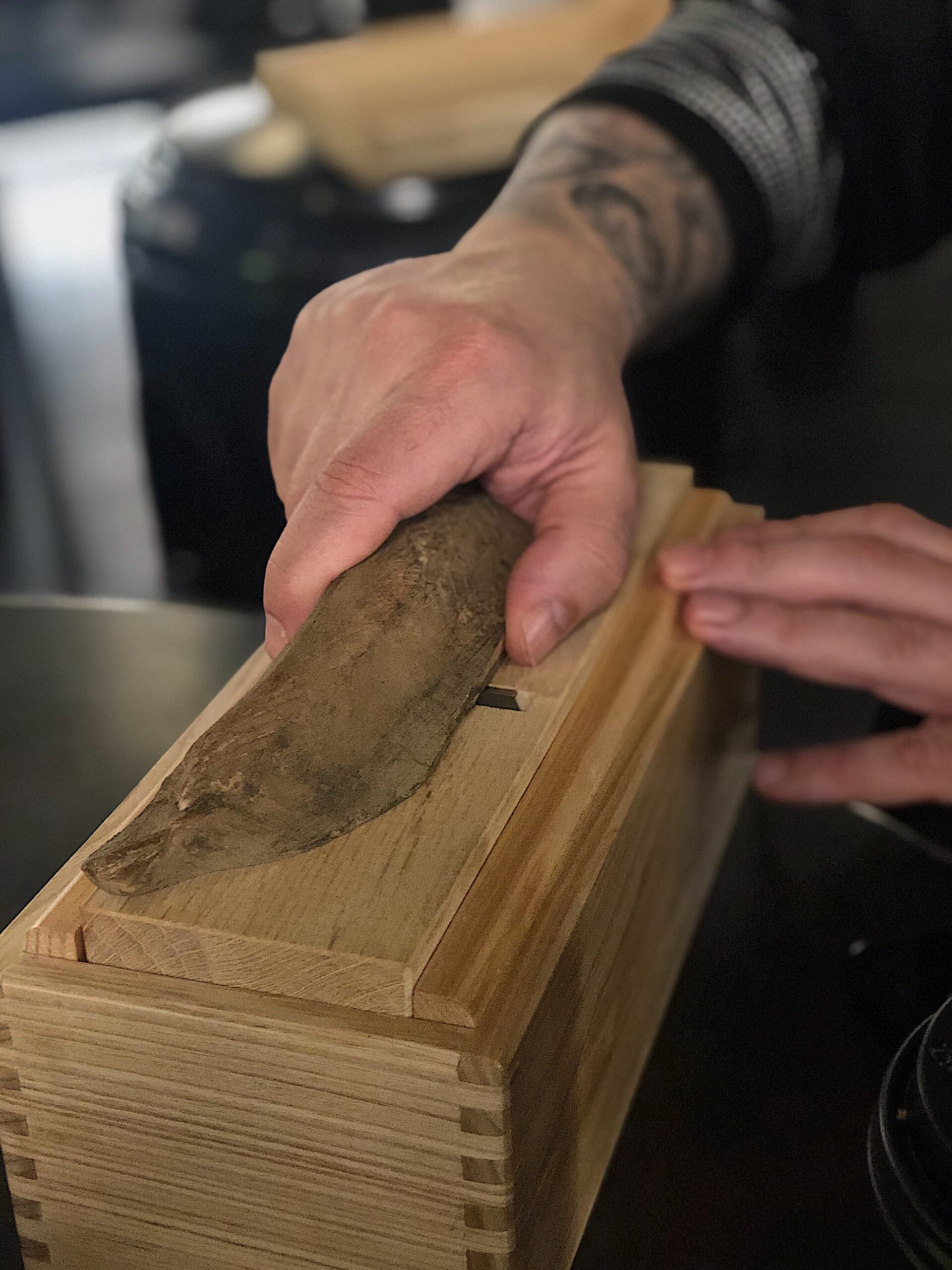 The chef has intricate knowledge of the Japanese cuisine and uses traditional recipes he enriches with Western elements to bring them closer to what the Greek audience likes.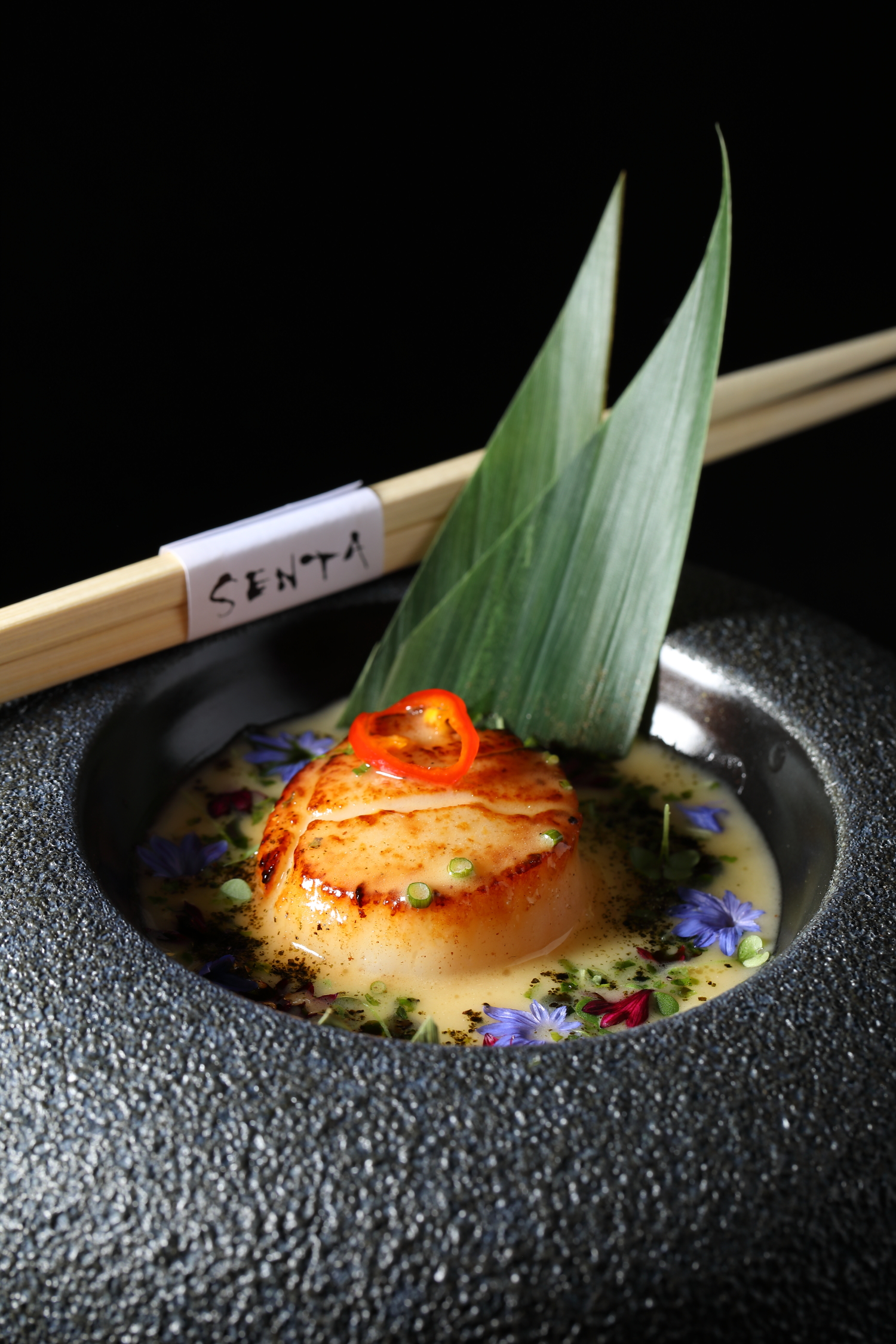 At Senta, you can try traditional Japanese nigiri that showcase the tastiness and flavour of each fish with perfectly boiled rice, some wasabi paste and masterfully filleted fresh fish – small pelagic fish but also larger fish like tuna and seabass, and even weevers.
The tuna tataki is traditional and particularly tasty, with a rich and slightly smoked flavour that showcases the ingredients and the chef's skills.
Senta's signature sushi rolls, like the unagi foie gras – thin eel slices, duck liver, truffle, asparagus, avocado, cucumber and eel sauce – and the elaborate shiromi oshizushi – a traditional pressed sushi with finely chopped white-meat fish of the day – are great.
From the salads, we recommend the hijiki wakame that harmoniously blends salty, earthy notes with the fresh fish – hijiki seaweed and wakame, carrot and cucumber pickle, tuna, salmon, sesame sauce and fried quinoa for crispness.
The miso soup with shimeji and enoki mushrooms, scallop and spring onion in dashi and homemade miso is quite tasty and very healthy.
One of the restaurant's best sellers is the hotate gai, that is scallop lightly sauteed in butter, served with Japanese beurre blanc – taste, freshness and innovation in one delicious bite you'll want to last forever.
The gyu katsu sando a voluptuous, juicy dish, is an absolute must – fried panko-crusted black angus patty between two toasted slices of homemade milk and butter bread with tomato marmalade and garlic mayo. In just a few months, Senta has become a hotspot for good Japanese food in town.
It was recently awarded a star in FNL's "Best Restaurants Awards 2022" and is on its way on more distinctions.
Spiromilios gallery, 3 Voukourestiou str, Athens tel.: 0030 210 3318 203
Gaku
In the centre of Athens, on one of the narrow streets around Mitropoleos street, an area that has become a culinary paradise, you'll find the Japanese restaurant Gaku, that opened in 2018. Gaku in Japanese means easy, happy and pleasant.
Many might already know its twin in Chalandri, that has been around for five years now, winning over lovers of Japanese cuisine. The long narrow space of the Gaku in the city centre is bound to impress you with its large windows and great aesthetics.
The tables are white marble, while the wood on the walls adds warmth. Long sofas against the walls, and modern black chairs complete the set. If you prefer eating while you watch the kitchen crew create the restaurant's amazing dishes, you can sit at the bar.
Talented lover of Japanese gastronomy, Alexandros Petrogiannis, and Giannis Kosmadakis, who is also a chef at Malconi's, are in charge of the kitchen.
The chefs' philosophy is the creation of dishes that showcase the flavours and characteristics of Japanese cuisine, in a milder, more modern version, while also satisfying the fans of Gaku. So, the chefs add intense, tart and spicy notes to the dishes.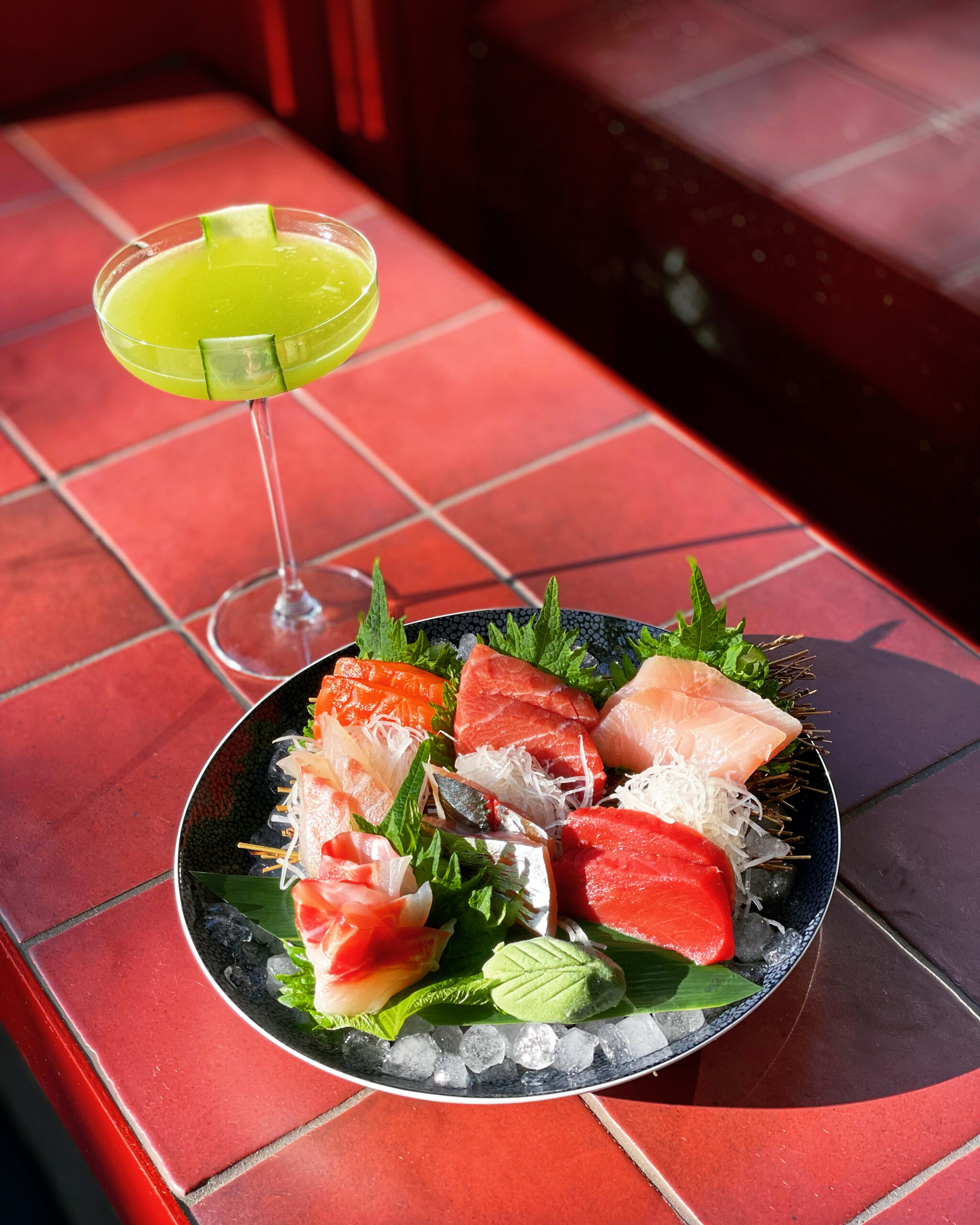 Gaku is a Japanese bar-restaurant, which means you can also order one of their fresh cocktails that nicely incorporate Japanese elements like hannya with grass vodka, gentian aperitif, cucumber and yuzu.
If you like tart, spicy dishes you must try the red porgy usuzukuri – thin slices of red porgy with citrus dressing (lemon, lime, soy sauce, sesame oil, shiso) and chili pepper slices.
The white fish uni usuzukuri is similar, showcasing the sea fragrances and is more rustic in flavour – thin slices of fish of the day with fresh sea urchin, ponzu sauce and mustard seed.
The tuna tartare is also a must – tuna belly tartare over crispy rice with spicy mayo, chives, unagi sauce (homemade eel sauce) and finely chopped nori, a very tasty dish balancing complex ingredient flavours and a perfect example of the chefs' philosophy at Gaku.
The gyoza (Japanese dumpling) is one of the restaurant's best sellers, with wagyu beef mince and chili soy sauce, the dough is masterfully sealed, and the stuffing is very juicy.
You should also try dishes from the robata (traditional charcoal grill with many levels used in Japan) – grilled to perfection, crispy on the outside, juicy on the inside.
The spicy pancetta is also a must, cooked for 12 hours and then passed over the robata, served with extra spicy sauce, sesame and spring onion. The yakitori, one of the most famous Japanese dishes, a grilled chicken thy skewer with Japanese BBQ sauce, is also quite delicious.
Their fresh cocktails, the tasty, well-prepared dishes and the friendly atmosphere at Gaku is bound to make it an easy-going choice for fusion Japanese cuisine.
2 Apollonos str, Athens, tel.: 0030 210 3230 970
Birdman
What links Voulis and Skoufou streets? Birdman. Another great choice for comfort Japanese cuisine in the heart of Athens. A unique restaurant that resembles an alley in a Japanese city, full of yatai, the famous small food carts.
The interior is long and narrow and links the two streets, there's a long bar with stools in front of the open kitchen, a few tables, a spiral staircase, shelves holding Japanese drinks, posters, constant motion, voices and laughter.
The tables outside, on Voulis and Skoufou guard the two entrances to the restaurant. Life at Birdman seems to have its own rhythm. As for the food, another creation of Aris Vezenes, it's of high quality and focused around meat.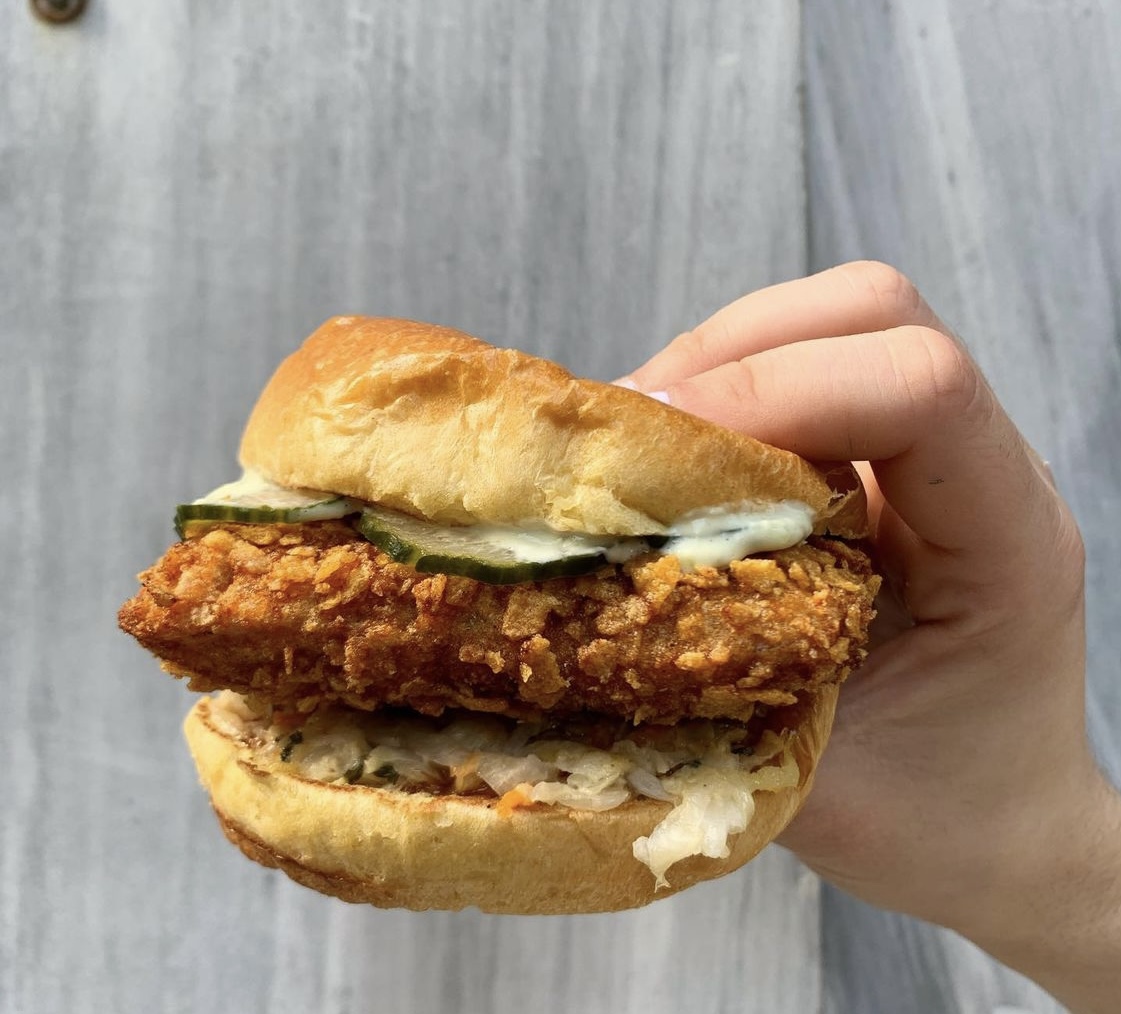 He uses organic ingredients, with free range chicken, and beef mostly sourced from farms in Greece England, Spain and other European Union countries, that is aged 30-90 days by the restaurant's team.
The menu includes a series of very tasty raw and, mainly, grilled dishes. From the raw dishes we recommend the full-flavoured, slightly sour, aged rump tartar with yuzu, capers from Andros island and olive oil, the spicy ichibo with picanha, kizami and wasabi, as well as the rich and aromatic ran ichi with d-rump and truffle mayo.
The katsu, a simple and tasty comfort dish of Japanese cuisine, is also great. The juicy chicken katsu or the Iberico katsu with an incredibly crispy layer of golden panko crust are served between bread slices – the chicken, spicy and aromatic, with wasabi, pickled cucumber, thyme and mustard, and the pork with red cabbage and apple tonkatsu sauce that adds a sweet, savoury and slightly tart flavour.
You must definitely order the full-bodied and complex-flavoured birdman smash, one of the best sellers – an aged smashed burger with cheddar cheese, onion and birdman sauce.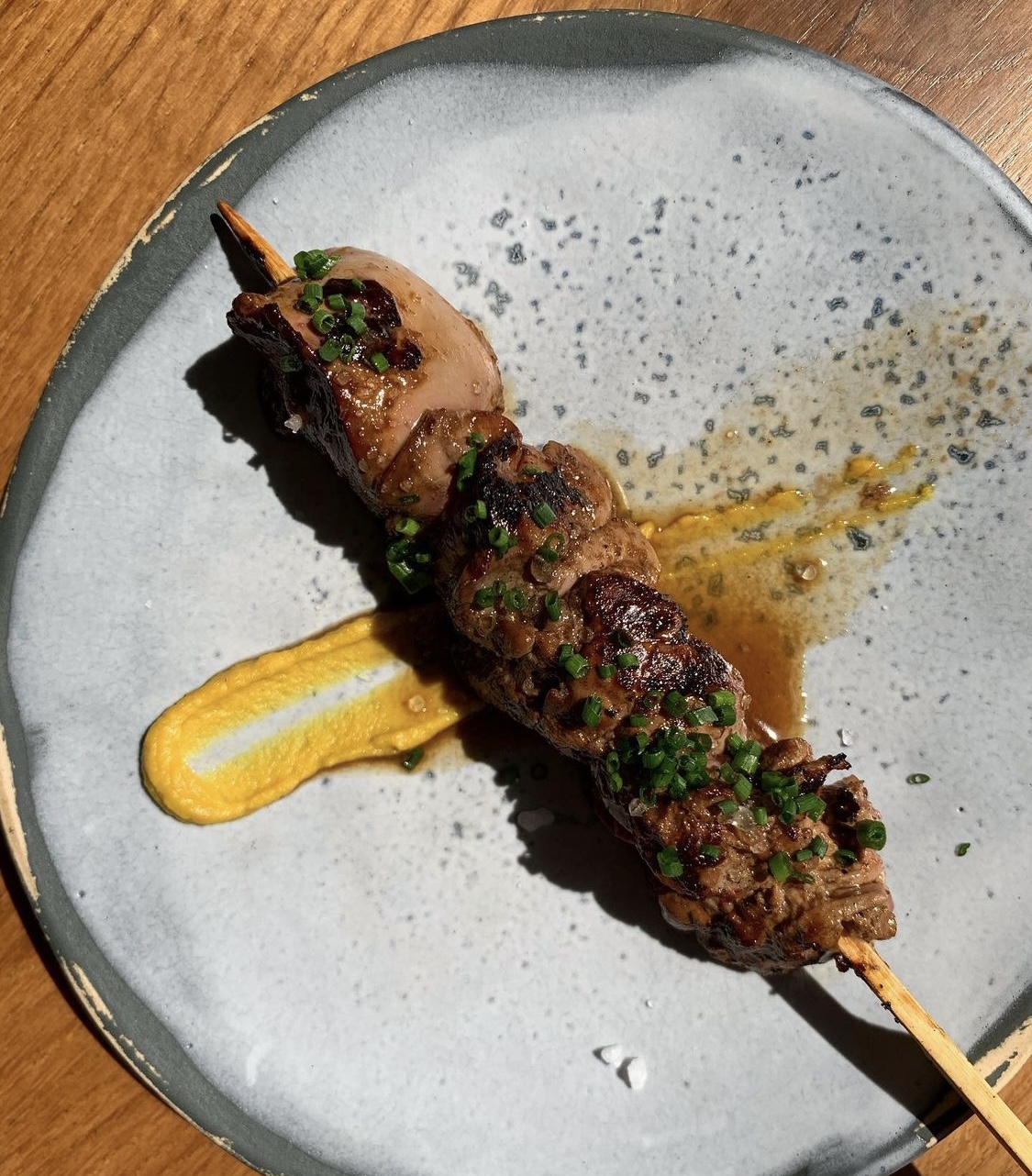 The Birdman's robata dishes are exquisite in taste and in how they're grilled. From the grilled tori dishes we recommend the tsukune – chicken kebab with miso sauce and shiso – as well as the unique and complex kawa – crispy chicken skin with smoked ponzu sauce.
The many meat dishes grilled on the robata are tasty, and we recommend the iberico collar with honey yuzu glaze, as well as the wagyu bavette (beef marbling scale 9+) with spicy lime. The seafood dishes are few but very tasty, including the zarigani – Greek langoustine with citrus butter and coriander.
Birdman is a great choice for those who love comfort Japanese food with a preference for meat.
35 Voulis str, Athens, tel.: 0030 210 3212 800
NYX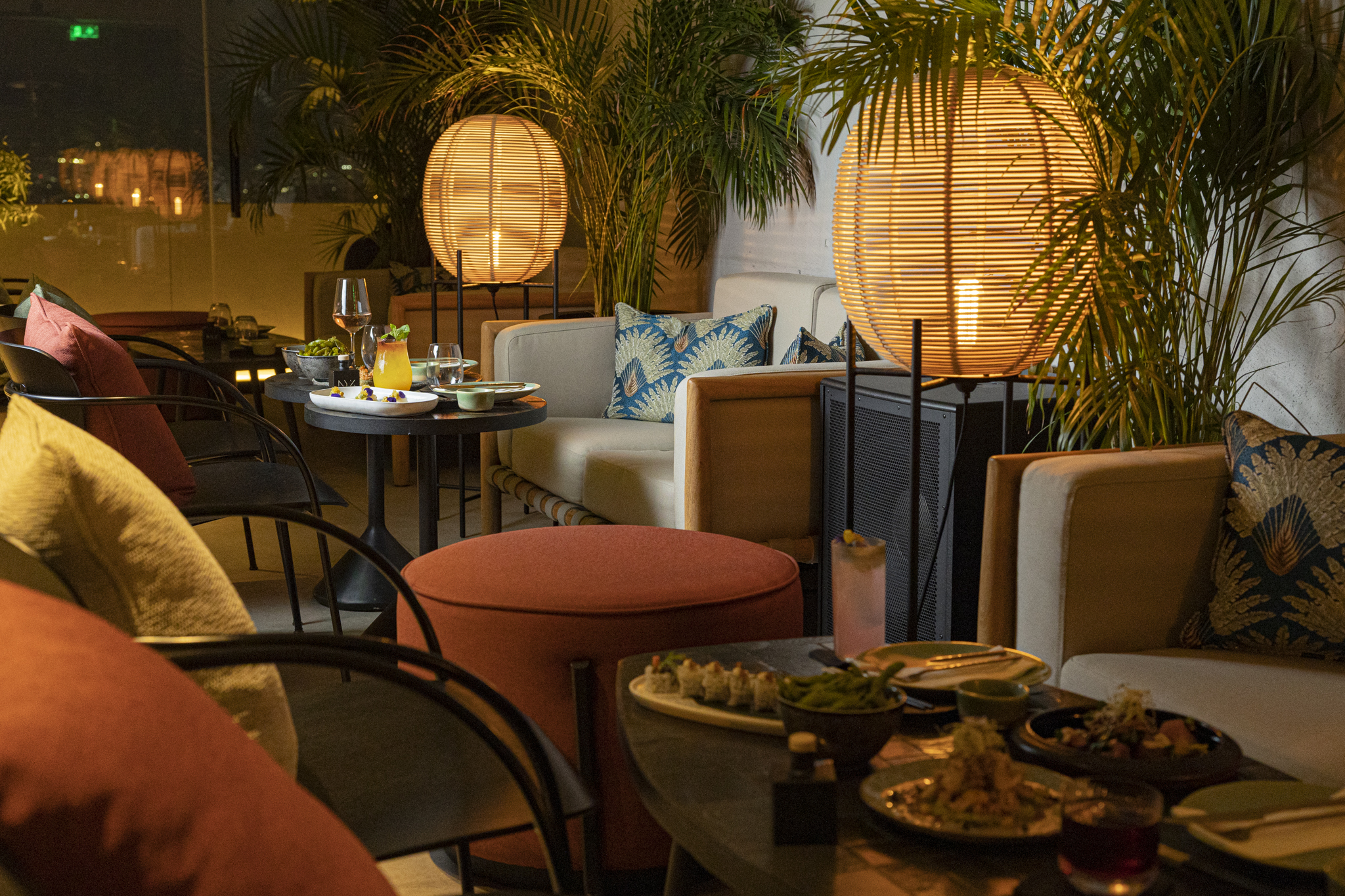 NYX opened last June in the centre of Athens, at the rooftop of Academias Hotel. A Japanese fusion restaurant offering a magical dinner overlooking the Acropolis, Lycabettus hill, and a big part of town.
The high windows all around allow your eyes to wander over the lit monuments and the urban setting offering a truly unique view.
The interior is elegant with glam elements – the lighting is soft, the dominant colour is black with touches of light-coloured wood, comfy sofas and chairs with large cushions in earthy colours, and elegant flowers that add an urban feel to the space – promising a pleasant meal with dance music.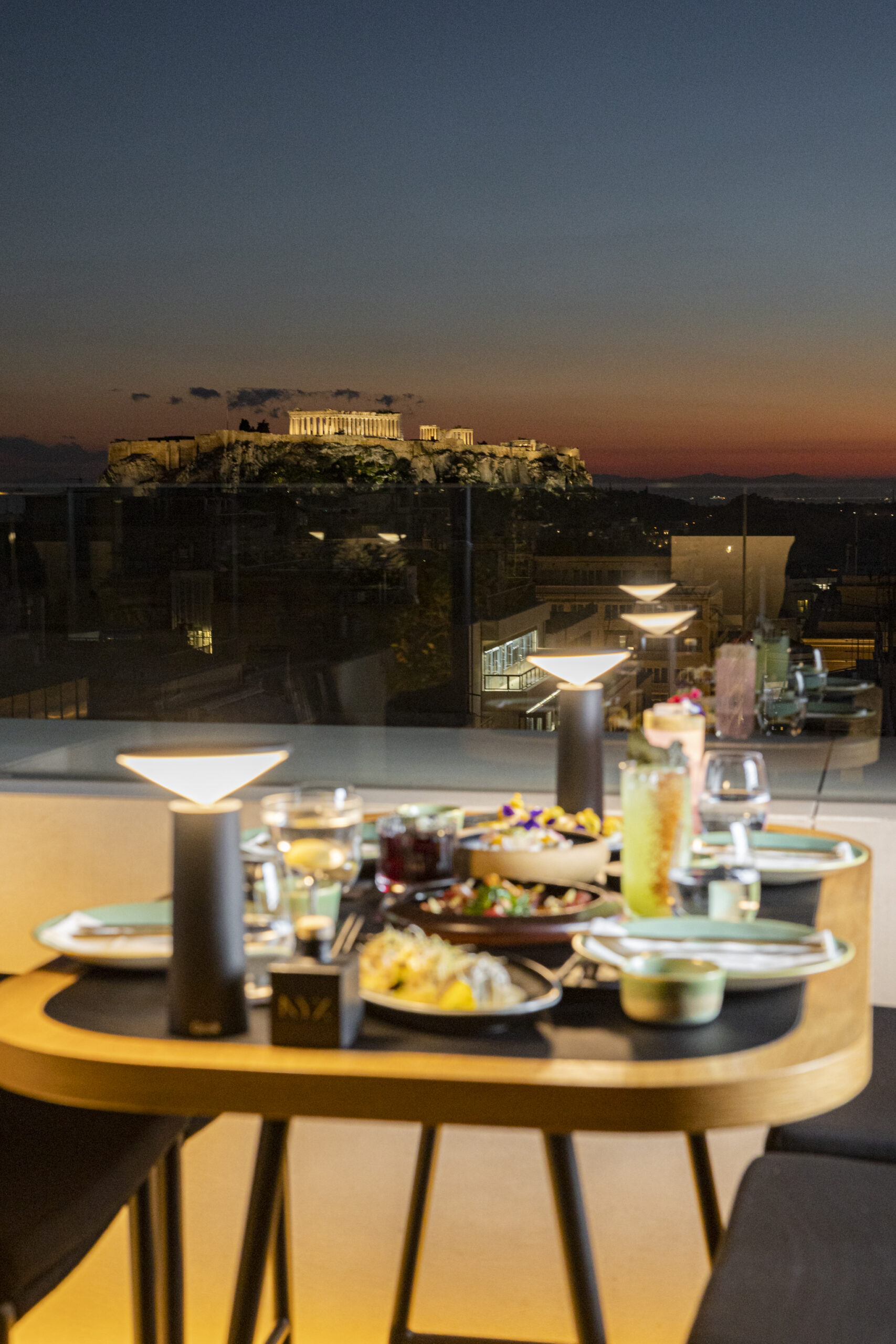 The bar is large and unique, and the bartenders create delicious cocktails to accompany your meal. The tables on the balcony are the best to enjoy the view, surrounded by plants.
The great Dimitris Kotsalis (Fuga) is the executive chef, while his long-time collaborator, Claus Bairami is the head chef. The pair offer a special fusion of Japanese cuisine with elements from the cuisines of Italy and Peru, perfectly balanced to offer a unique culinary result.
One of the trademark dishes of these combinations, and one of their best sellers is the voluptuous, rustic and extremely tasty beef gyoza, a Japanese dumpling with finely chopped beef, cooked in an osso buco style, with kimchi cabbage and shitake mushrooms, fried to become slightly crispy and served on a cream of aged parmesan. The fresh quinoa salad is also great.
A bright, colourful dish will arrive at your table – a plate with tuna tataki over a bowl containing a colourful salad of quinoa, kale with avocado cream and honey citrus dressing. The rich flavour of the tuna matches the salad's sweet and sour freshness.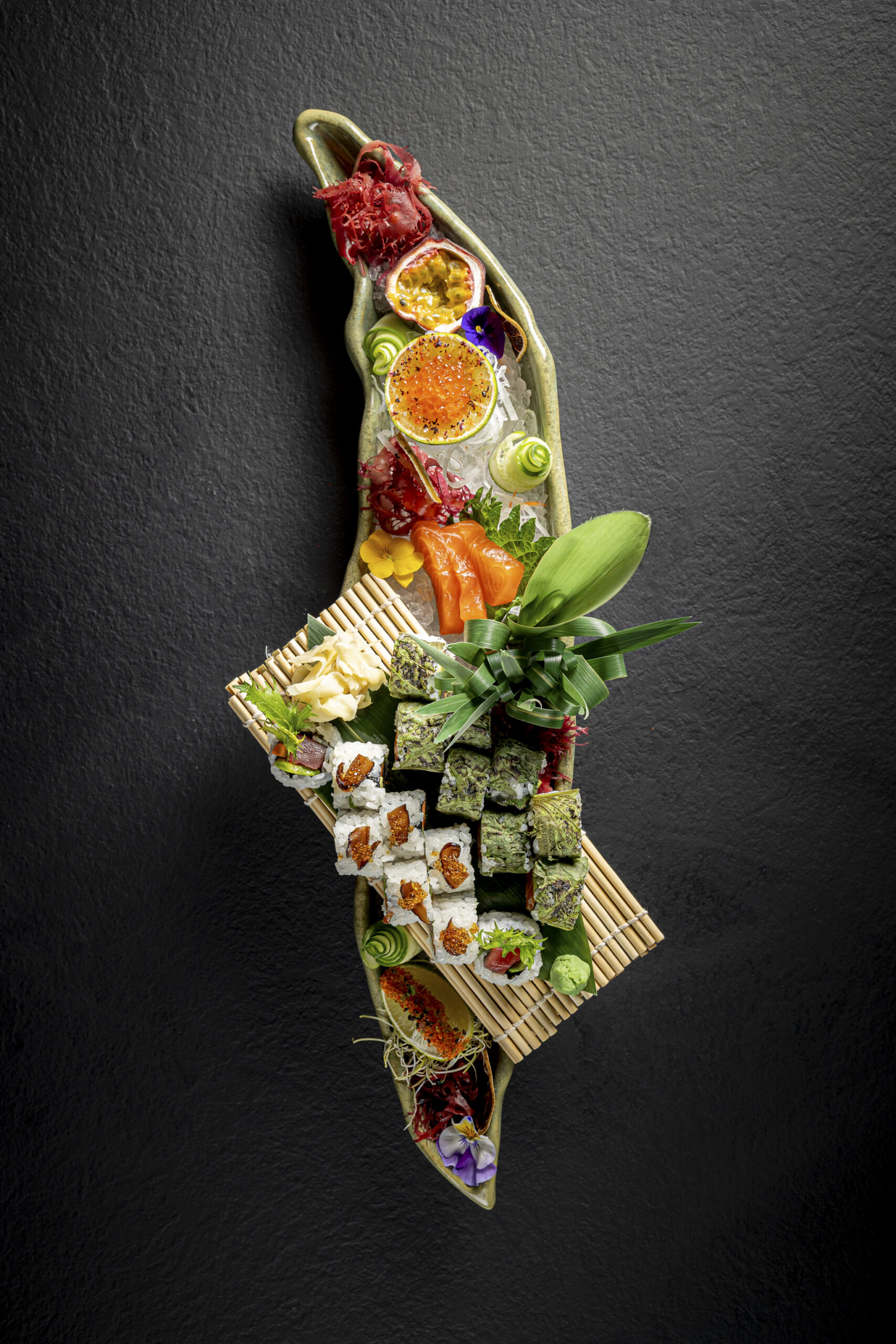 The colourful bowl of seabass ceviche is also elaborately presented, arriving on ice. The seabass has been marinated in yuzu and passion fruit sauce and is served with passion fruit pearls, cherry tomatoes, jalapeños and a rice cracker with sesame to add crispiness to the dish.
The hamachi tiradito is earthier, sweeter and spicier, the greater amberjack is very thinly sliced, and is served over turnip with herbs, together with corn cucumber jalapeño slices and yuzu scented flying cod eggs.
Traditional sashimi and nigiri, as well as a variety of sushi rolls prepared with a more modern twist, influenced by Western cuisine as well as by Latin American cuisine, are served on an elaborate two-tiered gondola.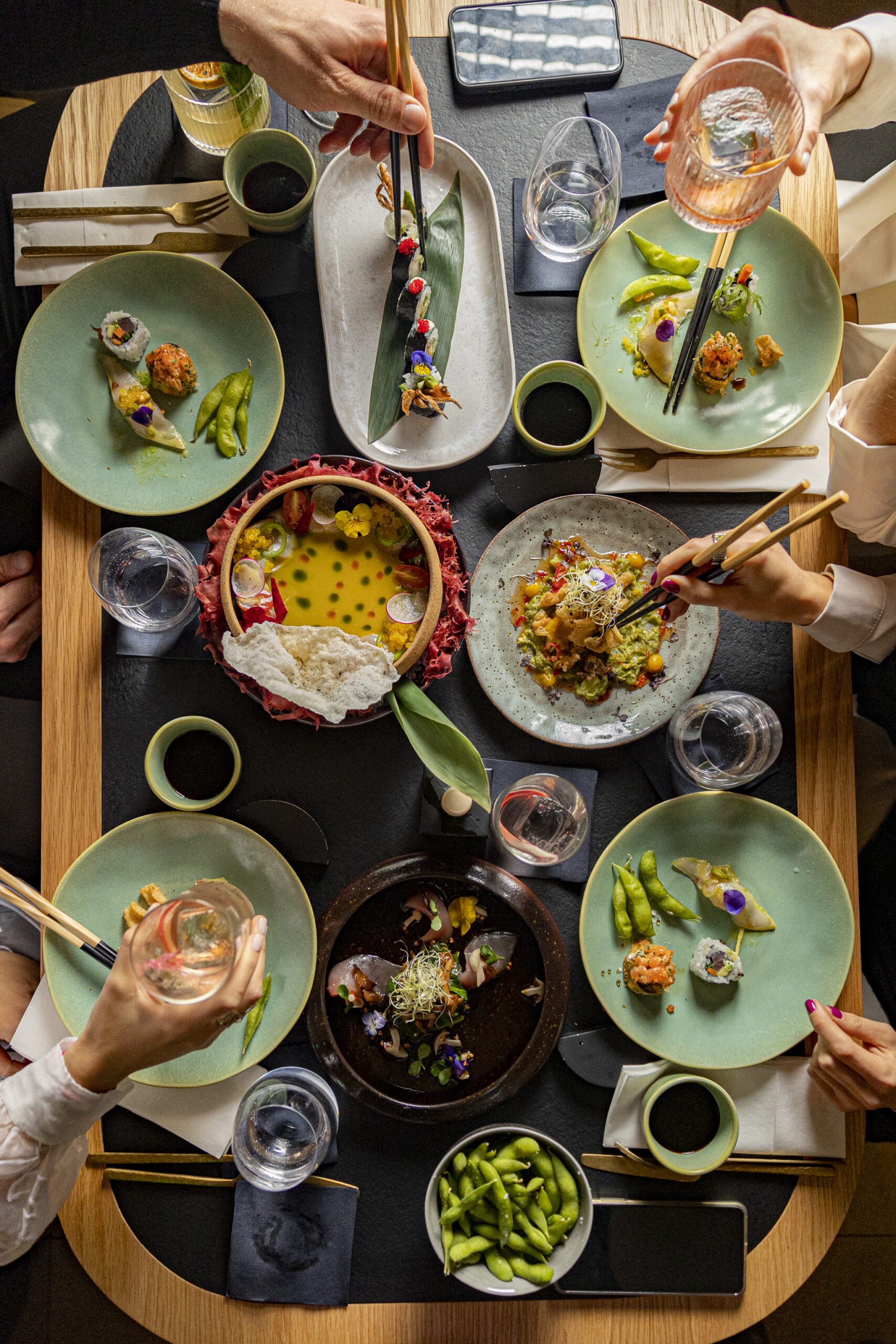 We recommend the scorched seabass nigiri with spicy mayo and chives, as well as the crispy salmon tartare – fried rolls with carrot and salmon, as well as with salon tartare and guacamole added as a topping.
There's also meat dishes on the menu, and we recommend the Black Angus ribeye with king mushrooms, pok choi, parsnip puree and spicy beef sauce. NYX's rooftop is a great choice for a different approach to Japanese cuisine, great cocktails, an incredible view and amazing service.
38 Akadimias & Omirou str, Athens, tel.: 0030 210 367 0000
READ MORE: The most fluffy and buttery croissants in Athens and Thessaloniki!