Millions of photos and posts are uploaded every summer, especially from beaches, on social media, confirming that fun in Ios is a certainty.
After all, for many years the Cycladic island has secured a unique profile in Greek tourism as it is dedicated to the wild fun of young people worldwide - especially Australia, Italy, Austria, America, England, France, Sweden and Germany.
There are even special websites and blogs with constant updates on when the big parties, events and concerts of the summer are on.
The spotlight has been focusing on Chora for years thanks to its multiple nightclubs. But Mylopotas deserves to compete with it as a fun beach, with its bustling and impressive beach clubs, camping, all day restaurants with menus from various cuisines of the world and much more.
Koumbara is also on the rise, where there are more and more impressive beach bars.
Other beaches of the island are also organised. However, there are also small isolated ones, for those who do not like crowds, such as Psathi, Lorentzina and Agia Theodoti. With boats you can go to those that are not accessible from land.
Travel has compiled a list:
Mylopotas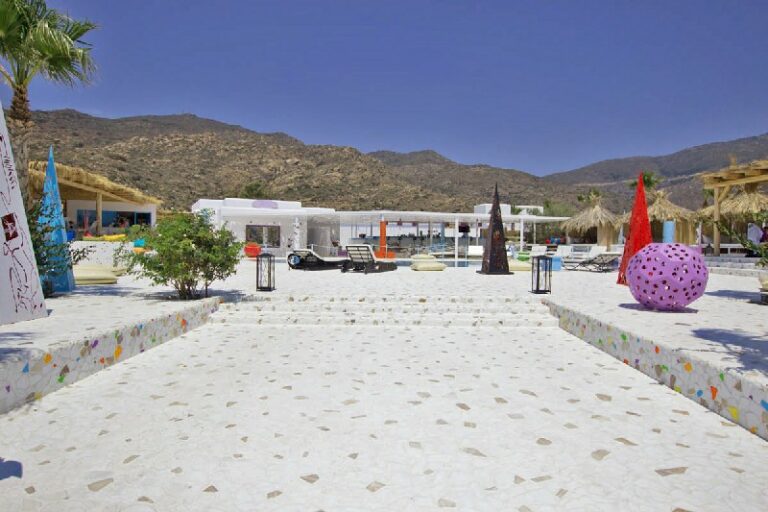 The impressive bay with the blue-green waters embraces one of the most beautiful beaches of the Cyclades, awarded with the Blue Flag. And the combination of the cool and crystal clear sea with the golden sand makes it especially photogenic from above.
Millions of young visitors from all over the world who have passed through Ios have taken selfies on its funnest beach which is famous for its all day clubbing. The dancing and entertainment continue until the evening, so many move to the clubs of Chora that operate until the morning.
In Mylopotas, the beach service is upgraded with sun beds and comfortable deckchairs, where everything is served - coffee, dishes from various cuisines of the world, cocktails, drinks. Far out beach club ( https://faroutclub.com ) is more famous and big.
In its facilities there is a resort, a diving center and a modern campsite with bungalows, cabins, trees with shade for tents: dozens of services are offered (mini market, laundromats, ship tickets and travel information, etc.).
An excellent proposition is the Free lounge beach bar with designer hanging sun beds, swimming pool, restaurant and boutique store ( https://freebeachbar.gr ).
Nostos beach bar
You can also choose Almyra by the sea of ​​the hotel of the same name, Harmony Ios - cocktail bar with food, Rollin Nomad, Elpeace with sushi and seafood and Nostos beach bar ( https://nostosios.com ) . Drakos is a very good fish restaurant.
In the coastal settlement there are small shops, many rental apartments and hotels, of which the Ios Palace hotel and spa stands out. There are infrastructures for all water sports and you can go by boat to quieter beaches such as Tripiti, Pikri Nero, Klima, Manousos, Sapunochoma.
The Panhellenic IOS Major beach volleyball championship is also organised in Mylopotas in June. It is located near Chora. You can come by bus, or on foot.
Koumbara
Famous beach near Chora, south facing, sand/pebble and very nice waters, protected by two narrow peninsulas. Koumbara has been awarded the Blue Flag since 2003 and has good infrastructure.
You will find the Erego Beach Club Restaurant ( www.erego.gr ) owned by businessman Angelos Michalopoulos who owns Free in Mylopotas and various small units with suites that he is building on the island.
The very elegant Erego has a swimming pool, restaurant, suites, jetty for small boats and offers many services.
Koubara Seafront has a beach bar and restaurant on a terrace above the sea, serving fish and seafood ( https://koubara-ios.com).
A little further north from the beach, built on levels and with a swimming pool, is the Pathos Club and Restaurant. For food, drink, entertainment and big events ( www.pathoslounge.com ). Koumpara beach is worth staying late to enjoy the sunset.
Gialos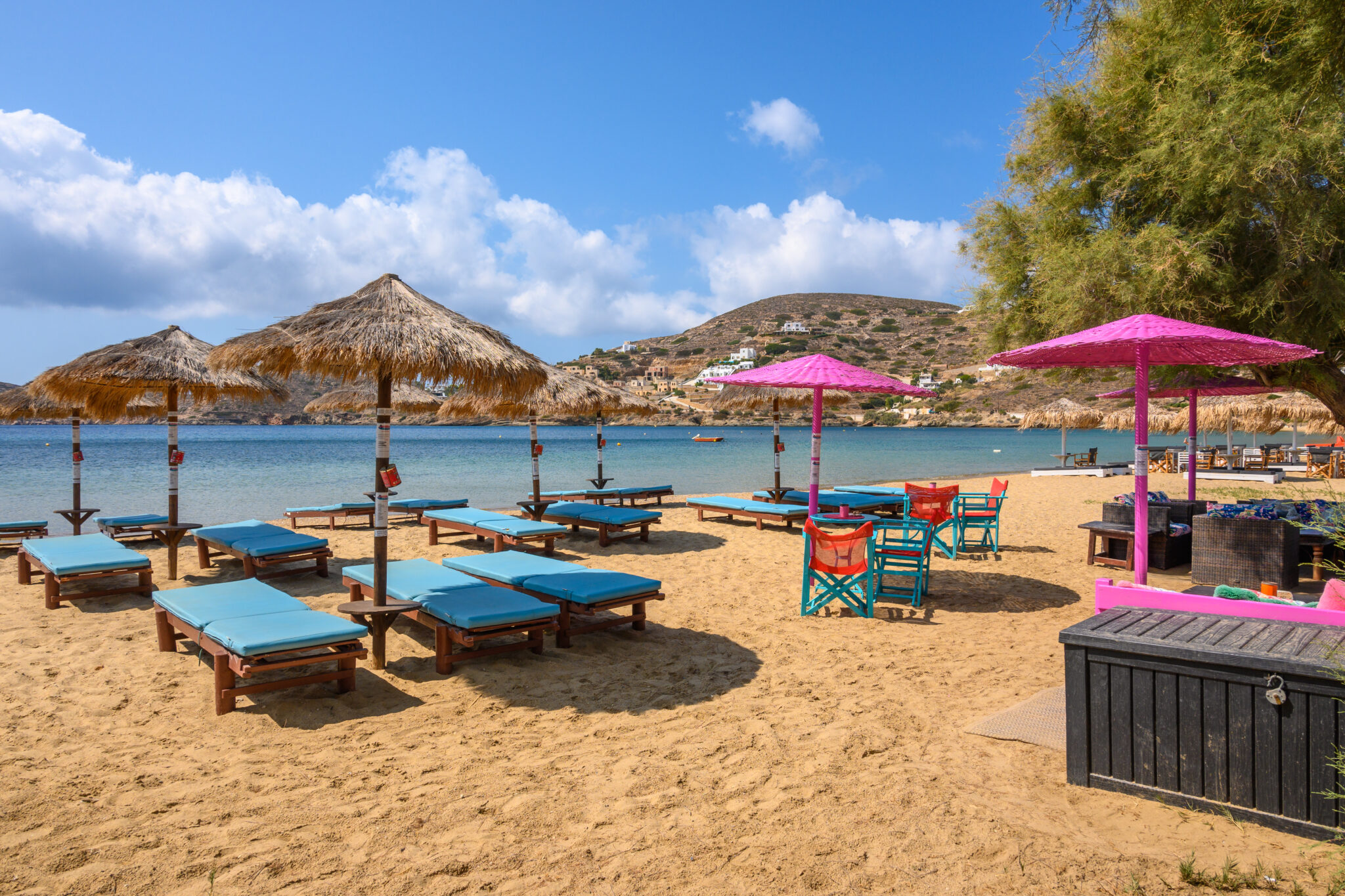 A long and narrow family beach next to the port of Ios. It is parallel to the safe road and has calm, shallow waters. It is organized, but there are tamarind trees for shade if you prefer to bring your own beach gear.
It operates Gialou beach bar and Gialos Watersports. There are small hotels above the coast and in the harbor where you will find many cafes and restaurants.
Kalamos
A sandy beach with crystal clear waters, where a small river flows until spring. It is not organized and it is worth snorkeling to see its beautiful seabed.
Near Kalamos there are the isolated beaches of Plakes and Pappa.
Plakotos 
It is the northernmost beach of the island, in a deep bay. You can combine a dive there with your visit to the so-called "tomb of Homer", which is one of the most important attractions of Ios and offers an unbeatable view.
According to the accounts of reliable ancient writers such as Herodotus and Pausanias, Ios was the island where Homer died and the ruins of the Hellenistic tower that you will see have become established in the consciousness of the Greeks as "Homer's tomb".
READ MORE: The country with the most islands in the world - Where does Greece stand?