"To be successful, keep looking tanned, live in an elegant building (even if you're in the cellar), be seen in smart restaurants (even if you nurse one drink) and if you borrow, borrow big."  Aristotle Onassis
Aristotle Socrates Onassis was born on the 20th of January 1906 and passed away on 15th March 1975, aged 69.
Ari or Aristo or Aristotle Onassis was a Greek shipping magnate who amassed the world's largest privately-owned shipping fleet and was one of the world's richest and most famous men.
Aristotle Onassis was known for his business success, his great wealth and also his personal life, including his marriage to Athina Mary Livanos, daughter of shipping tycoon Stavros Livanos.
He was also known for his affair with famous opera singer Maria Callas and his marriage in 1968 to Jackie "O, the widow of late American President John F Kennedy.
Moving to Monaco, Onassis rivalled Prince Rainer III for economic control of the country through his ownership of SBM and, in the mid-1950s, sought to secure an oil shipping arrangement with Saudi Arabia and engaged in whaling expeditions.
In the 1960s, Onassis attempted to establish a large investment contract, Project Omega, with the Greek military junta and sold Olympic Airways, founded in 1957.
Onassis was greatly affected by the death of his 24-year-old son, Alexander, in a plane crash in 1973 and died two years later.
Aristotle Onassis was a Greek entrepreneur born in Smyrna and in the 1920s he launched its own cigarette brand.
Shortly thereafter, he realised that tobacco shipping generated more revenue and went into the cargo ship business.
The shipping tycoon dated many famous women, including the widowed Jacqueline Kennedy, whom he married in 1968 and was referred to as "Jackie O".
He did poorly in school, much to his father's dismay, who hoped Ari would take over the family's cigarette business.
After the Turks invaded his town in 1921, Onassis decided to leave for Buenos Aires, Argentina.
In 1923, he got a job as a telephone engineer.
Poor but clever, he eavesdropped on business calls and used the information to set up deals of his own.
Onassis' fortunes soon turned favourable, and he began a life of good living with expensive clothes.
His ability to reinvent himself as an "important businessman" during the day, yet continuing to work the phone lines in coveralls at night, was an early indication of his sharp social and business skills.
Onassis' first "big idea" came in the mid-1920s, when he overheard a phone call about a new "talkie" that would have its main character smoke a cigarette.
Onassis got the idea to start his own brand of cigarettes aimed at the female market.
He chose a famous opera singer, Claudia Muzio, as the perfect model.
To get her to smoke his brand in public, he showed up at her dressing room with a giant bouquet of flowers.
By the age of 25, his tobacco business made him a millionaire.
Building on his wealth, he realised that the shipping magnates who hauled the tobacco made more than the cigarette manufacturer.
This realisation came to him at the height of the Great Depression.
When everyone was getting out of the shipping business, Onassis could buy six ships for less than half of what they would normally cost.
At the outbreak of World War II, Aristotle Onassis registered his fleet of cargo ships to Panama, which gave him tax-free status and reduced his overhead costs, making him one of the world's lowest-cost shipping merchants.
He struck a deal with the U.S. Government whereby he offered reduced prices on shipping military equipment which granted him very favourable prices on war-surplus cargo ships despite a ban on non-citizens buying military surplus equipment.
This allowed him to build one of the world largest privately-owned fleets.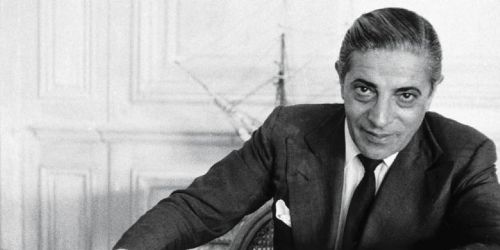 It has been recorded that Onassis never lost a ship during the war.
Reasons for this vary from being very lucky to making deals with both sides, though no credible evidence exists to prove this.
Early in his business career, Aristotle Onassis began dating a string of famous women, including Greta Garbo.
In 1946, he met the daughter of the richest shipping magnate globally, Athina Livanos, a woman almost half his age.
They married and had two children - Alexander and Christina.
Soon, however, both of them were having affairs.
In 1957, Onassis met Maria Callas, one of the most famous opera singers in the world.
Onassis was so proud of his relationship with Callas that he began to flaunt it.
Athina was wrecked by embarrassment and divorced him in 1960.
Several months before John F. Kennedy was assassinated, Onassis befriended Jackie Kennedy.
In agony following JFK's death, Jackie clung to Onassis for friendship.
In 1968, the two married on Onassis' privately owned island.
Generally, the American public reacted very negatively to the news.
One newspaper's headline implored, "Jackie, How Could You?"
Onassis son Alex was a notorious brat as a child, but when he was an adult Aristotle Onassis insisted that his son works for him.
In 1973, Alexander died in a terrible plane crash.
Aristotle was devastated with his sons death.
Two years later, on March 15, 1975, Aristotle Onassis died.
It was said that Maria Callas, his true love, never recovered from his death. She died two and a half years later.
Athina Hélène Onassis, a French-Greek heiress, is the only surviving descendant of Aristotle Onassis.
READ MORE: On this day in 1988, Christina Onassis passes away aged 37.