In a major development, Pakistan's Chairman of Joint Chiefs of Staff Committee (CJCSC), General Nadeem Raza, visited Turkey from 27th March to 2nd April.
Turkey's Chief of General Staff, General Yaşar Güler, hosted Raza at the Turkish General Staff Headquarters on 30th March, where both the sides discussed collaborations on several military projects and existing geopolitical issues.
During the get-together, Güler conferred Turkey's top military award 'Legion of Merit' to  Raza for his "services for promotion of Pakistan-Turkey defence ties."
Though the award ceremony and enhancement of military ties were quoted as the official reasons for the visit, many believe that actual reason might be entirely different.
Insiders believe that the biggest agenda of the visit was furthering mutual interests of Turkey and Pakistan in Afghanistan by expanding Erdoğan's Caliphate expedition to the country.
The discussions held during the meeting reveal that Pakistan wants Turkish forces to replace NATO and American forces as withdrawal of forces is expected amidst the ongoing Afghan Peace Process and Intra Afghan Negotiations.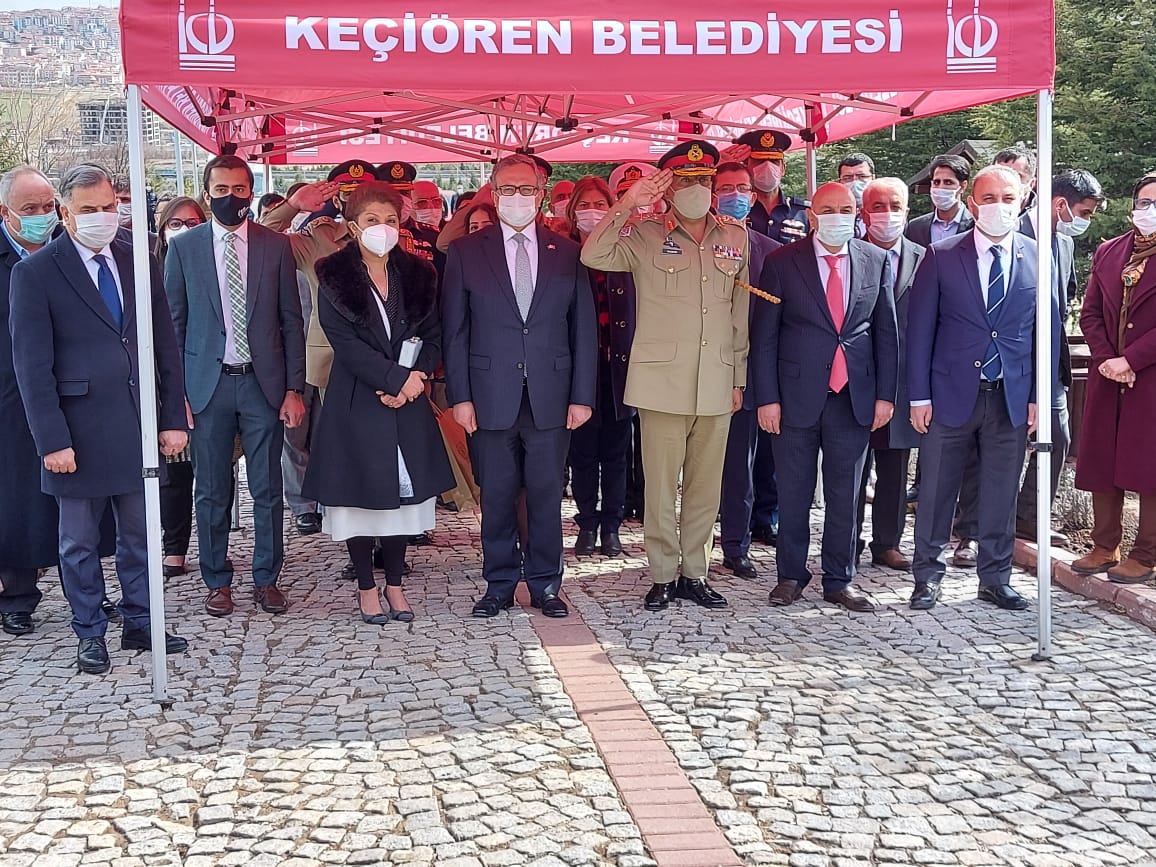 According to reports, Afghanistan was the central issue of discussion between officials of both the countries.
Further, Pakistan also conveyed that through the help of the Haqqani Network (HQN), it has already managed to convince the Taliban to allow Turkish forces to continue their deployment as well as to send more troops to Afghanistan.
General Raza also met Turkish Defence Minister Hulusi Akar for discussions on content and form of deployment of Turkish armed forces in Afghanistan and assured him of every possible help on Pakistan's behalf.
Both of them also brainstormed on efficiently using terror organisations like Al-Qaeda, Islamic State, and HQN for creating a more conducive environment in Afghanistan for Turkey.
According to Turkish media reports, though General Raza arrived in Turkey on 27th March, his 'official' visit began from 29th March.
It is believed that during the initial two days, he held secret meetings with top Turkish officials to chalk out the detailed plan on Afghanistan for ensuring powerful positioning of the country in the region.
On the development, defence experts have expressed their apprehensions on Turkey deploying Islamic State terrorists fleeing from Syria to Afghanistan.
With this, it is expected that the Islamic State would become stronger in the country with infiltration of Syrian-based terrorists into it.
Until now, it was being driven by cadres from Pakistan based terror entities deployed by Pakistani agency ISI.
This could also lead to the emergence of a new pattern wherein terrorists from Pakistani outfits as well as those from the Islamic State could operate together.
Besides assisting Turkey in its ambitious Afghanistan plan, another motive behind the visit was to fast-track the inclusion of Turkey as a part of the China–Pakistan Economic Corridor (CPEC) and accelerate building an alliance between the three.
Earlier, Pakistan's Federal Minister for Maritime Affairs, Ali H Zaidi, met the Turkish ambassador to Islamabad, Mustafa Yurdakul, to discuss Turkish entry and participation in the Port Qasim as part of CPEC.
Both the stakeholders sealed two important deals under which Turkish tugboat manufacturer Sanmar Shipyards'would deliver four LNG compatible ASD Tugs and two pilot boats to the Port Qasim Authority for $33.46 million.
Reportedly, Pakistan is coordinating with Turkey and China for collaboration on developing a fifth generation fighter aircraft.
The idea is to bring expertise and capabilities of the three countries together for mutually developing aerial vehicles and fighter jets.
Reportedly, the Pakistani Army sees a massive potential in convergence of Turkish expertise on drones and Chinese expertise on fighter jets to boost the air power of the three countries.
It is striking to note that as his first public engagement made during the visit, General Raza visited Bakyar National S/UAV Research & Development and Production Centre along with the Pakistani delegation.
He also held discussions with the General Manager of the company, Haluk Bayraktar, on assisting the Pakistani Army by transferring technology and capacity building in the production of drones.
Towards this end, General Raza made a visit to the Turkish Aerospace Industries (TUSAS) and met its CEO Temel Kotil on 31st March.
Moreover, the Pakistani General also made a visit to the Turkish Defence Industry Presidency (SSB) and met the head of the organization, Dr. Ismail Demir, for discussions on production aspects of the tripartite collaboration.
In the series of meetings, General Nadeem Raza also met the three chiefs of Turkish armed forces including Commander of Land Forces General Ümit Dündar, Commander of Naval Forces Admiral Adnan Özbal, and Commander of Air Forces General Hasan Küçükakyüz.
It is noteworthy that this meeting is a part of the series of meetings between top generals of the armed forces of Turkey and Pakistan.
Recently in January this year, Chief of Pakistani Air Force (PAF) General Mujahid Anwar Khan visited Turkey and held several discussions with commanders of Turkish armed forces besides visiting defence production companies.
The PAF chief also had discussions with Turkish defence production company AFSAT and shipyard building companies during the visit.
A major objective of CJCSC General Nadeem Raza's visit was following up on deals with those companies for speedy inclusion in projects that include Pakistani and Chinese involvement.
Prior to it, a high level Pakistani delegation under Pakistani Defence Secretary Mian Muhammad Hilal Hussain travelled to Turkey on 22-23 December for 15th meeting of Turkey-Pakistan High Level Military Dialogue Group (HLMDG).
Further, on 14-17 December 2020, the Second round of Army-to-Army talks between Pakistan and Turkey took place in Ankara.
It is pertinent to note that reportage in the press on all these meetings mentioned that defence production was one of the main agendas, with aerial vehicles and nuclear proliferation being the target areas.
The emergence of a China-Pakistan-Turkey nexus on nuclear proliferation and Pakistan coordinating on capacity building of the three countries has already been flagged by watchdogs and media.
Erdoğan has already expressed his desperation on developing the 'Caliphate atom bomb' to fulfil his neo-Ottoman aspirations, and China and Pakistan have been facing charges of illegal sale of missiles and creating a clandestine proliferation market.
READ MORE: Pakistan against Cyprus: "The Cypriot issue is on the agenda – Long live Turkey!"