Greece and Oman share the commitment to a peaceful resolution of disputes through dialogue on the basis of International Law, noted Foreign Minister Nikos Dendias during his Wednesday meeting with his Omani counterpart Sayyid Badr bin Hamad bin Hamood Al Βusaidi in Muscat. 
Addressing his Omani counterpart, Dendias also underlined the country's "constructive role in Yemen, and the huge efforts you are expending in order to address especially the humanitarian crisis there."
Responding to reporters' questions, the Greek minister also provided details about the two agreements Greece and Oman signed during his visit there: an Agreement on Political Consultations and a second one related to diplomatic visas.
The first one, Dendias explained, would lead to "exchanges between the two ministries. which allow us to understand each other, understand the positions and find common grounds on addressing the challenges."
The second one "is, in a way, a facilitation of the meetings of the diplomats of our two sides," he said, as it includes a visa waiver for holders of diplomatic and other special passports.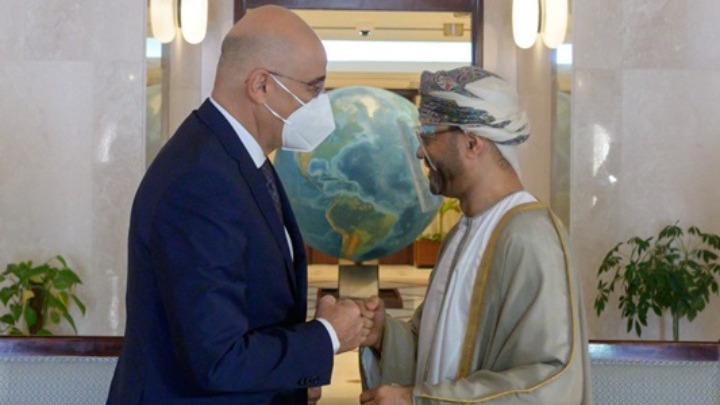 He noted that there is room for improvement in trade relations between the two countries, as they are now "worth less than 25 million euros," something more akin to the level of trade between two small or medium-sized companies, not two countries.
The Greek minister then highlighted that "we don't even have a double non-taxation treaty. So how can one expect businessmen to work with each other?"
Finally, Dendias announced that "Greece will support the candidacy of Ambassador Al Azri for his re-election to the UN Commission on the Limits of the Continental Shelf."
READ MORE: Tensions in Lebanon are high and the Greek Orthodox are stuck in the middle.