Foreign Minister Nikos Dendias delivered 100,000 coronavirus vaccines to the country of Tunisia during his meeting there with the country's Foreign Minister Othman Jerandi and with Health Minister Ali Mrabet on Tuesday.
This is Minister Dendias' second visit to the city of Tunis so far this year.
"It is a great pleasure to be in Tunis today, more so as I have brought with me 100,000 vaccines, which I hope will help your government and your country meet the challenge of Covid-19," he told the Tunisian ministers.
As far as Greece and the Prime Minister Kyriakos Mitsotakis' government are concerned, the answer is simple, said Dendias: "Either we are all safe from Covid - or no one is safe from Covid.
"It is an effort that concerns all of humanity, not just individual nations.
"The Covid pandemic has no borders, no boundaries.
"Greece is here to offer as much help to Tunisia as is possible."
Later on Twitter, Dendias wrote about his meeting with his Tunisian counterpart Othman Jerandi: "We had a timely discussion on strengthening Greece-Tunisia relations, as well as on recent developments in Tunisia  and the wider Mediterranean region."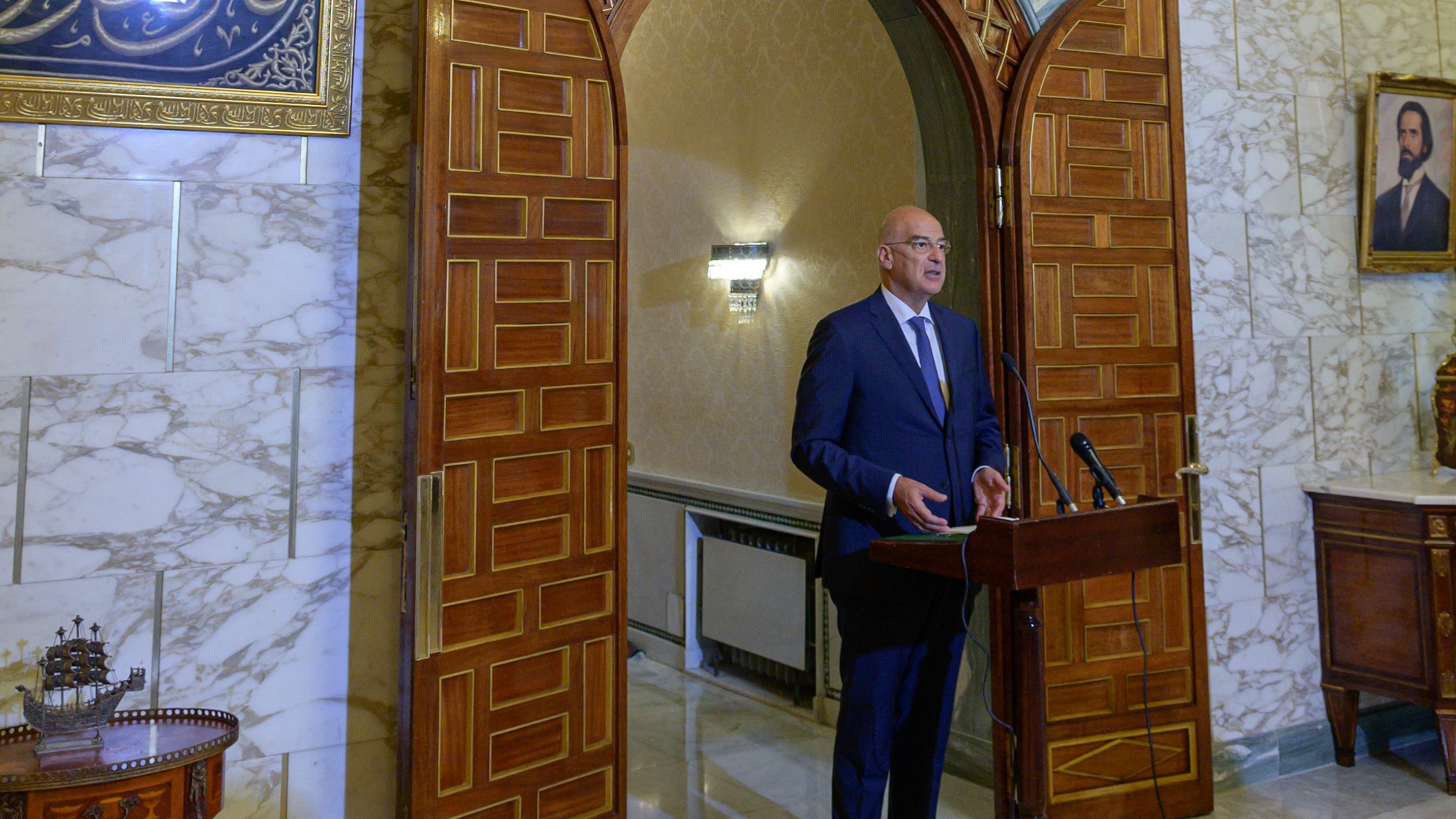 Dendias also met with Tunisian President Kais Saied, in the presence of Foreign Minister Othman Jerandi.
Addressing the Tunisian politicians, Dendias noted the country is "playing a pioneering role in the broader region."
He also marked its "effort to establish a genuinely democratic and sustainable system, and we are here to help as much as we can.
"You have made significant steps, in addressing challenges, such as the unstable situation in your immediate neighborhood and the pandemic."
"Last time I was here, we signed a maritime transport agreement.  We must work on its implementation.
"And convene, as soon as possible, the Bilateral Ministerial Committee, which has not met since 2016."
Dendias also stressed that "the Greek community has been present in Tunisia for centuries now.
"And contrary to other countries in the Eastern Mediterranean, we do not have a hidden agenda in our relation with Tunisia. Our sole interest is your stability and your prosperity."
Tunisia was the first country to sign an association agreement with the EU, back in 1995, added the Greek minister. "We need to insert a new dynamic in EU-Tunisia relations. Greece will continue to advocate for a stronger partnership between the EU and Tunisia."
"We strongly appreciate Tunisia's support in our bid, Greece's bid, to join the UN Security Council in 2025-2026.
"And I take this opportunity to praise the moderate and constructive stance that Tunisia has taken as a Member of the UN Security Council," he noted.
Another aspect of Dendias' visit to Tunisia concerned, in his own words, his "support for the efforts undertaken in the context of democratic transition by the President."
"We cannot allow Tunisia to slide back. That is what the President said and I subscribe to that wholeheartedly," he highlighted.
The path of reforms should continue in Tunisia, he added, as "we hope that there will be a quick return to the normal functioning of the institutions, in compliance with the will of the Tunisian people."
"We also hope that a new government will be formed as soon as possible, a government that will continue the efforts already undertaken," he pointed out.
Greece, its partners in the region and the European Union are ready to assist Tunisia in building a better future, Dendias concluded.
Prime Minister Kyriakos Mitsotakis is expected to visit Tunisia in November on occasion of the Summit Meeting of the Francophonie.
READ MORE: Greece hopes new govt will 'free itself' from the Turkey-Libya deal.