The mayors of Athens and Istanbul, Kostas Bakoyannis and Ekrem Imamoglu, said after their meeting at the Athens City Hall on Tuesday that the two cities can build bridges of peace and work together to solve their problems.
Bakoyannis stressed that "problems are solved from the bottom up..
"People create them and people solve them.
"Even if they are created by governments or - to be precise - regimes, they can be solved by the people."
Referring to city diplomacy, he said that "our differences are real, but local administration is the closest democratic institution to the citizen and this allows us to be able to interpret human emotions more effectively.
"Those feelings were manifested in our societies with the catastrophic fires that hit our countries in the summer, as well as with the strong earthquakes that took place a few years ago."
On his part, Imamoglu noted that Istanbul and Athens are two cities that are connected by a common destiny and must together find solutions to the problems faced by Greece and Turkey.
"Friendship between the two countries is not one of the solutions, it is the only solution," the mayor of Istanbul stressed.
Prime Minister Kyriakos Mitsotakis also received  Imamoglu, who was accompanied by Bakoyannis to the Maximos Mansion.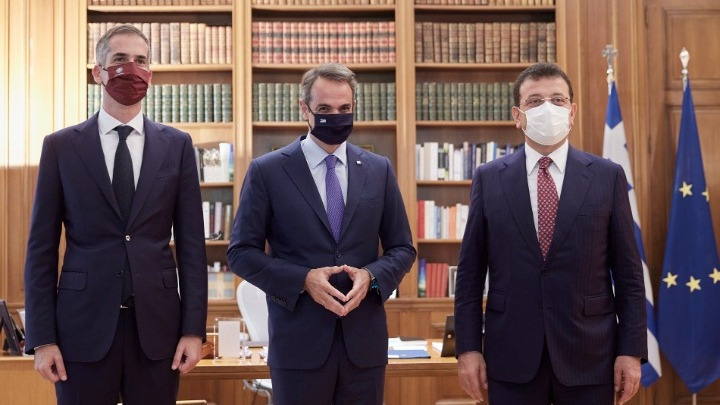 According to government sources, the two mayors and the prime minister discussed possible cooperation between the two cities in areas of mutual interest, such as in culture and responding to the challenges of the climate crisis.
READ MORE: Constantinople's new mayor Imamoglu: What does he think of Cyprus?