Greece is dotted with thousands of islands, but only a handful are cosmopolitan mooring places for cruise ships and private yachts that have shopping, luxurious resorts with spa, sauna, infinity pools and/or golf courts.
Here is a list with the most cosmopolitan Greek islands.
CORFU
An island of rugged natural beauty, Corfu is believed to be the place described in Homer's Odyssey where Ulysses met Princess Nausica. Green rolling hills cover the south of the island, steep limestone hills appear in the north, and marvelous sandy beaches encircle the entire island.
Among the top attractions of Corfu Island are seaside destinations, such as the family-friendly resort of Sidari, which has a water park and sandy beaches with safe, shallow waters; Paleokastritsa, a bustling resort town with six excellent beaches; and the well-developed resort of Kontokali, with a large sandy beach featuring excellent facilities.
Corfu also has a cosmopolitan culture and impressive architecture. The well-preserved Corfu Town (Old Town of Corfu) is a UNESCO World Heritage Site, with many historic buildings from the era of Venetian rule.
Wandering through the warren of cobblestone streets in Corfu Town leads to a discovery of Renaissance palaces, Baroque churches, and Neoclassical villas, as well as restaurants and shops. A special feature of Corfu Town are the vaulted passageways called kantoúnia, similar to those in the medieval quarters of Genoa and Naples in Italy.
During the 19th century, Corfu Town attracted many European aristocrats, who built splendid mansions here. A legacy of this noble past, the Listón is an arcaded promenade lined with elegant cafés.
Other must-see sights of Corfu Town are the Church of Agios Spyridon, which houses the relics of the island's patron saint (Spyridon); the Archaeological Museum of Corfu, which displays classical-era art from the Temple of Artemis; and the Antivouniotissa Museum (in the Church of Our Lady of Antivouniotissa), which exhibits Byzantine religious icons dating from the 15th century.
PAROS
A great addition to an island-hopping itinerary, Paros is a short ferry ride away from Santorini, Mykonos, or Naxos. Paros doesn't have the overwhelming crowds of the other islands, but it does have splendid golden-sand beaches and charming towns.
The capital of Paros, Parikia is an atmospheric seaport with whitewashed cubic houses; old Venetian mansions; and one of Greece's best-preserved Paleo-Christian (4th- to 6th-century) churches, the Monastery of Panayia Ekatontapiliani.
Parikia has two top-notch museums: the Byzantine Museum (housed in the monastery) and the Archaeological Museum. Near the town are several good beaches.
Lovely little towns are scattered all over the Island of Paros from the seaside to the mountains. To experience an authentic fishing village, travelers should head to Náoussa, which has a vibrant harbor with many restaurants and an enchanting town center with winding cobblestone streets, whitewashed houses, and tiny chapels.
Perched above the Aegean Sea, the medieval hilltop village of Márpissa is full of interesting sights, including the 17th-century Monastery of Agios Antonios. Márpissa is near the popular Loyarás beach and Písso Livádi beach.
An interesting way to explore the island is on foot. Outdoorsy types will enjoy hiking through the agricultural landscape along the strátes, trails created by local farmers to transport their products across the island. Márpissa and the mountain village of Léfkes are good starting points for a few of the island's scenic hikes.
From Paros, travelers can take a ferry to the smaller Island of Antiparos. This tiny island (islet) is an idyllic place, with peaceful sandy beaches and a whitewashed village featuring bougainvillea-trimmed cubic houses.
HYDRA
Completely free of cars, Hydra offers a glimpse into traditional Greek island life. Tourists arrive at the harbor of Hydra Town, and the only way to get around is by walking or donkey rides. Typical of the Cycladic Islands, whitewashed houses are nestled on the slopes that tumble down to the water's edge.
Elegant shipowners' mansions (Lazaros Koundouriotis Historical Mansion is a museum) overlook the café-lined harbor, where yachts and fishing boats are moored. In a 17th-century monastery above the port, the Ecclesiastical Museum displays Byzantine relics, icons, and manuscripts.
Hydra Town is renowned for its jewelry boutiques, which sell items crafted by local artisans. The island also has culinary specialties, such as Amygdalotá (almond cake) and Galaktoboureko (creamy custard layered with crispy phyllo dough).
The Island of Hydra does not have great beaches, but it has fabulous hiking trails. Steep walking paths lead to historic monasteries or viewpoints with sensational vistas of the Saronic Sea.
Easy to reach from Athens (about a 90-minute ferry ride away), the Island of Hydra can be visited as a day trip, but it's better as an overnight getaway.
MYKONOS
For fun-loving, sun-worshiping tourists, Mykonos is the place to be. This beautiful island in the Aegean Sea offers a happening vacation scene complete with trendy restaurants, atmospheric tavernas, and live entertainment venues. Most tourists head to Mykonos for the beaches and sunshine from July through October.
Mykonos is famous for its beach clubs at Paradise Beach and nearby Super Paradise Beach. The island's longest beach, Elia Beach, has a fantastic seafront hotel, the Elia Mykonos Resort, with a superb Mediterranean restaurant that serves local specialties on a covered terrace right next to the sandy shore.
Another top tourist attraction of the island is the Chora Mykonos (the island's main historic town). This delightful labyrinth of winding cobblestone lanes is a traffic-free pedestrian area. Visitors are enchanted by the whitewashed houses with bright blue balconies and shutters, lovely old churches, and narrow alleyways draped in bright fuchsia bougainvillea.
Discoveries of local clothing boutiques, jewelry shops, and artisan stores reward tourists who spend time wandering around the captivating maze of Chora Mykonos (also called "Mykonos Town"). There are also terraced cafés and little tavernas hidden away in narrow side streets and quiet squares.
Must-see attractions within the Chora Mykonos are the Little Venice area with balconied buildings that resemble Venetian edifices because of their waterfront facades, and the Church of Panagia Paraportiani with its Cycladic whitewashed stucco architecture.
On a hillside overlooking the town of Mykonos stand the emblematic windmills, once used to supply power to grind grain and now a favorite spot for photo-ops.
SANTORINI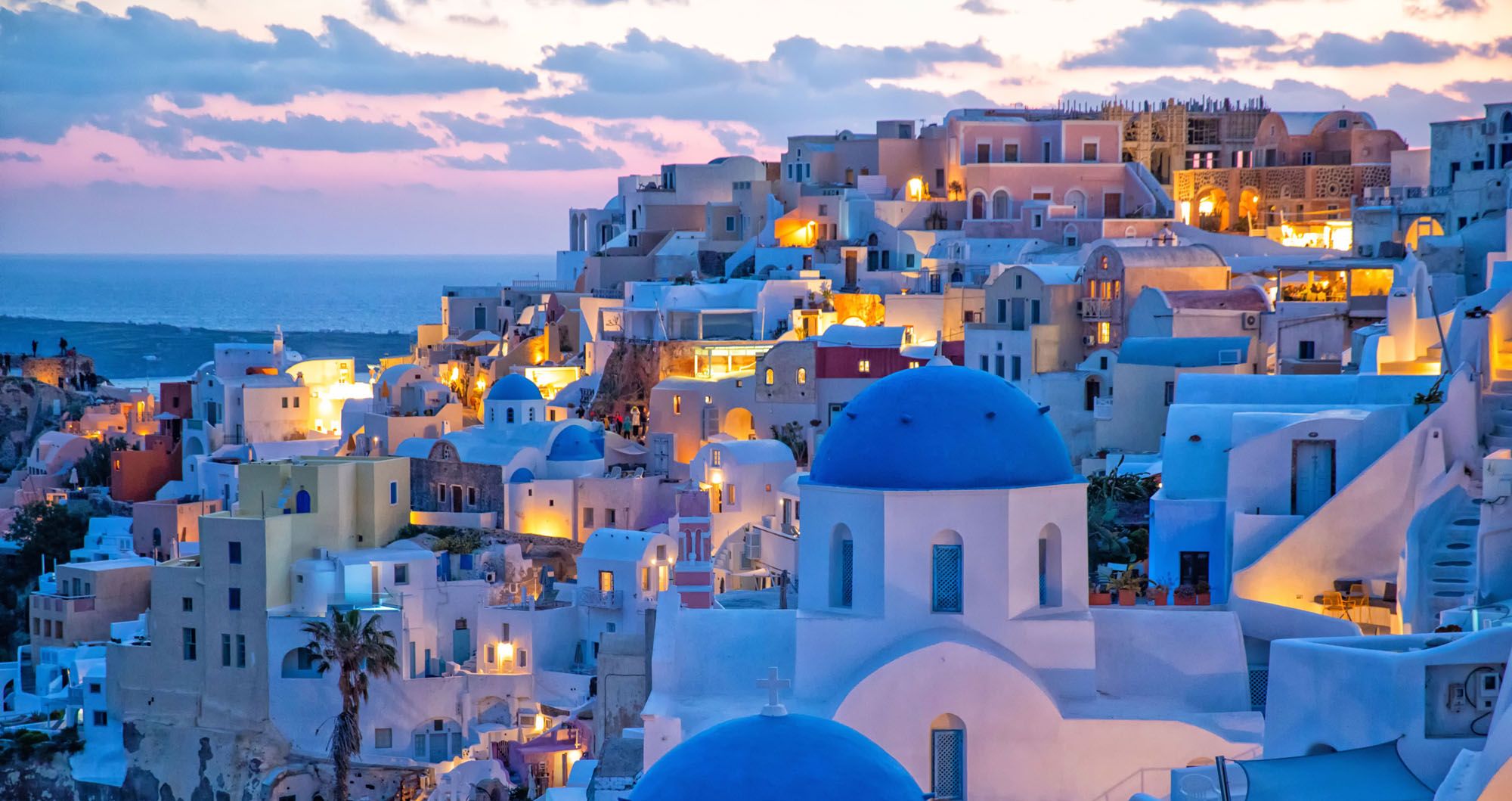 The song of mythological Sirens seems to whisper in visitors' ears as they sail towards Santorini. Soaring above the deep blue seas, this spectacular island has a surreal beauty and enchantment.
The peak of an enormous volcano, the island's dramatic hillsides of dark volcanic rock plunge into the massive caldera (the world's largest), where the sea is so tranquil that it appears to be a gigantic lake. Some scholars believe this is the legendary island of Atlantis, because it was formed by a sudden volcanic eruption around 4,000 years ago.
The most exciting way to arrive in Santorini is by boat and then a donkey ride (or bus ride) up the steep switchback road to the capital city of Firá (Thera). Although its modern center is unremarkable, the historic section of Firá perched on the cliff tops is unforgettable.
Whitewashed houses cling to the steep hillsides, and many hotels, restaurants, and cafés have terraces with panoramic views. The Museum of Prehistoric Thera displays objects uncovered at Akrotiri, an archaeological site known as the "Greek Pompeii" because the ruins were hidden under volcanic ash for several centuries.
The most iconic of Santorini's top attractions is the village of Oia, nestled along the rim of the volcano's basin. Nearly any spot in Oia looks like the image of a postcard or painting. Humble bright-white cubic houses are clustered together on the hillsides high above the Aegean Sea, and blue-domed churches overlook the caldera's mesmerizing deep blue waters.
Instead of roads, the village has steep pedestrian staircases and cobblestone lanes lined with restaurants and boutiques. Oia is known for its beautiful sunsets. Many tourists try to dine on an outdoor terrace or wait at a viewpoint just before sundown.
Near Firá, other little villages skirt the rim of the caldera all the way to Oia. Tourists can take a scenic walk from Firá to Imerovigli, a sleepy village with blue-shuttered white houses trimmed in bougainvillea.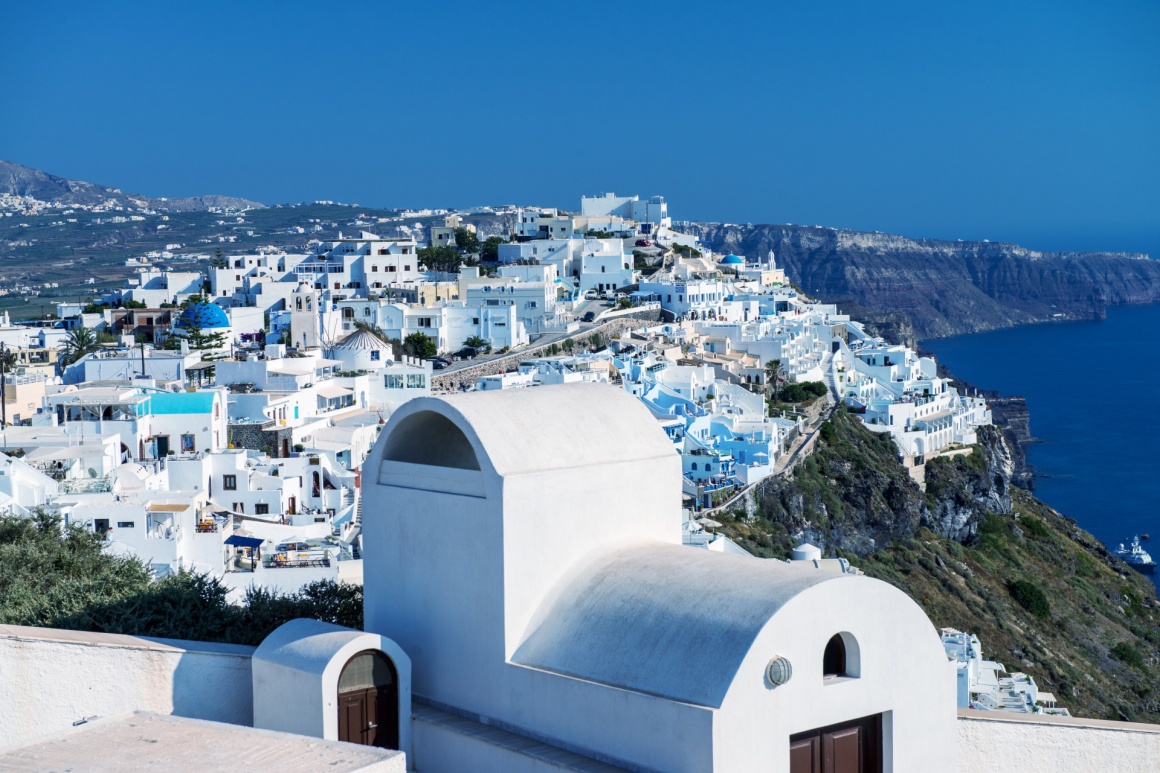 Not to be missed are the beaches of Santorini, especially Kamari Beach with its volcanic black-sand shores and gentle waves. Kamari Beach has top-notch facilities, including lounge chairs and umbrellas, public restrooms, showers, and beach gear rentals. This Blue Flag beach is safe for swimming and ideal for water sports such as paddleboarding and snorkeling.
To discover a traditional Greek port, travelers can hike down a steep flight of steps from Oia to reach Ammoudi. This small settlement nestles below red volcanic rock cliffs in a sheltered bay, where many fishing boats are moored. The harbor features waterfront tavernas that serve fresh local seafood. Ammoudi Bay also has a small pebble beach and is a good place for snorkeling.
READ MORE: Why Greek island hopping by Ferry is fun.