Undoubtedly Mykonos is the ultimate destination for taking Instagram snaps.
The "Island of Wind" is perhaps the most recognised Greek island after Santorini with its chic cafés and cool bars.
We also cannot forget the lovely beaches, nearby ancient ruins and the prettiest alleyways you'll ever stroll down.
This makes the island a must visit location for any Instagram enthusiast.
Pose with pelicans
Mykonos may be a celeb hotspot, but everyone knows the most famous island residents are the pelicans. Several decades ago Petros the pelican became the island's official mascot; he's not around anymore, but a couple of his friends now roam Mykonos Town.
Shop at #happiness
Never mind what's inside –  this shop is such prime Instagram fodder that even a hashtag has made its way into the sign. The combination of white-washed building and blue door makes it the perfect place to pose outside –  even for wedding photos, it seems.
Upload a cocktail at Kalua
Every day's a beach party at Kalua, a beach club-cum-restaurant right on the sand at Paraga Beach. Whether you're relaxing on a day bed or dancing beneath the disco ball, get that cocktail pic on Insta (#sorrynotsorry).
Snap Insta-worthy doorways
You know the score in Mykonos Town –  white-washed brick, colourful door, hot pink bougainvillea dangling into the shot. Just add yourself gazing wistfully to the left and watch the likes roll in.
Visit the windmills at sunset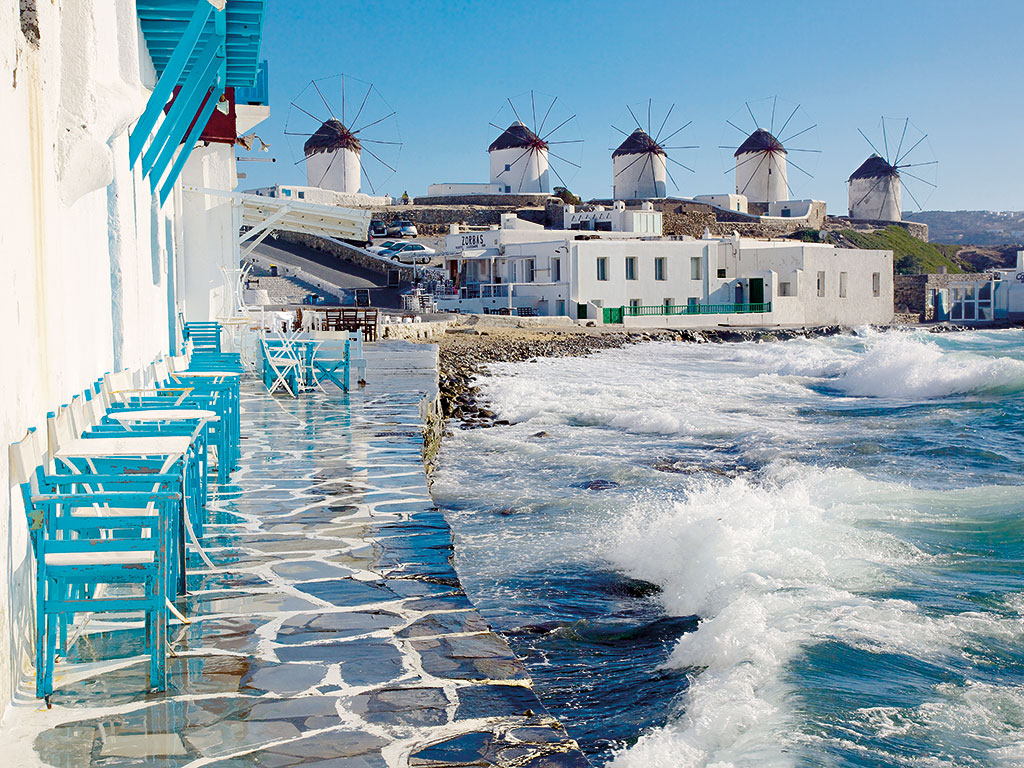 Did you even visit Mykonos if you didn't upload an arty picture of the island's iconic windmills? There are 16 windmills on the island, but seven are close to Mykonos Town, so head there at sunset to get your orangey-sky money shot.
READ MORE: Choosing which Greek island is for you? We've helped you out!